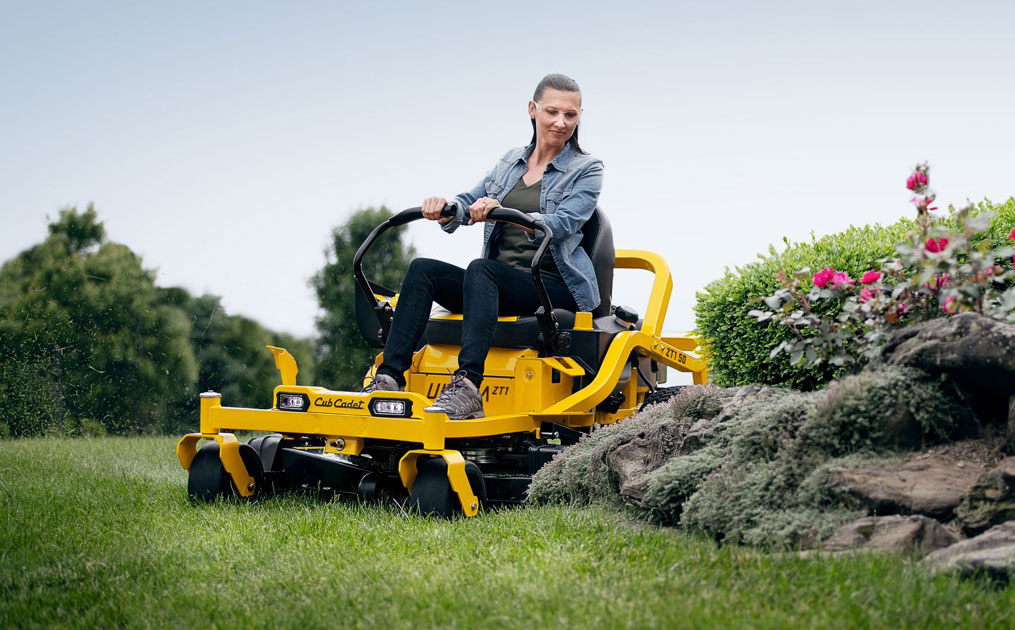 Step up to the ultimate mowing experience.
The Ultima Series™ redefines the zero-turn mowing experience. With enhanced strength, reimagined comfort and a best-in-class cut*, it's time to elevate your expectations. 
SHOP ZERO-TURNS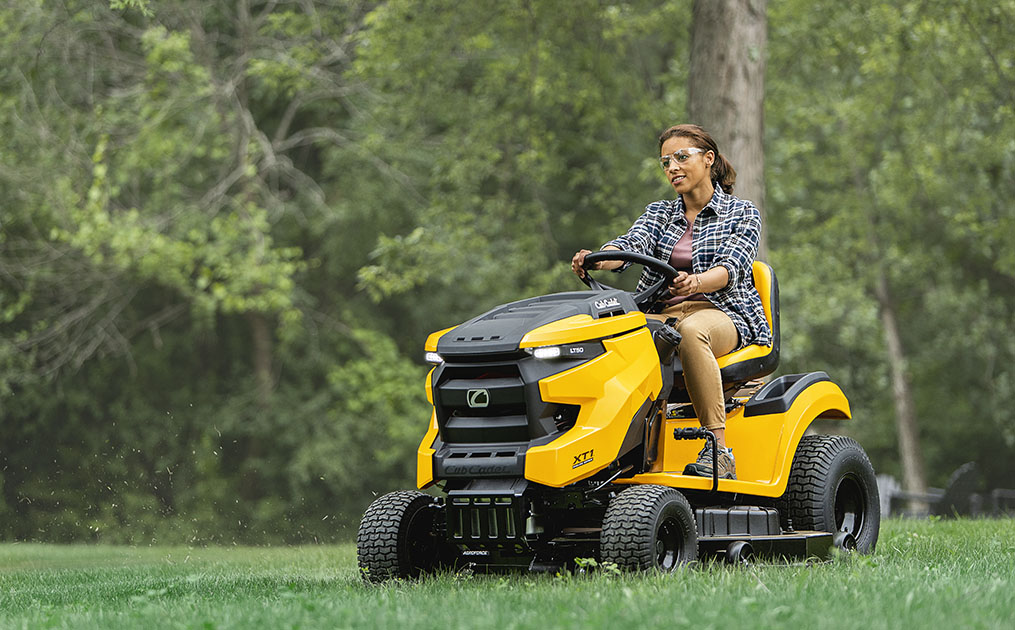 Versatility for every season.
Cub Cadet® offers the attachments or accessories that let you customize your lawn and garden tractor so you can work your own way all year long.
Shop Attachments & Accessories
How to Choose a Riding Lawn Mower
With so many options and features available on riding lawn mowers, how can you make an informed decision about what type of mower to buy? There are two popular options when it comes to riding lawn mowers, both of which provide all-season functionality:
Most lawn and garden tractors look like a traditional riding lawn mower and have an engine mounted in the front and a steering wheel that steers using the front wheels, like a car. Some have the engine in the back with a simple steering column in front, allowing for increased viability and increased maneuverability for the driver.
Zero-turn riding mowers pivot on the rear wheels, meaning there is zero-degree turning radius, and the mower can actually spin in a circle to cut one area or maneuver around obstacles.
Zero-turn riding lawn mowers are available in both gas-powered and electric.
Types of Riding Mowers
Lawn Tractors
Looking like the stereotypical riding lawn mower, a lawn and garden tractor is the best compromise between performance and cost. Much smaller than zero-turn counterparts, they're easy to store in a garage or a shed and have plenty of power and maneuverability for small to medium sized yard, all without breaking a sweat like you would with a push mower or walk-behind mower.
Garden Tractors
Garden tractors look very similar to a lawn tractor or traditional riding lawn mower, however they are usually a bit larger due to their more powerful engines and transmissions. This added power allows for more utility work and ground-engaging jobs, such as use with plows and other attachments. The added weight of a garden tractor also makes it better on hills, but it will have less maneuverability than a lawn tractor.
Zero-turn riding lawn mowers
If you have a large yard, or a yard with a lot of obstacles and tight corners, a zero-turn riding lawn mower is the right mower for you. Zero-turn mowers are available with a wide range of deck sizes and turn more quickly than both lawn and garden tractors and walk-behind mowers, meaning that mowing your lawn will take about half the time with a zero-turn riding lawn mower. Zero-turn mowers come with a lap bar or steering wheel control. Lap bar steering is the most common way to steer, while steering wheel control has little to no learning curve and is needed for mowing along the side edges of slopes and hills due to increased control in the front wheels.
Gas mowers vs. Electric mowers
No matter whether you decide on a tractor riding lawn mower or a zero-turn mower, either can be purchased in either gas or electric. Our electric mowers have a cutting time of 1 hour or more, making this the ideal choice for small to medium sized yards. If you're environmentally conscious, or live in a city with noise ordinances, place your trust in one of our electric riding lawn mowers. With no spark plugs, fuel, or oil changes, electric mowers require less maintenance than their gas counterparts.
The Best Riding Mowers for Different Yard Types
Small to Medium Yards
For small to medium yards, both lawn and garden tractors are recommended. These are two high-performing, yet cost-effective options for those who don't want to hassle with a push mower. Lawn tractors and garden tractors also allow for much more utility with attachments like snow blowers, leaf collectors, and pull carts.
Medium to large yards
As the yard and the mowing job gets bigger, it's worth considering additional options other than a lawn and garden tractor. A zero-turn riding lawn mower will allow you to get the job done faster and with more maneuverability.
Yards with obstacles
For yards with obstacles, such as landscaping, trees, rocks, and so on, we highly recommend a zero-turn mower. Trying to cut around landscaping and trees can be frustrating and time-consuming without the highly maneuverable zero-turn mower. For yards with fences, be sure to compare the deck size of the mower with the fence opening size to be sure it will fit. Even for residential homes, professional mowers can be a great option, as they're designed for spaces with landscaping and other obstacles. With professional and commercial models, you also have different configuration models, such as stand-on and stand-behind mowers with excellent maneuverability.
Sloped yards
If your yard has a notable incline or decline, there are a couple very important factors to consider: traction control and stability. Meeting these needs will allow you to safely negotiate your yard's hills and slopes. For sloped yards, you should consider a steering wheel zero-turn as the steering wheel provides more control when mowing along slopes, compared to lap bar steering.
Types of Attachments for Riding Lawn Mowers
There are a variety of attachments for your riding lawn mower to make your lawn care a breeze:
Baggers - Double and triple baggers are available for all models of tractor and zero-turn riding mowers. Baggers collect the cut grass from the discharge for easy disposal.
Snow blowers - You can attach a snow blower to the front of your tractor and turn your riding lawn mower into a riding snow blower. They have an auger that feeds snow into the discharge, moving the snow away from walking or driving paths.
Snow cabs - Snow cabs are like tents that attach to your mower and cover the top and sides so you can plow or snow blow without getting covered in snow. These can also be used in warmer months to help prevent bug bites.
All-season plows - Plows are available for tractors and zero-turns, and can push dirt, snow, or gravel. There's no discharge with a plow attachment, just pushing to displace.
Mulchers - Mulchers take the grass clippings that usually come with cutting grass, and instead of collecting the grass from the discharge chute, the mulcher cuts the grass into fine pieces, which falls into the soil and breaks down, giving nutrients back to the soil.
Striping kits - On zero-turn mowers, you have the option of adding a striping kit. This adds those classic manicured stripes into your lawn while you cut.
Leaf collectors - With a larger chute, a leaf collector picks up leaves and debris from under your mower and collects it all into a bag for easy disposal.
Pull carts - These attach to the back of your riding lawn mower, allowing you to transport tools, soil, or mulch.
Attachments are available for lawn tractors, garden tractors, and zero-turn riding lawn mowers. Be sure to check specifications on the attachments you're interested in to see what mowers it's compatible with.