3X 26" TRAC Snow Blower
3X™ THREE-STAGE POWER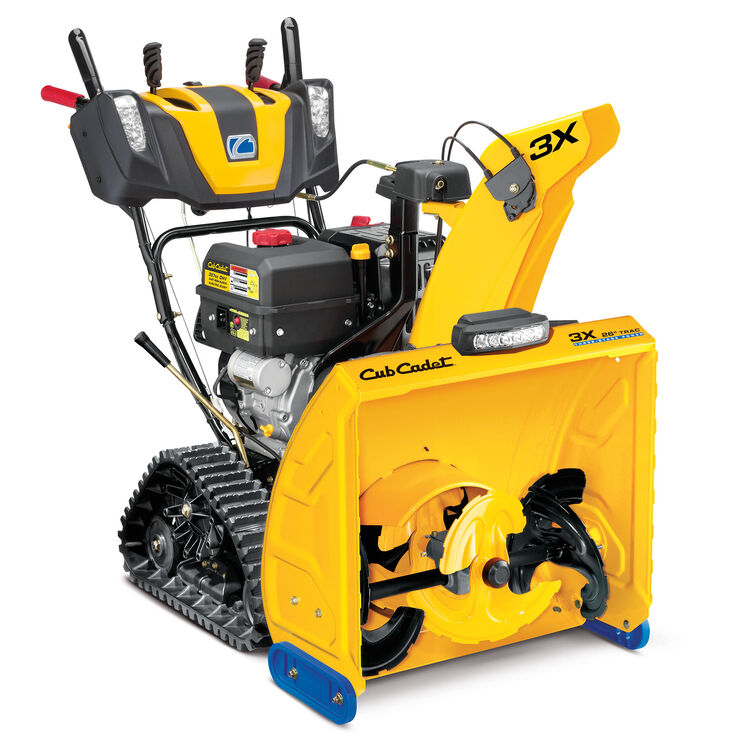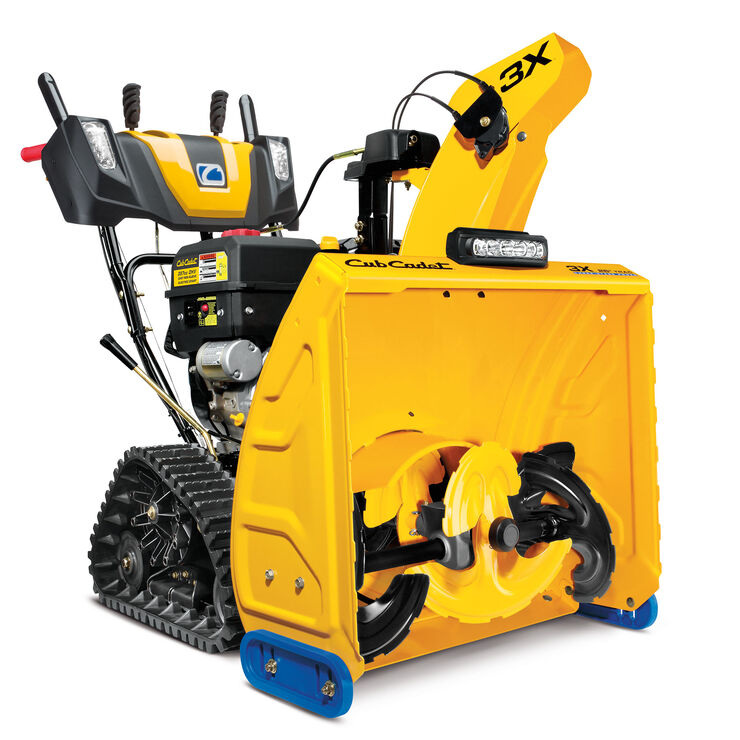 3X 26" TRAC Snow Blower
3X™ THREE-STAGE POWER
---
Or
$81/mo | 0% APR3 | 24Mo with $125 Promo Fee. Total: $1,924.00

APPLY NOW
---
357cc OHV Engine is powerful, dependable and equipped with push-button electric start.
26 inch clearing width and 23 inch intake height.
Track drive system creates 50 percent more ground contact for added stability and traction in heavy snow and ice.
LED lightbar and Dual LED headlights for greater visibility in low-light conditions.
---
You're shopping available inventory from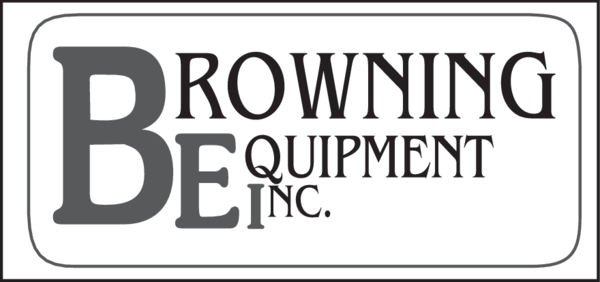 Browning Equipment, Inc.
800 EAST MAIN STREET, PURCELLVILLE, VA 20132
---
Ship to home in 8-10 days
Ship to home in 8-10 days
---
Attachments & Accessories
3X 26" TRAC Snow Blower Features
Easy Start Ups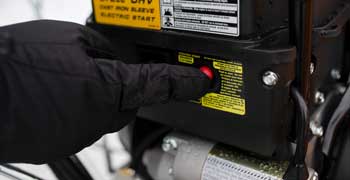 Start your engine at the push of a button when you need it most with electric start.
Better Maneuverability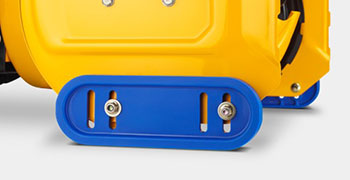 Cool blue reversible skid shoes glide along surfaces for better maneuverability and won't rust or leaves marks on your driveway.
Effortless Control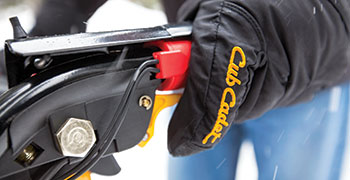 Trigger-controlled power steering and self-propelled drive for unmatched control, effortless maneuverability and single-hand operation.
Work Longer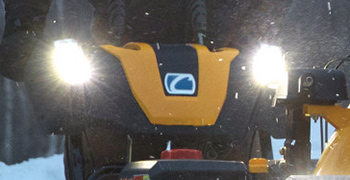 Work before dawn or after dark with dual LED headlights.
Added Durability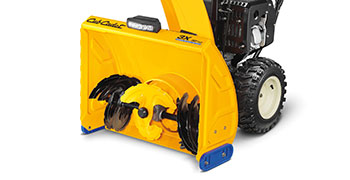 Heavy-duty cast aluminum auger gearbox and steel chute will hold up against the toughest winters..
Strong Warranty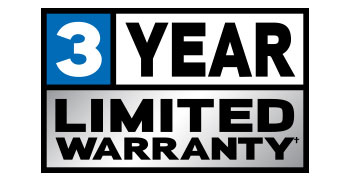 3-year limited residential and 1-year limited commercial warranty for peace of mind.
More Intake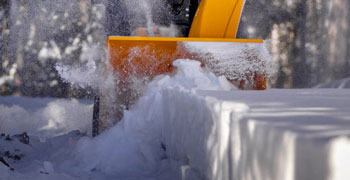 A 23-inch intake height allows you to clear snow more efficiently.
Extra Comfort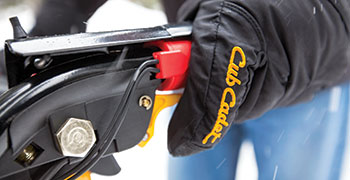 Heated hand grips provide extra warmth in extreme weather conditions.
Reliable Traction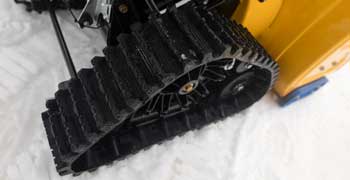 Track drive is ideal for slopes, inclines, and gravel surfaces, providing reliable traction in extreme weather conditions.
Patented Three-Stage Technology
Patented three-stage technology includes an induction accelerator that quickly pulls slush through the system and clears deep snowfall up to 50% faster than a Cub Cadet® 2X.
Engine
Engine Brand

Cub Cadet®

Engine Model

683-WUB OHV

Engine Displacement

357cc

Starter Type

Electric and Recoil

Fuel Tank Capacity

5 qt.

Engine Start

Standard (110 volt)

Fuel Delivery

Carburetor
Warranty
Auger Gearbox Warranty

5-year limited auger gearbox

Warranty

3-year limited residential

Commercial Warranty

1-year limited commercial

Disclaimer

See owners manual for warranty details and information. Certain restrictions apply.
Controls
Handle Grip(s)

Soft-Touch Heated Grips

Pitch Control

Remote Single-Lever

Chute Rotation

200°

Single-Hand Operation

Standard

Steering Control

Trigger-Controlled Power Steering

Drive Type

Friction Disc / Track Drive

Tread

Track Drive
Power and Performance
Starting System

Push Button Electric Start (110 volt)

Clearing Width

26"

Intake Height

23"

Auger Gear Box

Heavy-duty cast aluminum

Number of Stages

Three
Dimensions
Auger Diameter

12"

Impeller Diameter

12"

Accelerator Diameter

12"
Additional Specifications
Headlight(s)

Dual LED and LED Light Bar

Shave Plate

Heavy Duty Steel

Skid Shoes

COOL BLUE™ Reversible Poly

Auger Material

Heavy-duty serrated steel

Chute Material

Steel

Model Number

31AH7DVX710
| Model | Manual | Form Number | |
| --- | --- | --- | --- |
| 31AH7DVX710 | MANL:OPER:BILING:31X:700:US_CA | | |
| | MANL:OPER:BILING:31X:700:US_CA | 769-24890 | Download |
| | MANL:OPER:BILING:31X:7XX | 769-11517A | Download |
| | MANL:OPER:BILING:31X:7XX | 769-16190 | Download |
| | MANL:OPER:BILING:31X:7XX | 769-22275 | Download |
| | MANL:OPER:BILING:MTD ENG:277/3 | 769-11494B | Download |
| | MANL:OPER:BILING:MTD ENG:357/4 | 769-14992 | Download |
| | MANL:OPER:BILING:MTD ENG:357/4 | 769-25490 | Download |
| | SHEET:SUP:31X2X-3X:CUB:US_CA | 769-24534 | Download |
| | SHEET:SUP:BILING:EPA:CARB:EXH: | 769-15174 | Download |
| | SHEET:SUP:BILING:EPA:CARB:EXH: | 769-17172 | Download |
| | SHEET:SUP:BILING:EPA:CARB:EXH: | 769-23593 | Download |
| | SHEET:SUP:BILING:EPA:EVP:06301 | 769-15171 | Download |
| | SHEET:SUP:BILING:EPA:EVP:18-19 | 769-17171 | Download |
| | SHEET:SUP:BILING:EPA:EVP:18-19 | 769-23590 | Download |
| | SHEET:SUP:ENGL:31X:7XX:CUB | 769-12300 | Download |
| | SHEET:SUP:ENGL:31X:7XX:CUB | 769-16931 | Download |
| | SHEET:SUP:ENGL:31X:7XX:CUB | 769-22281 | Download |
Product Reviews
Rated

5

out of

5
by
Kenney
from
The Right Choice!
This is one awesome machine! I have owned a tracked 2 stage snow blower for 20 plus years, but nothing compares to this. I have to say, having a 3 stage is a learning curve though. That front auger is very aggressive and if you get too close to an object, well "Look Out" yes, it will do damage! I learned very quick to not get too close after I impaled the auger blade into the leg of our swing set. (Thank goodness for shear pins) This unit is much heavier than my old unit and that is a major plus for packed snow. Starts easy and is quieter than my old one. The negative for me is there is no gas filter and no gas valve:( sad, I always turn the gas off, let it run out so gas don't sit in the carb. This process for me has proven successful as I never had a carburetor issue in over 20 years!!! Also, no Hour meter? Yes, this is important! All the manual spec's reflect on hours for maintenance, well there is absolutely no way to keep track of total hours on such an intermittently used machine! (Take care of your machine & it will take care of you I say) so to me an hour meter is a must and yes, I will have to install one. Steering is a bit more difficult with the added weight, but manageable. Last, Reverse is annoyingly to slow!!! and 1st gear is a bit too fast when you are in capacity snow. Overall, I love it! Bit pricy but I'll pay for quality, hopefully it will out last my old one. Thanks, Ken
Date published: 2019-04-13
Rated

4

out of

5
by
Tracks vs wheels
from
Track machines rule. !!
Blower climbs stairs with ease. I noticed complaints about the reverse gears being to slow. After a short while mine started to travel unbearably slow as well in reverse. If you are mechanically inclined at all this is a easy fix with just a crescent wrench. I would have given it 5 stars but nothing is perfect.
Date published: 2021-01-11
Rated

5

out of

5
by
Skizer
from
High Quality construction, powerful engine.
I relied on Consumer Reports for this purchase. They rate all Cub Cadet models well. I bought the trac model because of big snow banks left by street plow and icy layers over snow that often occur where I clear snow. As well I clear unpaved surfaces. I noticed more points of weight distribution with trac models. The 26" and 30" Trac models utilize the same trac system with same intake height , so that's a bonus too as 26" weighs less. The unit starts right up on 1st pull, have not used electric start. It cleared an 8" storm quickly. The handle warmers and 3 headlights work well. Trac models aren't easy to move when not running, But are easy to move when running. Assembly is simple but CubCadet should post videos on youtube for the simple assembly instead of vague manual for numerous models. The shipping box needs to be stronger, it was all apart when delivered to house.
Date published: 2019-11-20
Rated

5

out of

5
by
John Jr
from
A satisfied Customer
Just sold my 1995 2 stage Cub Trac snowblower, after I received my new 3X- Trac Cub. I cannot over praise the old machine, it was so good. So far with the little I have used the new machine, I am very pleased with the operation of the new advancements in the 3X Trac Cub. Well worth the money, thank you Cub Cadet.
Date published: 2021-01-17
Rated

5

out of

5
by
cj01
from
handles deep wet snow
I live in the sierras and our winter provided almost 50 feet of snow. Conditions ranged from light powder to heavy wet cement. This blower handled it all with ease. Could even cut through 3 foot berms left by the snow plow.
Date published: 2019-03-23
Rated

5

out of

5
by
Ross
from
Happy Cust
Hello Everyone My name is Ross and I am from Leadville Colorado. I have lived in the mountains for over 10 years. I just received my new 3X 26"in 357cc Track Drive Three-Stage snow blower via freight, to my home. I purchased it online and had it delivered for two reasons. 1, since I live in the county I didn't have to pay a town tax, like I would have if I picked it up at a store. The savings in tax almost paid for the shipping. Let alone the fuel and time to drive to a store that had it. There was none on display at my local stores so I have attached a picture to show the controls from operator's point of view, since I couldn't find any online. As for the assembly, you have to very little to do. All you really needs is some snips for the zip ties and your choice of hand tools for a few nuts and bolts. I wasn't home when they drop it off so I don't know if the shipper would have taken the small pallet and shipping box that it came in. In the CO Mountains we normally don't receive wet snow except in the early fall like Oct and April. The attached pictures were taken from the snow we receive on Oct 1,2 & 3rd of 2017. The model I have is this years, which has the 3 LED lights. The selling feature is the 3 stage to remove the snow at the end of your driveway from the plow truck that drives by. As you read below it will surly do that. The three stage is hard to make out. It has two yellow ones and a black one in the back that throws it out the shoot. I bought the snow blower for 2 applications. 1. As the snow slides off my roof into a valley, it then drops 9' off the gutter onto my deck and gets very compacted. This unit does a good job moving the snow if you don't let the cutter bar ride up. Moving the wet snow at 10,000 feet (the higher elevation, every motor makes less hp) when compacted, it still did it well. When I blow it off the deck it goes onto my side walk. Which then I have to remove it again. For some snow blowers, removing the same snow twice makes it harder for the unit. Not with this one, it took care of it with ease. 2. I needed the tracks help the snow blower to go up and down the stairs of my deck so I can snow blow around my snowmobile trailer. It's a little tricky to go up the stairs, you just have to keep the noes down going up them. Going down it a no brainer. I was able to take the wet snow to top lip (were the LED bar is) and it would keep going if I could keep traction. I lose traction because my deck sealant is slippery when wet. I was very impressed it could move a wet compacted pile of snow as it did. I also hit a large rock head on, my second time out. I have attached pictures of the little paint damage that took place. The replacing of the pin was easy, and they included extras. The pin did it job, no tiller damage. Past units that I have had were slow going forward, this one is really decent for 6'4" tall guy, for those light snow days or if your just transporting it around. The rev speed is like any other one, I wish it was faster. I do all my snow blowing at night after work, and the lights are nice. The quick turn feature is really nice. I actually use the tracks to break up snow that frozen to the ground, by doing a 360. Right now my gravel drive way is not fully frozen so the height level adjustment lever on the side is very helpful. Plenty of clearance to run it over lose gravel need be. I did move the blue spaces/wear bars down, but plan on putting them back because the clearance is so good. To turn the shoot left or right you have to turn the crank by your left knee, but it's faster than older models/brands out there, you don't have to turn all the much. The cable has popped out once. Nothing holds it in, and no tool is required to put it back in. I wish it was on the dash where the shoot angle was instead (just my preference). I don't adjust the shoot angle much. Also I like I love that I can turn down the RPM to talk to someone or while I shove something out. It doesn't affect the speed all that much either for some reason. Not all allow this RPM feature. So if you want to warm it up during transport you can while idled down. I haven't tried the electric start since I park it in the garage when done. I felt I didn't need the heated grips, but after using them it's nice. The motor size is a good size to complement intake size. They are not trying to trick you into something it can't throw. You can run everything with gloves like the choke, primer, idle, and heated grip button (pic attached). It also came with an extra key. It seems like it's built to last and has a nice fit and finish. I am very happy so far and would buy it again, no regrets yet!
Date published: 2017-12-08
Rated

4

out of

5
by
EMC2
from
Great traction
I got the 3X 26 Trac just after Christmas from my father in-law. We have not had a lot of snow to really see what it can do, just two storms of less than 6 inches. The machine worked perfectly on all accounts , except that in the low gear, the trac was difficult to turn. It may need a little adjustment from the shop.
Date published: 2019-01-27
Rated

5

out of

5
by
Grizzlyvector
from
Best snowblower!
After 2 storms and never had so much fun moving snow. This is the best machine I have ever run. Great power and the easiest to run. The tracks go anywhere and the triggers make steering a breeze. Awesome machine Cub Cadet!
Date published: 2018-11-16
bvseo_sdk, dw_cartridge, 18.2.0, p_sdk_3.2.0
CLOUD, getReviews, 8ms
reviews, product