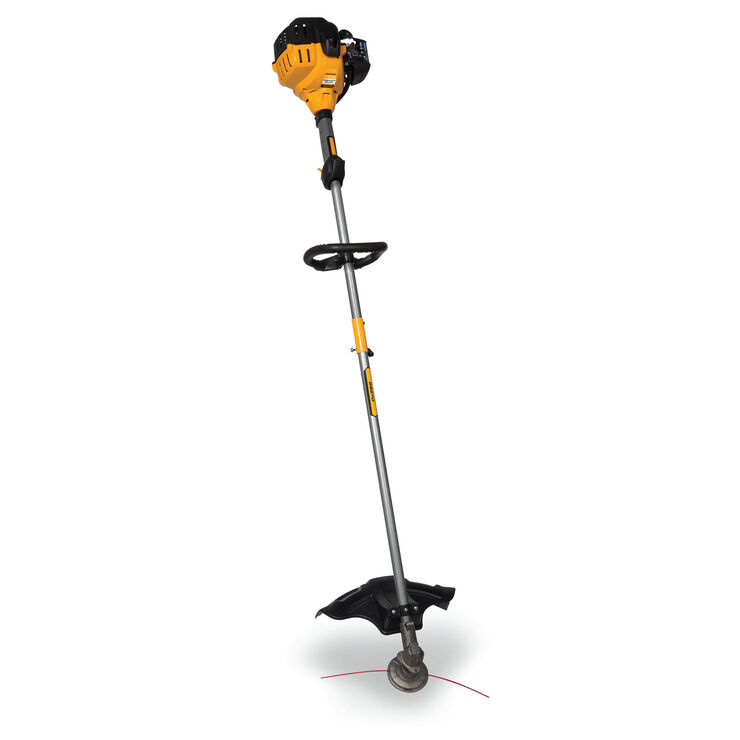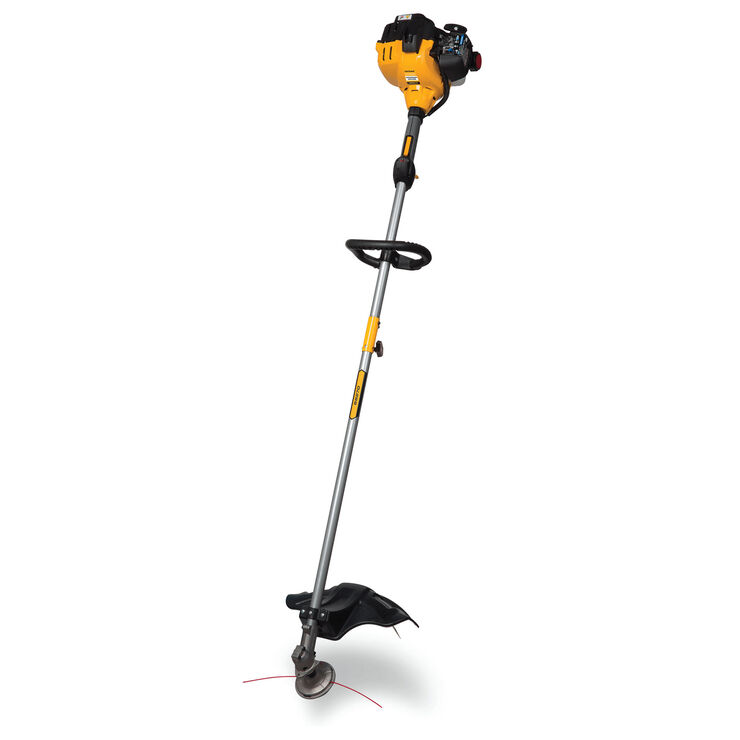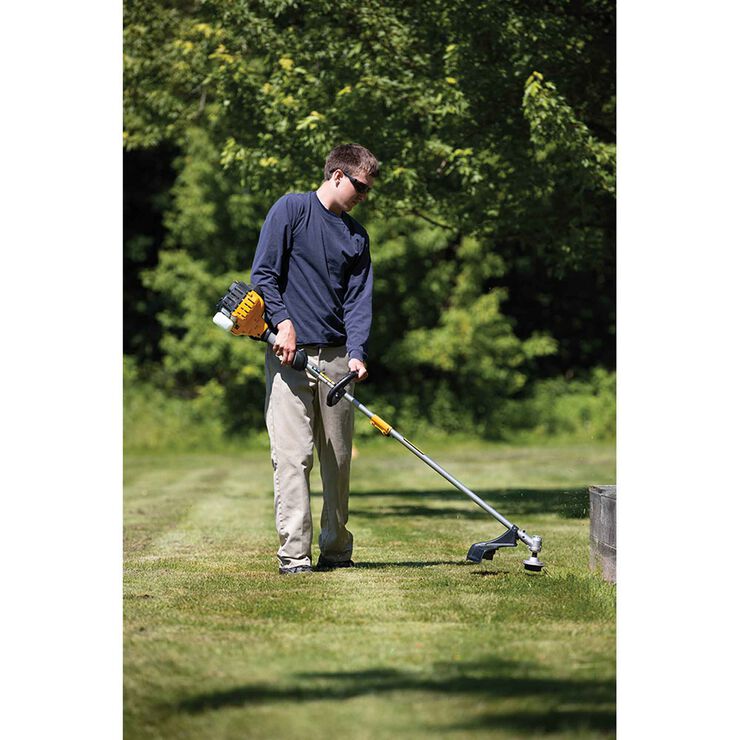 ---
27cc straight shaft string trimmer for greater reach
Durable full crank 2-cycle engine features a dual-bearing, full support crankshaft to deliver smooth, reliable power
TrimmerPlus® attachment capable for more versatility and less storage space
Easy access for hard to reach areas with extended reach boom
The Fixed-Line Trimmer Head makes loading line quick and easy with precut line you can simply insert and start your trimmer.
---
---
Attachments & Accessories
Additional Specifications
Handle Type

Contour handle

Model Number

41ADZ27C912
Specifications
Engine

27cc, 2-cycle

Cutting Swath

17"

Crankshaft

Full-crank

Shaft Material

Straight/steel

Attachment Capable

Yes

Line Diameter

.105

Hour Rating

50 hour

Trimmer Head Type

Fixed line head
| Model | Manual | Form Number | |
| --- | --- | --- | --- |
| 41ADZ27C912 | GDE:IPL:41ADZ27C912:14 | | |
| | GDE:IPL:41ADZ27C912:14 | 769-09460 | Download |
| | MAN:SS270:OPER:14 | 769-09453 | Download |
| | MAN:SS270:OPER:14 | 769-14815 | Download |
| | SHEET:ADD:FUELWARNING:13 | 769-09197 | Download |
| | SHEET:ADD:LOCKOUTGRIP | 769-10872 | Download |
| | SHEET:ADD:SAFETYLABEL | 769-10964 | Download |
| | SHEET:CUB:EPA/CARB:WARR:14 | 769-09148 | Download |
| | SHEET:CUB:EPA/CARB:WARR:15 | 769-10049 | Download |
| | SHEET:CUB:EPA/CARB:WARR:16 | 769-10962 | Download |
| | SHEET:CUB:EPA/CARB:WARR:17 | 769-11832 | Download |
| | SHEET:CUB:EPA/CARB:WARR:18 | 769-12398 | Download |
| | SHEET:CUB:EPA/CARB:WARR:19 | 769-16493 | Download |
| | SHEET:CUB:EPA/CARB:WARR:20 | 769-22852 | Download |
Product Reviews
Rated

1

out of

5
by
Hoobuck
from
Worst gasoline trimmer I have ever owned
After taking a flight over my security fence, I am writing this review. My frustration with this piece of junk hit the boiling point. This trimmer has never really seemed to run at full throttle like it was supposed to even after adjusting it myself, and then having it "professionally" adjusted. Seemed to run at maybe 75 to 80% of what it should have, which was enough to get the job done, if I trimmed every time I mowed. The other issue, which was even worse, is the fact that every time I used it, grass would get caught around the shaft above the cutting head reducing the effective power even more. The last 2 attempts with this, I got less than 8 feet trimmed before the grass wrapped around the shaft so badly, that I had to stop and cut and pull it away. At 65, with a bad back, I am too old to be bent over tearing grass away from the head every 8 feet. Going out in a few minutes and get another brand of trimmer that I hope actually works.
Date published: 2020-06-09
Rated

1

out of

5
by
Scott3103
from
100%junk
This trimmer is poor junk did not last 3 mo it will not stay running and it will die in use then it will not start up after it dies I did take it back to tsc and got a new and it did the same thing it's just junk
Date published: 2020-04-15
Rated

5

out of

5
by
adjimenez
from
Easy to use!
I got the Cub Cadet SS270 weed trimmer for my husband and he absolutely loves it. It came with easy to follow directions which made assembly a breeze. Once assembled it only took a couple of attempts to get the trimmer started for the first time which is normal according to the directions. It now starts easily on the first attempt. It is powerful and an ease to use. We would definitely buy a Cub Cadet trimmer again.
Date published: 2019-05-13
Rated

5

out of

5
by
Thood
from
Great trimmer
I am very, very happy with this trimmer. Cub Cadet has always made excellent products, so no surprise there. I am really liking the long shaft that makes it easier to get to certain places. It trims evenly and so easy to use.
Date published: 2019-05-07
Rated

5

out of

5
by
Lana488
from
I CAN CARRY THIS ONE!
I was skeptical of this one at first because the last Cub Cadet weedeater I had killed my arm because it was so heavy, even with the strap, but this one is much lighter! Cub Cadet always has products that are of excellent quality. The SS 270 is no exception. I absolutely have no complaints. My arm didn't tire after a short amount of time, which is what happened last time. I was able to do my entire yard all at once with no problems. Easy to use and easy to start, the SS 270 is the dream weedeater for the yardwork enthusiast. I received this product for free in exchange for my honest opinion.
Date published: 2019-04-28
Rated

5

out of

5
by
THindman81
from
Great Gas Trimmer
I really like this Cadet trimmer a lot, its very light weight, easy to use and works really well. Performs great, no issues at all.Cuts weeds tall and short very well and very easy to use, I am very happy with this trimmer
Date published: 2019-04-25
Rated

5

out of

5
by
Cristina17
from
Easy Peasy
This weed eater is great! It was very easy to put together and start up. The weed eater is long and is easy to get under hard to reach areas like under a trampoline. I love the ease of replacing the string, it's just insterting one piece of string instead of having a big bulky ball of string hanging from the bottom.Its not too heavy so I can easily help my busband trim while he's mowing the lawn.
Date published: 2019-04-25
Rated

5

out of

5
by
Jenny8675309
from
Great weed trimmer!
I'm so in love with this weed trimmer. It's light enough that I can actually use it, but it's sturdy enough to do a great job. It was super easy to start and has enough power to cut through pretty significant weed stalks. I definitely recommend this for anyone!
Date published: 2019-04-19
Rated

5

out of

5
by
Lnewo
from
Excellent performance!
I am completely happy with this weed trimmer ! We have a pretty large yard which requires a pretty good bit of time to do. I love that it is light and longer than most (I am tall) and has a very comfortable grip. During hours of weed trimming, I am not leaning forward to get the hard to reach areas. It was a little difficult to crank at first but I'm sure that was from being new. No problem since!!
Date published: 2019-04-18
Rated

5

out of

5
by
Brandibryant1973
from
Cuts like a dream
I got this for my husband, he was previously using an electric weed eater but dragging the extension cord they the yard is a hassle!! This weed eater is great, a little hard to get started but one it is works like a charm!! Love that it dosent use the spooled line! It comes with pre mixed gas and extra oil and can run other attachments as well...
Date published: 2019-04-16
Rated

5

out of

5
by
Cestrada
from
Great Trimmer
Cub Cadet has a great reputation for making good products and this trimmer is proof of that. It runs on non ethanol fuel which is great. Once you get it started (yes it takes a couple of tries initially) it works great. It's a little heavier than other trimmers but don't let that discourage you. I found it easy to use have had it a couple of weeks and look forward to continuing to use it during the summer.
Date published: 2019-04-15
Rated

5

out of

5
by
Lynerick
from
Amazing
It's really easy to use not complicated so even first time to use you will not be stress. Weight is just about right so you will not get tired easily and make the job even better. Very comfortable to use and handle is amazing. Not maes very loud noise as its turn on or while using it.
Date published: 2019-04-15
Rated

5

out of

5
by
GabiB
from
Good Quality Trimmer!!!!
I got the Cub Cadet SS 270, and i was trimming and edging my yard with it today. First of all this Trimmer is very light for such a solid good quality Trimmer, it is very easy to hold with the handle and the grip, and because it is very light it is easy to move.The strong motor and the line makes cutting easy.The control/cut off switch is all at one area by the handle, which i like. The ease of loading the Cutting String is great.This SS 270 makes it fun to get my yard looking nice.
Date published: 2019-04-15
Rated

5

out of

5
by
Hotrodz
from
What's Not to Like?!!!
Right out of the box, this unit was ready to use after simply attaching the handle and guard. The first thing I noticed was the placement of the choke control. Most trimmers I've had in the past have the choke located on the side or the bottom, but this model's conveniently located on top of the motor, making it much easier to operate. This is my first experience with a fixed line head and found it is extremely easy to load the string. The large sized string is also long lasting. The engine is powerful and doesn't bog down. I especially liked the fact that it's a convertible unit and I'll be able to add other attachments as needed. This is not only cost saving, but space saving as well.
Date published: 2019-04-14
Rated

4

out of

5
by
rabbama
from
Lite and Powerful
I love the weed eater, it's lite, and enough power for me, easy to run. Easy to put together, instruction right on the weed eater. My husband used it, it is not long enough for him, he is 6', he had to bend over. If an extension is available, would be great & he would love it. Weeds don't seem to fly, which is what he likes, so he can cut with the mower
Date published: 2019-04-12
Rated

5

out of

5
by
charitys_mom70
from
Best Weed Eater EVER!!
WOW, This thing is amazing!! I wish I would have discovered it a long time ago! It took down the weeds, like they were nothing! It's Heavy Duty, well made and starts instantly everytime. It takes down the weeds the first time, No need of going over them again! It's pretty heavy, so you might want to use a strap. I would definitely suggest this weed eater to everyone!
Date published: 2019-04-11
Rated

4

out of

5
by
Javier
from
Awesome tool
Fabulous gadget for your average home owners. It's performance is probably on par with professional trimmers, but the Cadet SS220 is a light weight, compact trimmer that makes is easier to operate and store.
Date published: 2019-04-11
Rated

5

out of

5
by
momica
from
The Long and Narrow!
I finally had the chance to use my SS270 trimmer. The rain has caused an overgrowth on everything, It is easy to assemble, no special tools needed. I followed the instructions, filled it with TRUFUEL and prepared for the long day ahead. My mom has a large piece of fenced property with a run-off ditch, all the way around. I needed to cutback the narrow side, that the lawnmower couldn't get. The weeds had just about strangled out some nice raspberry bushes. It took a few pulls and the trimmer started right up. I was able to reach far enough across and cut the weeds without hurting the bushes. My hands and wrists felt some vibration but nothing unbearable. The straight shaft helped in maintaining balance as I worked. I had to stop and start several times. Each start-up was easy, no issues. My arms did experience some fatique. This is a heavy duty, great trimmer for big jobs. I recommend buying a strap for added support. It took a couple days but the ditch is cleared!!!
Date published: 2019-04-10
Rated

5

out of

5
by
Jarsiann
from
Excellent Trimmer
I got this for my husband and he loves it. Its very powerful and does a great job of trimming the yard. Its a little on the heavier side but that doesn't seem to bother my husband too much! It has worked wonders on our yard!! I highly recommend this trimmer!!
Date published: 2019-04-09
Rated

5

out of

5
by
Xaire14
from
Great Trimmer
Got the trimmer for my husband to use and he was happy with it. Came with a can of fuel which I like very much. Very easy to assemble and to handle. I really feel this trimmer it did a great job cutting the weeds plus it did the little edges on the hard to get places. It took my husband less time to cut the weeds too. I recommend this trimmer!
Date published: 2019-04-08
Rated

5

out of

5
by
Evon
from
Club Cadet lives up to its name!
Just had chance to try out the Club Cadet Weed-eater, Very easy to put together. Even through following directions, it did flood at first. Easy fix - just clean the spark plug. It is very tough on weeds. Easy to use around buildings and flower beds. Light enough to carry and use. Still sturdy and strong for many years of use. The only problem is how fast it goes through the string. Overall a wonderful weed-eater.
Date published: 2019-04-07
Rated

5

out of

5
by
Shaun
from
Easy to get started using
This weEd eater replaces a worn out one. Biggest difference with this one and my old one one was how easy it was out of the box. I was up and running quickly! Cuts great, rpm's are high and it's "angle" of operation leads it to being a bit easier to handle than my old one.
Date published: 2019-04-06
Rated

5

out of

5
by
Sissy
from
Great Machine
Great machine SS270 27cc 2-cycle Gas Straight Shaft Trimmer. It comes with easy directions to put to together and how to use it. I wasn't sure how I would like the straight shaft. I have always used a curved shaft. But after using a straight shaft, I like it much better. I find it easier on my back. I can stand up straight not bending over as much. It has lots of power to cut down weeds and tall grass. I will be buying some different attachments . I like this weed eater so much. I would recommend it to anyone.
Date published: 2019-04-05
Rated

5

out of

5
by
Vlmh
from
Great versatile trimmer
What a nice surprise to find out that this trimmer also is part of the multi tool family. There are several attachments that you can purchase that extends the usefulness of the trimmer to endless possibilities for landscaping. I have been looking for one of the that was able to attach a hedge trimmer to and the ones that I was looking at are much more expensive than this set up. I have not purchased the hedge trimmer yet but plan on doing so in the future.
Date published: 2019-04-05
Rated

4

out of

5
by
Lojo89
from
Little heavy
This trimmer works well, it's a little heavy and hard to move back and forth but the overall function was good. It was easy to operate! It trimmed the grass great and was easy to change the cord on it!
Date published: 2019-04-05
Rated

4

out of

5
by
Tiggergirl
from
Good Product
Was hard to start on the first try, but after using it for quite a while, it stopped being hard to start. It seems to be well balanced and had a lot of power to get through tall and thick weeds. The off switch is located in a great accessible spot and it is spring loaded so it resets itself. Great feature! It's a great heavy duty working product.
Date published: 2019-04-05
Rated

5

out of

5
by
CSpierdowis
from
My husband is very happy with this Weed Eater!
We already own a heavy duty, brush cutting type weed eater, that is another brand. So, when we were sent this to test, we were excited to see the difference. Our local store carries a lot of items in this brand, so it was nice to put our hands on one. We received the 40:1 fuel with it, so we were able to play wit it the next day. We did assemble it immediately in our dining room though, lol. It is easy to put together. We just needed a Philips, and a flat head screwdriver to do it. This is a two stroke engine, but it starts so easily. Even with constant start/stopping, as we did to test it. No matter how many times we did this, it started back up easily. We put it through the tall grass that had grown under the boat over the winter with ease. We put it along the brick wall border around the house, under our deck, around the edge of our gravel driveway, and it worked smoothly in all areas. The hand grip is pretty comfortable to hold while using it. My husband was able to adjust it to himself, which he was very pleased with. Overall, he is very happy with it. He was eager to try it, but didn't think he would like it as much as his pricey dense brush cutting one. He was impressed with this weed eater, and really enjoyed using it. It had more power than he though it would, and performed very smoothly for us. Overall, a well made and great functioning weed eater. We could not find one thing to complain about, lol.
Date published: 2019-04-04
Rated

5

out of

5
by
Levyrebecca89
from
Better than anything I've tried
The unit arrived in new product packaging, everything was packed well. The unit easily breaks down into 2 pieces for storage. Assembly was easy just push to connect. The machine was tested before shipping as I had pressure from gas fumes in the tank when i opened it up to pour in the 40:1 TruFuel that was provided in the packaging. Also included were extra fixed length trimmer strings and a cap for each shaft end for use when storing disassembled. Following the starting instructions on the machine label and everything worked perfectly. After 30 mins constant use hand fatigue from vibration was minimal at worst. Though the muffler was hot, the body was fully shielding it so risk of accidental burns was negligible. I will run it again tomorrow but so far I would definitely recommend this product.
Date published: 2019-04-04
Rated

5

out of

5
by
angellen00
from
Very Nice Product!
This product is very easy to start. It's also light weight so it's easy to handle. It run on gas so there's no need for extension cords which can be a hassle. I would recommend this product. It is well worth purchasing.
Date published: 2019-04-04
Rated

4

out of

5
by
Deb323
from
Excellent quality
I got this a month ago and what a surprise it was. Excellent quality and very way to handle. The Cub Cadet was very easy to store as well. My daughter loved using it on our shrubs. I'd Definately would recommend the Cub Cadet to everyone.
Date published: 2019-04-03
bvseo_sdk, dw_cartridge, 18.2.0, p_sdk_3.2.0
CLOUD, getReviews, 7ms
reviews, product