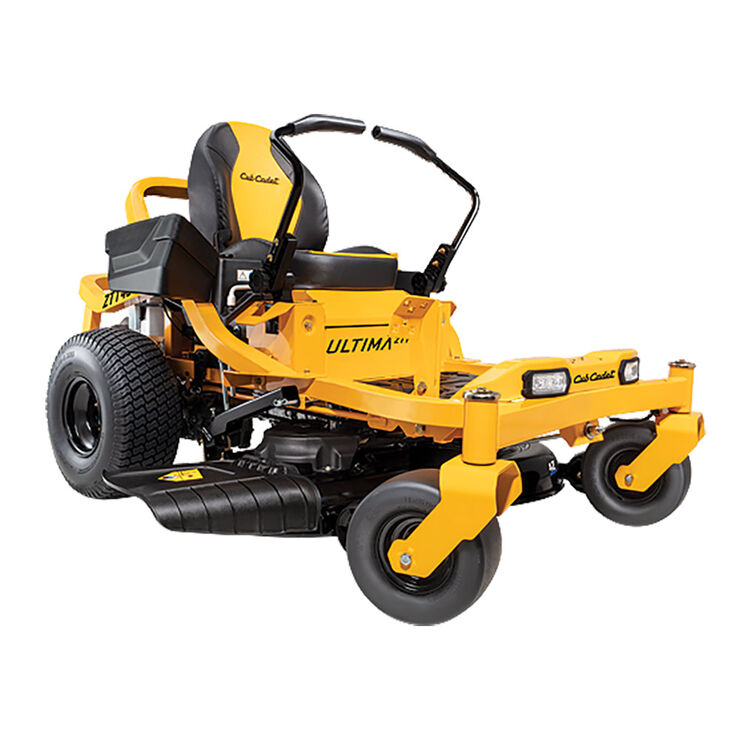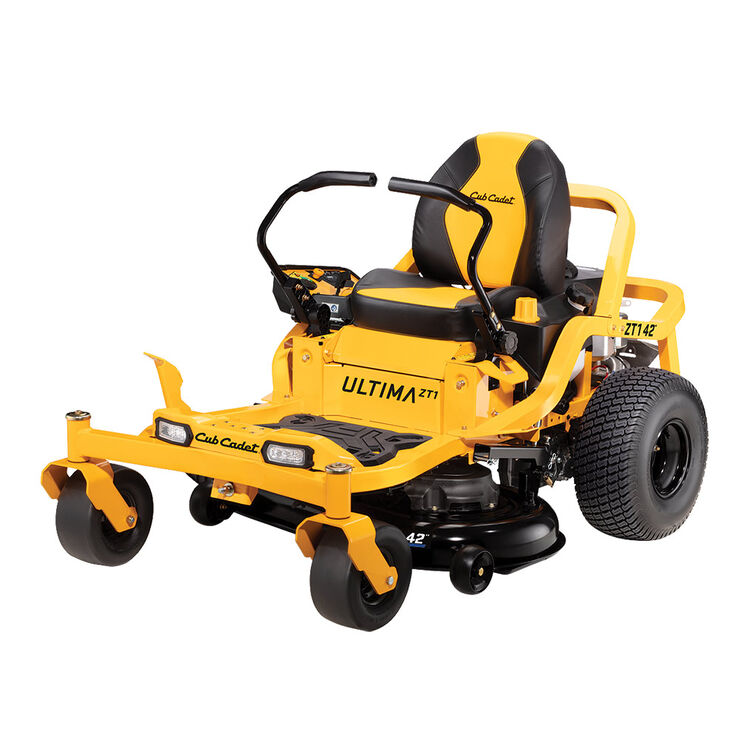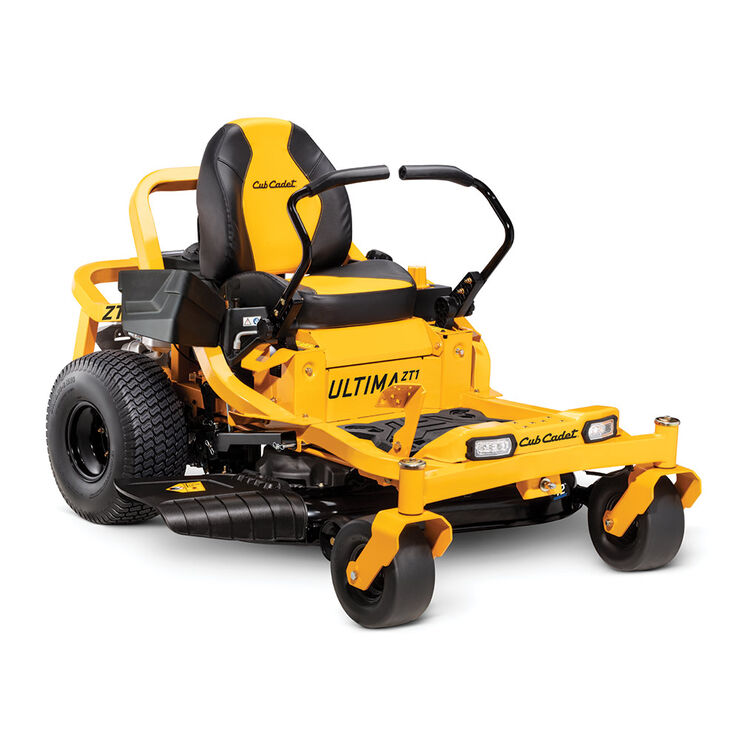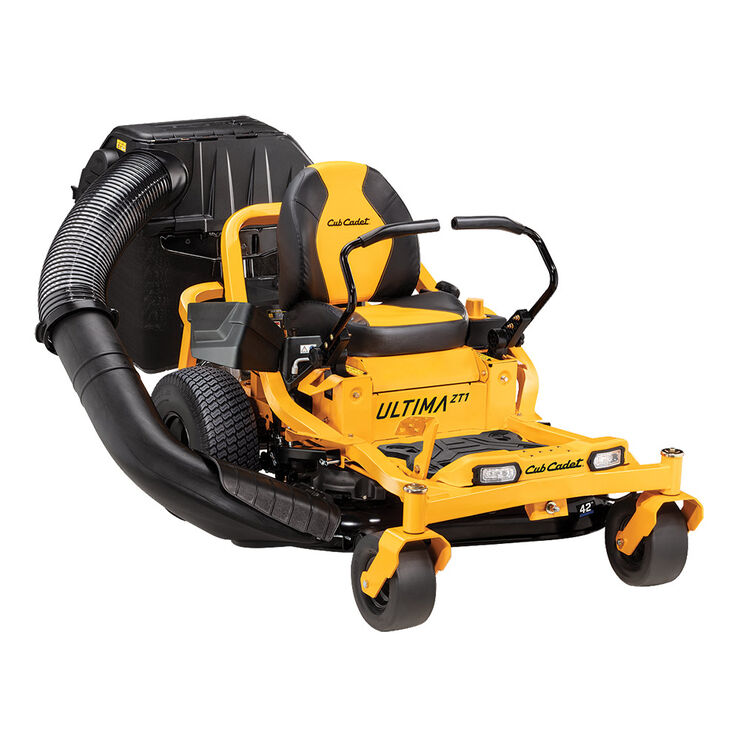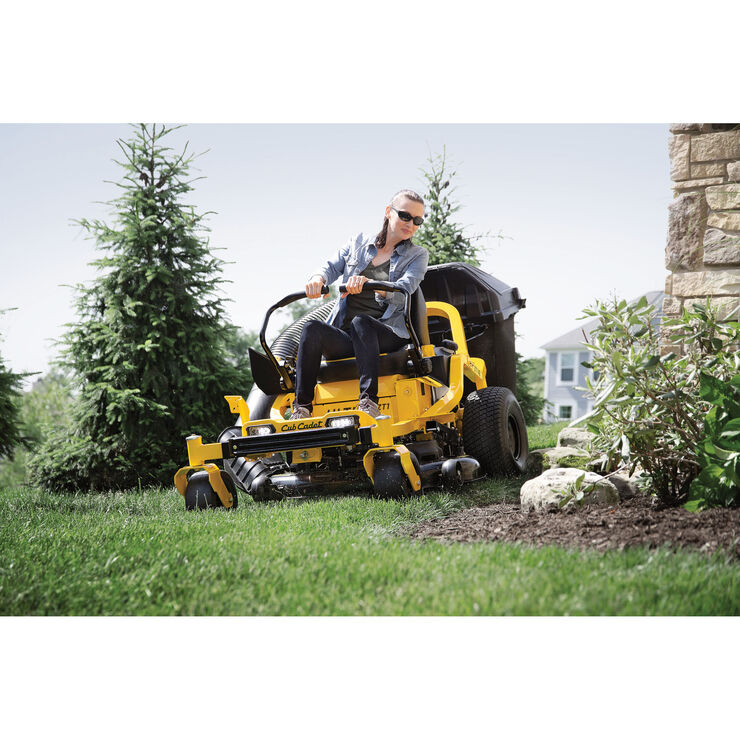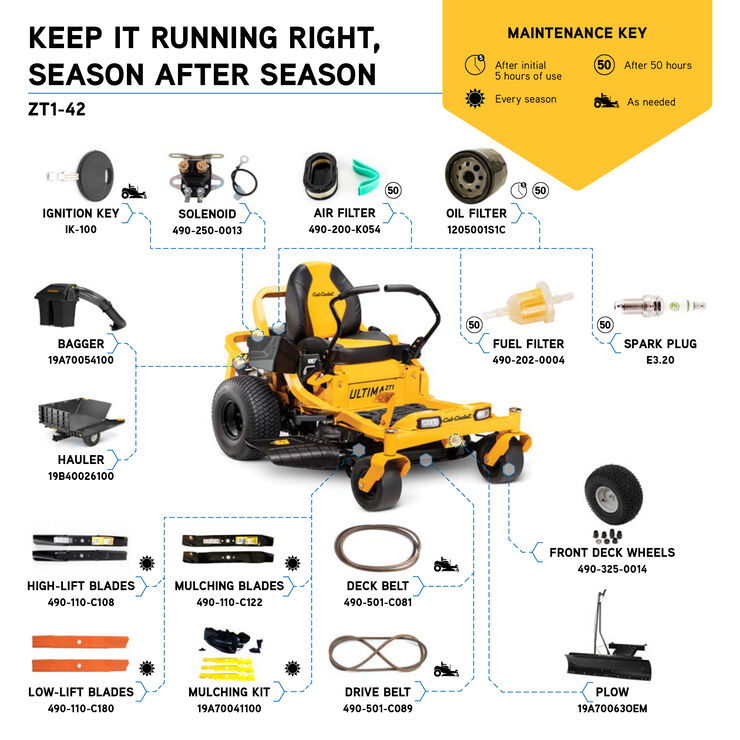 ---
Or
$118/mo | 0% APR3 | 24Mo with $125 Promo Fee. Total: $2,824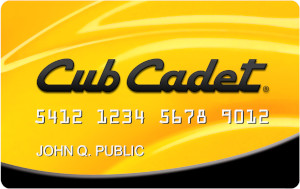 ---
22 HP 725cc professional-grade KOHLER 7000 Series V-twin OHV engine for reliable starting and exceptionally smooth, quiet operation
Ideal for mowing slight rolling hills and several obstacles up to 2 acres
Equipped with an open frame design and hinged/removable floor pan, allowing quick and easy access to the deck and engine for ease of maintenance
Lap bar-controlled dual-hydro transmissions
---
---
ZT1 42 Features
Built with Strength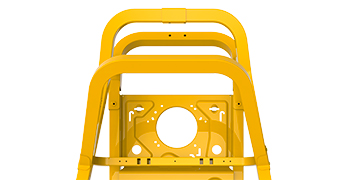 Our continuous square tubular frame was designed for enhanced strength and durability.
Redefining Comfort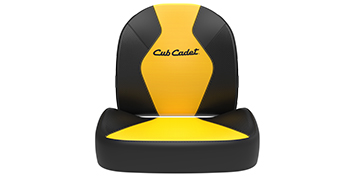 Settle in to a fully adjustable command center and experience next-level comfort designed for optimized speed and control from head to toe.
Twin Blade Deck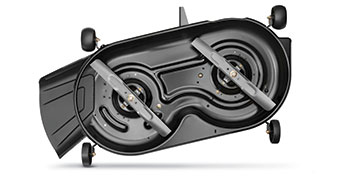 Advanced cutting performance, ensuring durability and reliability while delivering the pristine Cub Cadet Signature Cut and an unprecedented level of bagging performance.
Engine
Engine Brand

Kohler®

Engine Model

7000 Series V-Twin OHV

Engine Displacement

725cc

Engine Output

22 HP

Fuel Tank Capacity

3.5 Gallon fuel tank capacity to keep you mowing and minimize time loss for refueling needs
Drive System
Transmission

Hydro-Gear EZT 2200

Forward Speed

7 MPH

Reverse Speed

3.5 MPH
Cutting Deck
Deck Cutting Width

42"

Deck Wash

SmartJet deck wash system provides high pressure water that cleans out grass and debris build-up under the deck

Deck Material

13-gauge stamped steel

Deck Engagement (PTO)

Electronic fingertip blade engagement

Spindle Construction

Sealed cast aluminum housing (maintenance-free)

Blade(s)

Twin Blades

Cutting Height Range

1'' - 4.5'' leads to a precise even cut

Deck Positions

Foot pedal with spring assist creates the perfect cut | 15 Positions
Chassis
Frame

2'' x 2'' tubular steel frame with fully E-Coat lower frame and Triple Guard Corrosion Defense System™

Front Axle

Fixed 2" x 2.5" fully welded tubular steel axle (e-coated)

Turning Radius

Zero degrees

Front Tires

11"x 6"-5"

Rear Tires

20"x8"-8"

Tire Tread

Turf Master

Protection

2" x 2" Tubular steel bumper

Rear Tow Hitch

Standard

Corrosion Protection

Triple Guard Corrosion Defense System™

Yokes

1/4" steel yokes provide greater durability
Controls
Cruise Control

N/A

Handle Grip(s)

Ergonomic lap bar

Brakes

Integrated parking system in lap bars for ease of use

Steering Control

Lap Bars

Mow in Reverse

Standard
Comfort
Seat Type

20" high back seat

Seat Suspension

Durable, advanced polymer seat suspension system
Dimensions
Dimensions L/W/H

80'' x 54'' x 47''

Weight (approx.)

500 lbs.
Additional Specifications
Mulch Kit

Optional

Headlight(s)

Illuminating Dual-LED Headlights provide ultimate vision for mowing in low light conditions

Model Number

17AREACS010
Warranty
Warranty

The Strongest Warranty in its class 3-year / unlimited-hour warranty. Plus, limited lifetime warranty on frame.
| Model | Manual | Form Number | |
| --- | --- | --- | --- |
| 17AREACS010 | MANL:OPER:BILING:RZ19 Consolid | | |
| | MANL:OPER:BILING:RZ19 Consolid | 769-18950 | Download |
| | MANL:OPER:BILING:RZ19 Consolid | 769-18950A | Download |
| | MANL:OPER:BILING:RZ19 Consolid | 769-18950B | Download |
| | MANL:OPER:BILING:RZ19 Consolid | 769-18950C | Download |
| | MANL:OPER:BILING:RZ19 Consolid | 769-18950D | Download |
| | SHEET:SUP:BILING:EPA:EVP:06301 | 769-15171 | Download |
| | SHEET:SUP:BILING:EPA:EVP:18-19 | 769-17171 | Download |
| | SHEET:SUP:BILING:EPA:EVP:18-19 | 769-23590 | Download |
| | SHEET:SUPP:WARR/PARTS:CC ZT1/Z | 769-18151 | Download |
| | SHEET:SUPP:WARR/PARTS:CC ZT1/Z | 769-18151A | Download |
| | SHEET:SUPP:WARR/PARTS:CC ZT1/Z | 769-18151B | Download |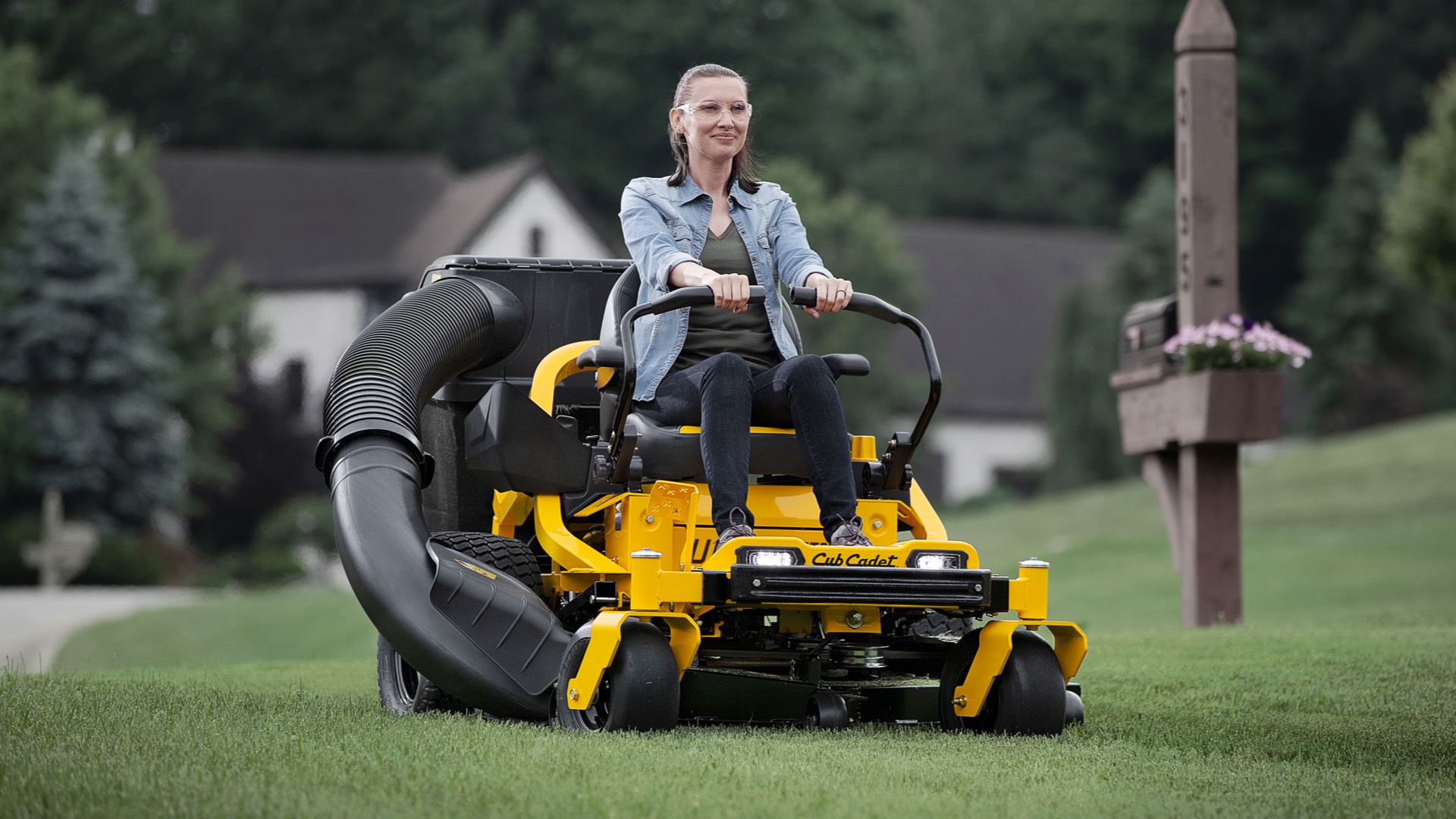 Product Reviews
Rated

5

out of

5
by
Millercpa1
from
Update on post
I forgot to add pictures: I bought this mower 6 months ago. It has 10.5 hours on it. The only concern is the underneath of the deck is pitting, rusting and the paint is peeling. I have a green plush lawn and I'm not mowing any debris. Should I be concerned that after just 10.5 hours of use I'm seeing this much pitting, rusting and paint peeling or is this normal? I know with steel it's going to rust, but I'm not mowing with moisture on the grass and I have sprayed the underside of the deck regularly.
Date published: 2019-11-13
Rated

5

out of

5
by
curly
from
Good mower
Bought this hoping to cut my mowing time. It is a great mower, mows evenly & cuts my trimming time down.
Date published: 2019-06-11
Rated

5

out of

5
by
jimjam
from
Great bargain.
Bought a month ago and very pleased with the ease of operation.
Date published: 2019-06-07
Rated

5

out of

5
by
Satisfied in Michigan
from
Great Mower!
I bought this mower April of 2019 and have used it appr. 5 times. It provides a really nice cut, performs well and exceeds my expectations. The mower is built solid and is definitely at a very reasonable price point for what you're getting. I mow appr. a half acre so the 42" was the largest mower I could fit in my yard. Only time will tell how durable it will be, but with the construction of this mower I suspect it will last a long time. If you are looking for a solid residential mower with great features and a reasonable price point, this is it! Don't hesitate to buy this mower.
Date published: 2019-05-24
Rated

5

out of

5
by
Purushan
from
Excellent Lawn Mower!
I gave up on lawn mowing eversince I had a back injury , never though I would be able to mow my lawn again. This lawn mower makes me feel like I am riding a luxy Vehicle on my yard. Its such a joy to Ride it and finishes the job with no effort. Cub Cadet ZT1-42 is very easy to use and zero turn is a nice feature. The safety features are good on ZT1-42 and the mower runs smooth. I like the different grass cut settings and how easy to turn the knob to change the setting. The mower is not big and it easily goes through our backyard gate. Overall I will recommend this mower to everyone with a large yard. Very satisfied.
Date published: 2019-05-23
Rated

5

out of

5
by
Steph11
from
Great mower!
I am very pleased with the performance of the ZT1 42. It is the first zero turn for me so I had to play around with it for about 20 minutes before I mowed. I mowed in early spring so there was wild onions in the yard. It cut them cleanly without having to slow down like in the past with my other mower. I've had it a couple of months now and I am still pleased with it's performance. It has a sturdy feel to it when you are mowing over rough ground. It was no problem at all to mow along a ditch that has a fairly good slight to it. The seat is comfortable and I am really glad it is adjustable so I can make it fit my size. I am totally satisfied and would highly recommend this machine.
Date published: 2019-05-15
Rated

5

out of

5
by
TeHen
from
Love it
I bought this Zero Turn a month ago. It make cutting grass easy and simple. I love how much power it has and how easy it is to pull up a hill. The yard had grass knee high and it went right through it with ease. I love the light in the front. It make it easy to cut if you get caught by the dark I would give this product ten stars if I could.
Date published: 2019-04-22
Rated

5

out of

5
by
Ed A
from
Great mower
Purchase the ZT-1 42" at Home Depot a few weeks ago to get ready for spring. This machine rides great, deck height adjustment is super easy, it starts fast and reduced my cutting time from about four hours down to about 45 minutes. The frame is built very well and feels strong. I should have purchased one of these a long time ago.
Date published: 2019-04-20
Rated

5

out of

5
by
horse
from
LOVE IT!
It used to take about two hours to mow. Now 45 min!!!!!!
Date published: 2019-04-09
Rated

4

out of

5
by
Big MT
from
Easy operation
A Good mower. However owner manual need to match the product.
Date published: 2020-06-12
Rated

5

out of

5
by
10ac Al
from
Great zero turn
Love this mower. It gives a great cut, looks good, has plenty of power, comfortable seat, easy to get into for maintenance, meaty tires, solids frame. I chose this over many others and glad I did. I use the 42 for my 1/2 acre and look forward to each mow. Plus it looks great!
Date published: 2020-04-06
Rated

5

out of

5
by
bowtiebob
from
Mowing made easy
I bought my cub cadet zt1 a few months ago and it has been a great machine it cut my mowing time in half and does cleaner cut than my old riding tractor.
Date published: 2019-09-18
Rated

5

out of

5
by
Ron1
from
Lets cut grass
Used buying guide to pick out what I needed. I can finish quick, good on gas, easy to operate, Love the height adjustment.
Date published: 2019-08-15
Rated

5

out of

5
by
Amberj
from
The best there is!!
Our riding mower recently died on us so we decided when we got a new one we would upgrade. My husband has always wanted a zero turn so we got this one. I have noticed it has cut our mowing time from 3 hours to a little under an hour. We can now mow around our trees without having to stop and start back or just weed eat them. Our yard does have a few little hills in it and this mower will still cut as smoothly and evenly as it does in the flat parts of our yard. It does have working headlight on the front which I am guessing is led lights because they are bright and make mowing at dusk or dawn easier. It also have a wagon hitch which we use to haul smaller sticks and leaves out of the yard. We have had no problems with attaching the wagon or with it coming loose. This does seem to be very well made and seems to be made from high quality parts. The deck height is easy to move as well as the steering bars. We have had no problems with the bars sticking or being hard to move. Overall, We are in love with this mower! If you are looking to upgrade or just looking for a new mower you need to give this one a try!!
Date published: 2019-05-13
Rated

4

out of

5
by
Mack23
from
Love it, but hate catcher
I purchased the Ultimate model from Home Depot about two months ago. This is my first zero-turn, and I love it. However, I wish the grass chute titled closer to the ground. Grass seems to blow everywhere, except on the grass. I purchased a Cub Cadet catcher in the hopes of reducing the excessive grass blowing, but the catcher is worthless. I used the catcher about four times now, and each time I am covered with grass from head to toe. The cover on the catcher has too many seams were grass is allowed to come out. Plus, the catcher fills up fast. Three or maybe four rotations and the catcher if full. I spend more time emptying the catcher than cutting grass. So, I recently removed the catcher. If the catcher and the chute were correctly designed, I would have given this model five stars.
Date published: 2019-04-04
Rated

5

out of

5
by
Stavros
from
Great mower
Best mower I ever owned. Only complaint is not excellent tight around objects. Would be perfect if deck extended out a little farther on left side past rear tire
Date published: 2019-06-15
Rated

3

out of

5
by
Kbales
from
Good Mower, HORRIBLE Tires
Really like the tube chassis. It's everything it's sold to be for easy access, tough, and easy to clean. Performance wise the mower has been good. However, the engineers really failed with the rear tire choice. The 8" tires have absolutely no traction and constantly turf up my yard. Regardless my driving or the condition of my lawn, they turf my grass. My yard has moderate slopes and I rarely mow when it's damp. Doesn't matter. A 1° slope is too much for this lower to turn on... I'm seeking to upgrade to 10" wide tires.
Date published: 2019-06-27
Rated

1

out of

5
by
Anonymous
from
Tons of vibration and uneven cut
When you engage the blades there is a lot of vibration. Additionally the mower deck bounces all over the place when you mow, leading to a very uneven cut. I would not recommend this mower. Hoping to sell it even though it is only 1 month old.
Date published: 2020-05-02
Rated

1

out of

5
by
Brenda
from
Worst company
I bought the z154 last may and this year in March it started running rough. Took it in for repair, it has a bent rod. Cub cadet refuses warranty saying it is bad fuel but the mower only has 45 hours on it and never any bad fuel . They don't stand behind their equipment and it's junk. 3000 down the drain for a lawnmower and will never buy another from this company.
Date published: 2020-05-04
Rated

3

out of

5
by
Art30157
from
ZT1 42
I am considering buying a zt1 42 inch deck. Does anyone know how wide this mower is with the Shute up.? Will it clear a 48 inch Opening?
Date published: 2020-05-10
Rated

5

out of

5
by
Woodchip
from
Solid machine very well built
Purchased this machine a while back only got to use it a few times because of the drought. I was so impressed with the quality of cut a d the ease of adjustment. Only recommendation I could give would be to have some kind of assist handle to get up out of the very comfortable seat without pulling or pushing on the controls.
Date published: 2020-07-27
Rated

5

out of

5
by
AWB1957
from
Easy to use, much better than a steering wheel
I use to hate to cut grass, now I enjoy it. My wife likes it so much I might not get to cut the grass any more.
Date published: 2020-07-22
Rated

5

out of

5
by
Mustang9172
from
Great mower
This is my first zero turn mower and am glad I chose the cub cadet brand. It took some getting used to the steering. I enjoy cutting my grass with this mower.
Date published: 2020-07-19
Rated

2

out of

5
by
Sparr
from
Barely used before breakdown
First few uses, my husband loved the mower. Then it started failing afte mowing for about 10 minutes, consistently. Same issue over multiple days and attempts. It had less than 7 hours on it before failure. We have now paid out over $500 in bare minimum lawn maintenance costs while we wait for it to be repaired. Not a good first time Cub Cadet experience.
Date published: 2020-07-16
Rated

2

out of

5
by
JimJ1234
from
OMG The Tires!
Bought this for a acre lawn, mostly flat. I added the mulch kit to it. The blades, while just sharpened, do not cut thin and light grass, nor clover flowers. Just today I honed those blades where I could easily cut paper and it left long strips of uncut grass. Yes the blades are on correctly. The deck is level and undamaged. The spindles are solid. I'm thinking thin and light grass is just blown down when the blades pass over them leaving a lot uncut. The tires that come with it are horrible and chew up my grass as they have virtually no grip. One control are seems to have more oomph than the other and I spin the tires frequently. on a slight slope near my ditch, I have to go ultra slow as if one wheel spins it will literally turn the machine in to the ditch. Not at all happy with the over all situation.
Date published: 2020-07-10
Rated

5

out of

5
by
Ronald 88
from
Zt1
GREAT MOWER , first zero turn mower cuts my lawn in half the time really powerful motor in bought the mulch kit have not tried it yet really no need to.
Date published: 2020-06-28
Rated

5

out of

5
by
POCO8
from
Great features
This mower has made cutting the grass fun, quick and easy.
Date published: 2020-06-24
Rated

5

out of

5
by
Purelove
from
Wonderful lawnmower
I purchased the zero turn in April 2020 as a gift for my mother who was using a push mower to cut her yard. This is a great mower for almost a 2 acre lawn with a bumpy smooth terrain.
Date published: 2020-06-24
Rated

5

out of

5
by
Marcus
from
The well built frame
I purchased my ZT1 about one month ago and I love it. I can't wait for grass to grow each week so I can ride my mower and cut grass. I strongly recommend this mower!
Date published: 2020-06-23
Rated

4

out of

5
by
CT57
from
GREAT VALUE FOR THE MONEY
I have had my 0 turn for about 4 weeks runs great cuts outstanding I look at over 5 brand ,I feel this was the best buy
Date published: 2020-06-19
bvseo_sdk, dw_cartridge, 18.2.0, p_sdk_3.2.0
CLOUD, getReviews, 6ms
reviews, product