CC 600
Wide Area Walk Behind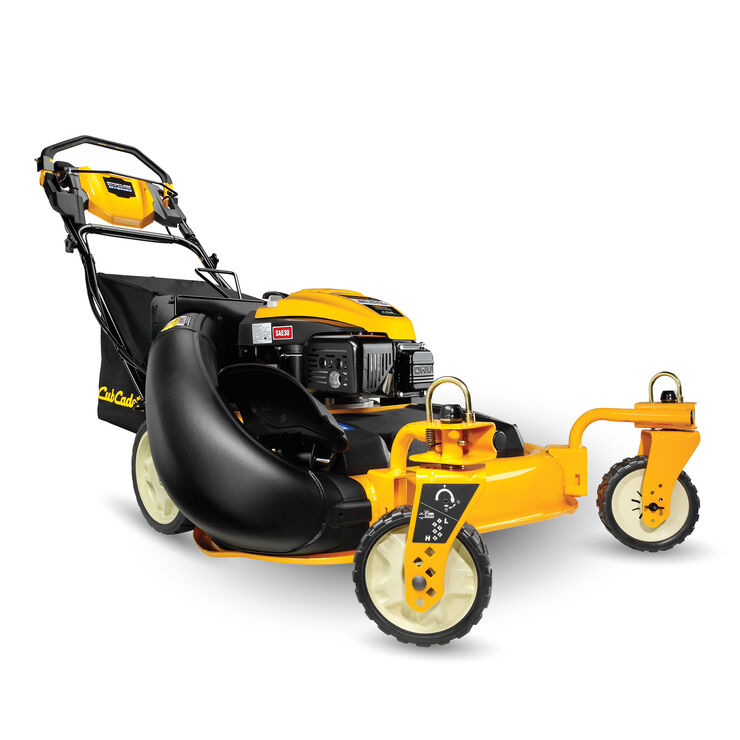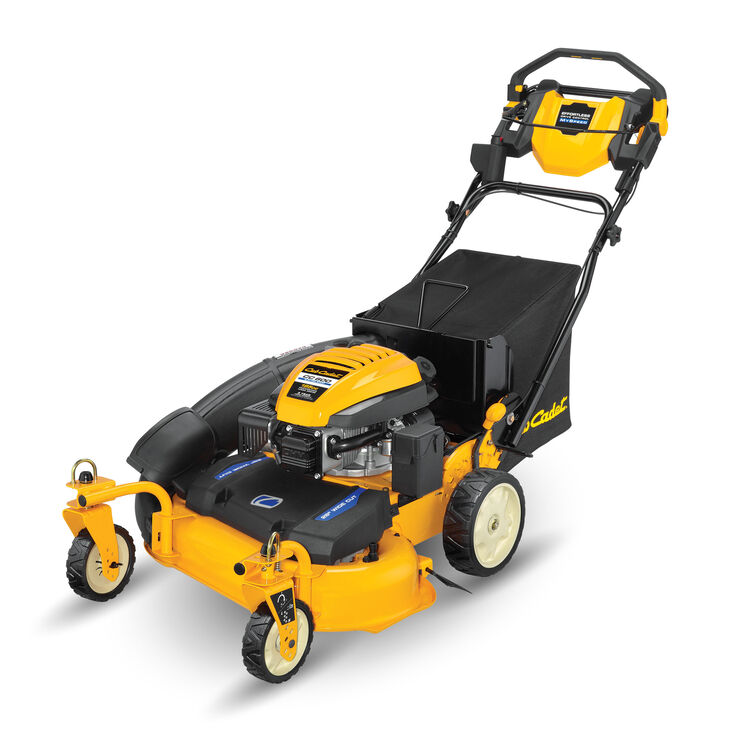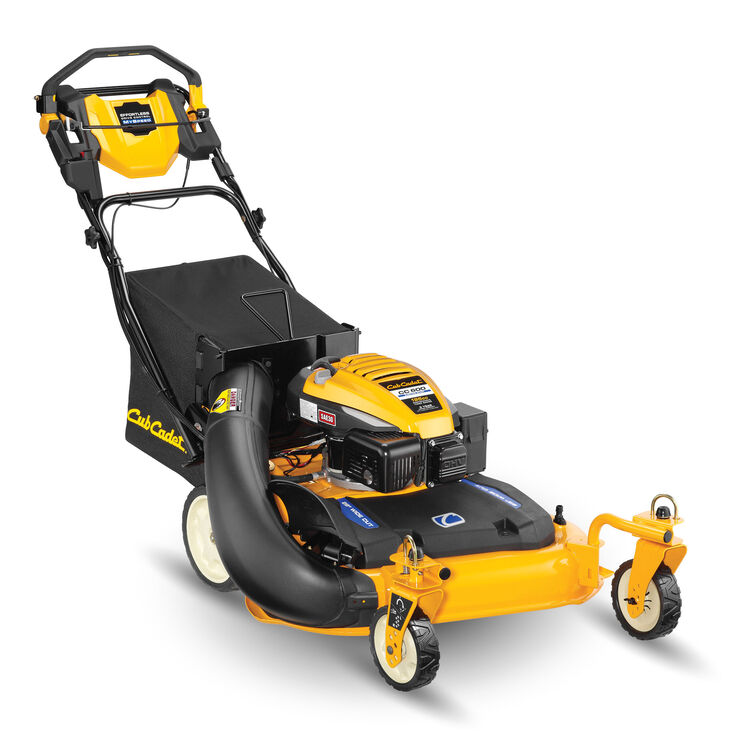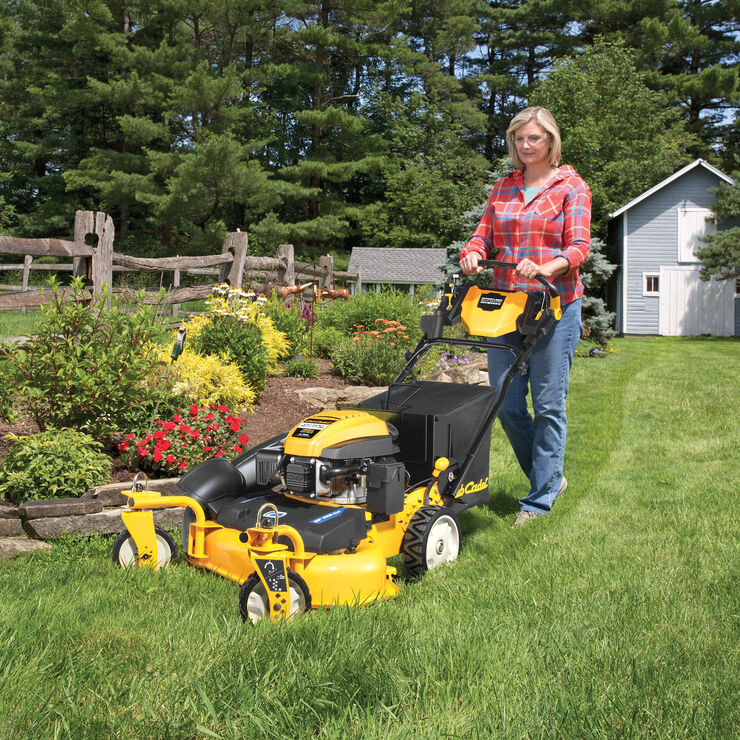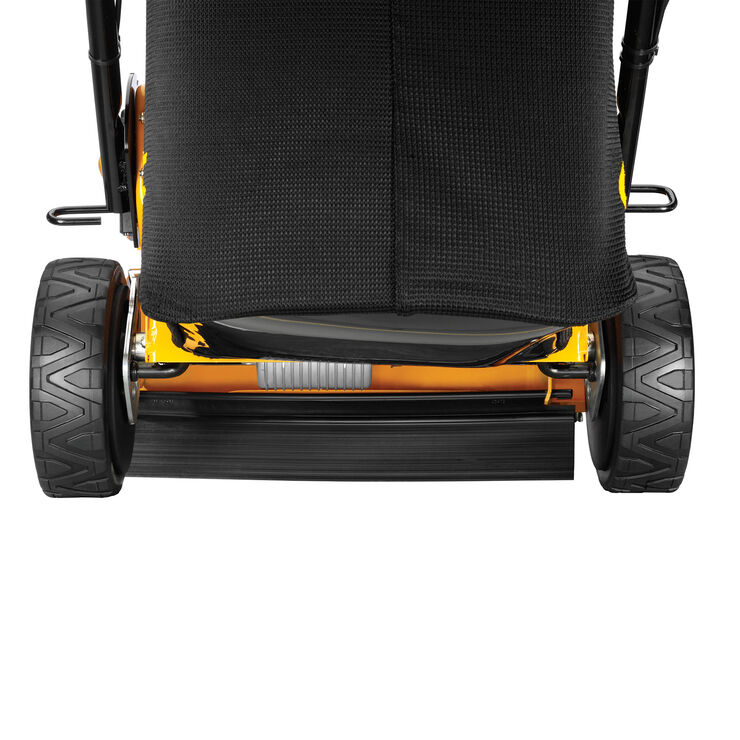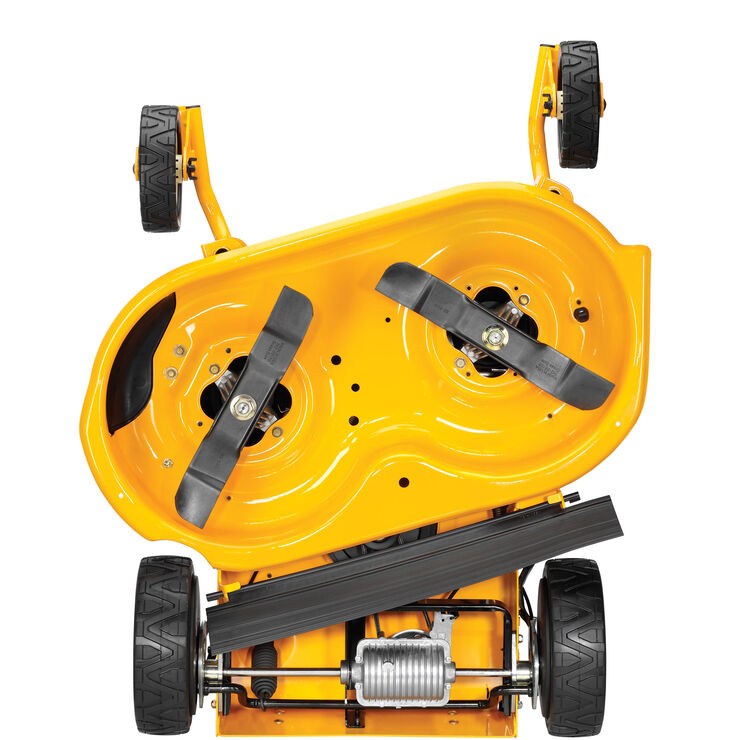 CC 600
Wide Area Walk Behind
---
Or
$84/mo No interest if paid in full within 12 months2
Interest will be charged from the purchase date if the purchase balance is not paid in full at the end of the promotional period. Advertised minimum payment is greater than required minimum payment.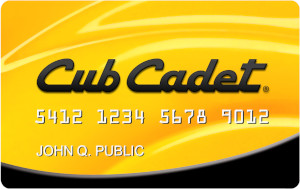 ---
224cc Cub Cadet® OHV engine
Electric start with SureStart Guarantee® and recoil backup
28" rugged steel deck with twin blades
Caster front wheels for easier maneuverability
---
---
Engine
Engine Brand

Cub Cadet® OHV

Engine Displacement

224cc

Fuel Tank Capacity

1.3 qt.

Engine Start

Electric push-button, Thermal Auto Choke w/ SureStart Guarantee

Engine Oil Capacity

20 oz.
Drive System
Drive System

Rear-wheel drive, MySpeed™ Drive System
Cutting Deck
Deck Cutting Width

28"

Cutting Modes

3-in-1 bag, mulch, side discharge

Deck Wash

Patented SmartJet™ high-pressure deck washing system

Deck Material

Steel

Cutting Height Range

1.25" - 3.75"

Deck Positions

Three-point, 5-positions
Controls
Handle

Foldable Adjustable Loop w/ Indent and Overmold Bail
Wheels
Tread Pattern

Zag

Front Wheels

Full ball bearing caster 10"

Rear Wheels

Full ball bearing 7"
Dimensions
Weight (approx.)

100 lbs.
Additional Specifications
Mulch Plug

Integrated

Grass Bag Capacity

2.25 bu. rear, dust blocking bag

Model Number

12ACW6M9710
Warranty
Warranty

3-year limited residential
| Model | Manual | Form Number | |
| --- | --- | --- | --- |
| 12ACW6M9710 | MAN:OWN:COL3X_159CC_196CC_ENG | | |
| | MAN:OWN:COL3X_159CC_196CC_ENG | 769-15770C | Download |
| | MAN:OWN:DIGEST_159_196_224CC_E | 769-25350 | Download |
| | MANL:OPER:BILING:12X:WXX | 769-11201C | Download |
| | SHEET:SUP:BILING:12X:WXX:CUB | 769-18631 | Download |
| | SHEET:SUP:BILING:EPA:CARB:EVP: | 769-23591 | Download |
| | SHEET:SUP:BILING:EPA:CARB:EXH: | 769-23593 | Download |
Product Reviews
Rated

3

out of

5
by
jovil99
from
Been a LONG ROAD in under 11 months
Purchased brand new direct from Cub Cadet Sept 17th, 2019. Marshall Power Equip "fullfilled' the order and the striper kit order too. Of course the 2 came in about a week apart not the same day like they said but that was just the beginning of them wasting my time. 20 minutes into using the mower, the spark plug boot/wire pops off on its own. This should have been the red flag. From the very 1st mow, it would start perfectly if it was cold. If I stopped the mower to change the bag in less than a minute it might have started ok. If more than 1-1.5 minutes off and warm electric start would crank but would NOT start the mower. 1 quick yank on the pull start and it started right up. Marshall never responded to my attempts to reach out to them in the fall, the 1st month or 2 of owning it. Changed oil parked it for winter. Spring came around and without a split second hessitation the electric start cranked and started the mower sitting in the shed from Nov to March in NE Ohio. Yet, as soon as I shut the mower down for 90 seconds or more the electric start would still NOT start the mower, had to pull start. April came and we had a new surprise, for over 15 minutes I could not get the mower to start no matter how I tried. By Mid-may the inability to start it at all came and went but was a ghost issue. Late May Marshall finally responded to my reaching out and they sat on it for a week. Told me "there was nothing wrong with the mower". When I picked it up again I showed them the easy cold start and the inability to electric start it warm. They left me standing in their parking lot to fend for myself!!!!!! DID ZERO!!!!!!!! Took it home contacted Haueter's, another cub dealer just a touch even further away which sucked but appearnetly being on the east side of a city that is labeled on the globe you don't get a cub dealer less than 35+ minutes away. Point there, downtown Cleveland at 20 miles away, is closer than either of the closest dealers are. Haueter's took it in, looked at it and fought with it. eventually were able to reproduce the complete can't start it problem. They replaced the ignition coil. Still wouldn't electric start warm. And on top of the starting issues, the transmission was acting up as it wouldn't steer as the differential seemed to be stuck. They eventually got that transmission replaced and the steering was a bit better. Sadly, the drive cable snapped halfway through the lawn on the 1st mow with the new transmission and STILL no warm electric start. They wrestled with it some more (now bout 9 weeks without the mower since after memorial day). they eventualy checked the valves on the engine head and somebody decided to check the spark plug. between those 2 steps it at least starts great warm AND cold with the electric start OR the pull cord. So, in the end, the mower that "didn't have anything wrong with it" got a new ignition coil, new transmision, new drive cable, a drive servicing, new spark plug and a valve adjustment. The mower on paper is a great mower. In the real world the time savings is really not that much, yes some, but NOT THAT MUCH. Further, the unit is MUCH bulkier than a typical 21 inch mower which takes away from some of the time savings that, in theory, is possible. You have to keep the blades perfect or it will leave some to a lot of completely un-cut blades of grass just standing there. Or, you have to go super slow with the mower. I've clogged the bagging shoot way before the mower was starting even thinking of stalling. Frankly, I don't think I've heard it even come close to bogging down (engine speed wise). So I'm not sure why they added 25 or 30 more cc's to the engine size for 2020. But at least they made the 2020 gas tank larger than a tea spoon. The 2019 is a tiny 0.9 quart tank...for a "wide area mower"! I'm mowing a fuzz under a quarter acre and in the spring I tend to have to top off the tank between the front and back yards if its working hard. In the end, I'm spitting far fewer bullets when I mow now than I was last fall and this spring. Plenty bullets being spit (NOT shot) waiting 9 weeks and going to & from the 2 dealers combined at least 16 times. The folks at Haueter's are good people and are willing to take care of the customer. It certainly would be nice if Cub would have set the valves correctly and put a good plug and coil and transmission and drive cable to start. As we all know they're prolly not guna do ANYTHING for me and the hell I've been through with this thing. But, if you're guna have a swivel wheel walk-behind mower, other than going commercial the cc600 & cc800 are bout your only options. A for sure good thing that I haven't figured out how to break, it is a bright yellow so I can find it in the yard when I cuss it out and walk away from it again. You can find a few 21" out there with swivel wheels for bout half the cost of this. DO NOT buy this for double the 21" cuz you plan on it saving you a 25-33% on your mowing time...because it will NOT save you that much! Tops 15-20% vs typical 21" unless you are mowing big wide open areas.
Date published: 2020-08-29
Rated

1

out of

5
by
Coachf
from
Would not buy again
One of the worst purchases I've ever made. It is the perfect size mower for half acre, but 1) the starter has not worked properly since day 1 2)after half an hour of running it starts to sputter 3) have to remove the brand new air filter and put screwdriver in the carburetor to start it 4) this is the worst, the spur gears on the rear wheels keep grinding down so that I to replace them about once a month This is the second summer I've used the mower. I mow half an acre in a development, so the mower does not get beat up. I clean it ever time I use it and change fluids, it is well maintained. This is just a very poor product.
Date published: 2020-08-13
Rated

4

out of

5
by
storm24
from
Time Saver! Way better than a 21" Push Mower
Purchased this mower 2 months ago for my residential lawn mowing business. Hasn't skipped a beat after plowing through 8-10" grass, being used 8 hours a day, etc. Have had 0 problems cutting anything I've thrown at it thus far. Electric start works amazingly, self propelled is fantastic, and the caster wheels make turning a breeze. A couple minor flaws with the mower, however.. The electric start button was apparently not secured when sent from the factory, and popped off while mowing (I didn't notice this until later, so it's lost forever). In addition, the mower blade guard under the mower that prevents clippings from shooting back managed to get sucked into the blades while mowing, completely destroying it. Although these flaws didn't affect functionality, was very disappointing. Finally, I would really like to see a better height changing feature. It is quite a pain to have to individually adjust the 2 front wheels, although it has become less of a pain over time. All in all, it's a great little mower, definitely shaves significant time off of each lawn and the cut quality is fantastic. If you're looking to save some time mowing your own yard or even start up a small business, this mower is for you!
Date published: 2020-08-02
Rated

4

out of

5
by
Lois20
from
Electric starter is disappointing.
We have had the mower for abt 6 years now and electric start has been a problem since year 1. At first, when it wouldn't start, we found sitting it in the hot sun for a while, it would start or sitting a small electric heater next to the machine for a few minutes would start ok. Now, year 6, battery dead. We are at a lake home and it only gets used 5-6 times a season. So disappointed. Taking it to a dealer for repair requires a trailer that has a ramp since it is too big and heavy for me to lift into a car, if it fits!
Date published: 2020-07-31
Rated

5

out of

5
by
Stonetone
from
great mower!!!
Great mower. Beastly in a compact size. The grass collection works great with the high lift blades.
Date published: 2020-06-29
Rated

3

out of

5
by
RJ Davis
from
Alittle Oversized for me...
Purchased the mower a year/season ago. The machine is a decent mower, plenty of power, however, I have difficulty sometimes with monuverability because my yard is so hilly. Starts fairly easy. Have had none of problems that I have read in some of the other reviews. I am convinced that if you do not use premium gas in these yard machines your going to have problems. I do not use the bagger, always the side discharge with no clogging unless the grass is wet. Do not care for the design to well. Over all its a matter of preference and yard layout. I paid the money for the machine and so now it will have to produce. Let it also be known that I am partial towards CCs, I own three of the companys yard machines, so I was pretty critical with the CC600.
Date published: 2020-06-21
Rated

5

out of

5
by
Grass pro
from
Impressed so far
Bought mower a couple weeks ago, starts right up and cuts as well as my old Honda.
Date published: 2020-06-14
Rated

5

out of

5
by
samb61
from
big yards, lots of trees - year 3 strong as new
Up down, figure 8's, around and around, etcetera etcetera. Starts everytime. Not easy, not hard, sure beats a21" mower. I really like the ability to control the pace. Downside: not air conditioned cab ha ha.
Date published: 2020-05-26
Rated

5

out of

5
by
Bakken lawn
from
First use.
purchased this mower new today locally. I only was able to run if for an hour before it was trimmer time..First impressions so far..I love it..The bagging system works great as long as the grass isn't wet but doesn't preform any worse than any other bag system. The larg bag capacity is a huge plus compared to my old honda. Electric start is a spoiling touch even though its not needed as the mower starts on the first pull. The adaptive speed control to me is a major improvement over the old gear selectors and extremely easy to get used to. Combined with the caster front end turning is almost effortless. Only down fall is as others have said is the front wheel height adjustment. Not a deal breaker by any means especially if you don't let your lawn get crazy tall.
Date published: 2020-05-26
Rated

5

out of

5
by
mwright
from
Great mower, very happy with my purchase!
Bought this today and got to use it right away. Works perfect, a lot of features for the money.
Date published: 2020-05-07
bvseo_sdk, dw_cartridge, 18.2.0, p_sdk_3.2.0
CLOUD, getReviews, 11ms
reviews, product