CC 800
Wide Area Walk Mower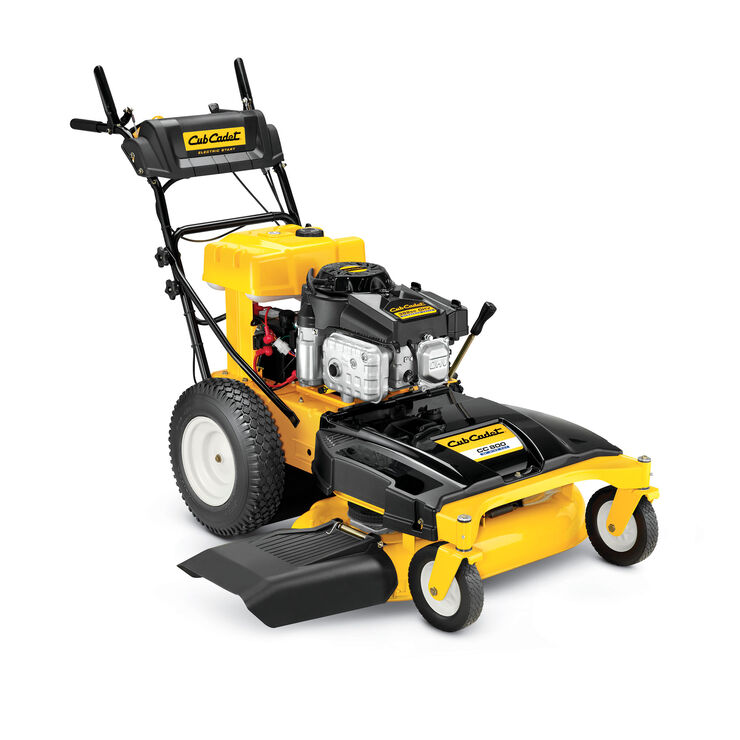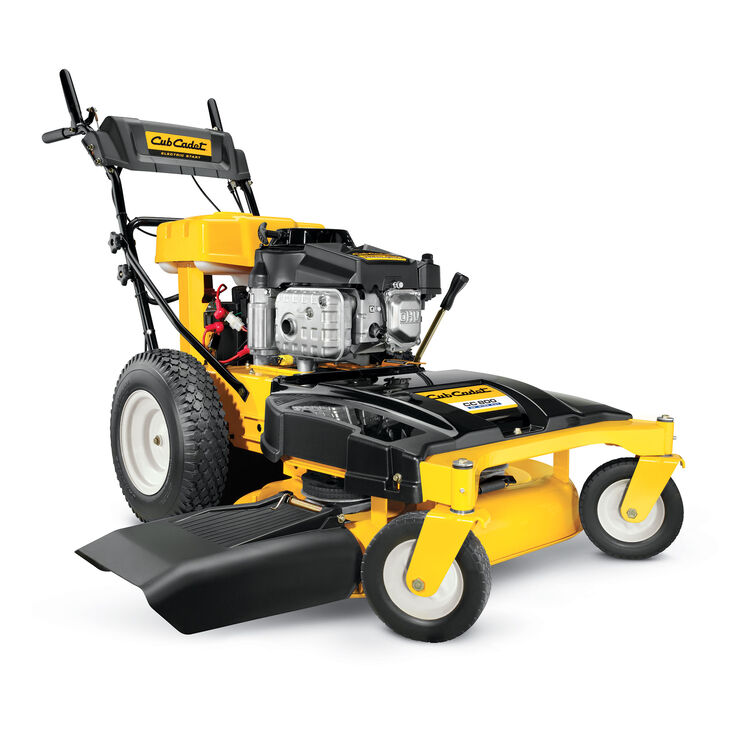 CC 800
Wide Area Walk Mower
---
Or
$117/mo No interest if paid in full within 12 months2
Interest will be charged from the purchase date if the purchase balance is not paid in full at the end of the promotional period. Advertised minimum payment is greater than required minimum payment.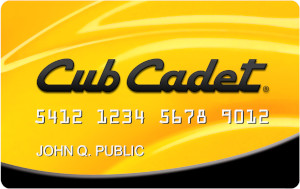 ---
382cc Cub Cadet® OHV engine
Electric start with SureStart Guarantee® and recoil backup
33" rugged steel deck with twin blades
Caster front wheels for easier maneuverability
---
---
Engine
Engine Brand

Cub Cadet® OHV

Engine Displacement

382cc

Fuel Tank Capacity

2 US gal. / 7.6 L

Engine Start

Thermal Auto Choke w/ SureStart Guarantee
Drive System
Drive System

Rear drive w/ reverse, neutral and 4 forward speeds
Cutting Deck
Deck Cutting Width

33"

Cutting Modes

Mulch/side discharge

Deck Wash

Patented SmartJet™ high-pressure deck washing system

Deck Material

Steel

Cutting Height Range

1.25" - 3.5"

Deck Positions

Single-lever, 8-position
Wheels
Tread Pattern

Turf

Front Wheels

8" caster w/ ball bearing

Rear Wheels

Semi-pneumatic/16" pneumatic
Additional Specifications
Hour Meter

Standard w/ maintenance reminder

Mulch Plug

Included

Grass Bag Capacity

Optional

Model Number

12AE76M8010
Warranty
Warranty

3-year limited residential
| Model | Manual | Form Number | |
| --- | --- | --- | --- |
| 12AE76M8010 | MAN:OWN:COL3X_382CC-439CC_ENG | | |
| | MAN:OWN:COL3X_382CC-439CC_ENG | 769-17451 | Download |
| | MAN:OWN:COL3X_382CC_ENG | 769-11782A | Download |
| | MAN:OWN:COL3X_382CC_ENG | 769-11782B | Download |
| | MANL:OPER:ENGL:12X:76X:CUB | 769-10967A | Download |
| | MANL:OPER:ENGL:12X:76X:CUB:800 | 769-12103 | Download |
| | MANL:OPER:ENGL:12X:76X:CUB:800 | 769-19350 | Download |
| | MANL:OPER:FRENCH:12X:76X:CUB | 769-10967_FR | Download |
| | MANL:OPER:FRENCH:12X:76X:CUB:800 | 769-19350_FR | Download |
| | SHEET:SUP:BILING:EPA:CARB:EVP: | 769-15172 | Download |
| | SHEET:SUP:BILING:EPA:CARB:EXH: | 769-15174 | Download |
| | SHEET:SUP:BILING:EPA:CARB:EXH: | 769-17172 | Download |
| | SHEET:SUP:BILING:EPA:CARB:EXH: | 769-23593 | Download |
| | SHEET:SUP:BILING:EPA:EVP:18-19 | 769-17171 | Download |
| | SHEET:SUP:BILING:EPA:EVP:18-19 | 769-23590 | Download |
Product Reviews
Rated

5

out of

5
by
Jeff Saint Charles
from
Terrific Machine
Exceeding expectations. Very pleased with purchase. The size, power, and cutting is exactly what I needed.
Date published: 2019-05-21
Rated

2

out of

5
by
Jim41
from
Needs improvement
I owned the first generation of this mower, and it was crazy fantastic. It finally bit the dust and now I need to buy a new mower. The current model will not be considered. Cub has cheapened the design considerably over the years. The current model has the loss of a decent engine, loss of the ability to feather the speed around obstacles, loss of infinite cutting height adjustment, and loss of a heavy duty brass zipper on the bagger. Today's model has a Chinese engine, speed control on top of the handle which is next to impossible to control beyond on/off, five cutting heights where all but one leaves the grass too short, and a nylon zipper on the bagger that clearly won't last. It's almost as if the folks redesigning this thing have never mowed a lawn.
Date published: 2020-03-04
Rated

3

out of

5
by
hammerblossom
from
Some issues but works OK
I purchased this mower in May, 2019, and wanted to use it regularly before writing a review. What attracted me is the width of cut and the fact that it's at least loosely based upon the original TroyBilt Widecut mower first sold in the mid-1990s. I had one of the TroyBilt mowers, liked it, but traded it in for a commercial mower after moving to a much larger property. For my current 1/2 acre lawn which is rather rough, this mower is the best type I've found. I bought the CC800 at a reduced priced because it was returned by someone due to the fact that the front casters were "frozen" and wouldn't turn. I spent several hours breaking the rusted spindles loose and found that there apparently had been no grease applied at the factory. After that problem was resolved the mower worked as designed. I like the large rear wheels and casters in front, the positive drive (as compared to mowers that "go" at your pace) the width of cut, the engine power, the mulching which isn't the best but is OK, and the way the handle bars are designed and the available height adjustment. Also like the fact that this model has recoil backup for the electric start which the previous model, cc760, did not have. The features I don't care for but aren't show stoppers are, first, the fact that the wheel engaging lever is above the handle rather than below. Much more convenient to squeeze a lever than to have to press down first. Second, I wish there were an interlock between wheel engagement and blade engagement as there is on my snow blower, so that I could release one hand without stopping. Third, it's my impression that the C-channel frame from which the deck is suspended and to which the caster wheels are mounted is not as rugged as the solid bar frame on the old TroyBilt. Finally, the fact that the chute deflector cannot be removed when the mulch plug is installed is annoying. There should be another device offered to hold the mulch plug that does not point upward and to the side of the deck Things that I don't like are, foremost, the transmission. I'd like to be able to upshift on the go as was possible with the TroyBilt. The detents for the gears should be farther apart and much more definite. The shifter would be much more convenient if mounted on the console rather than near the ground. There is too much differential in ground speed between 3rd gear and 4th. This is subjective, but 3rd is a little too slow for my gait, and 4th is much too fast for use on the size lawn that I have. I think the Peerless transmission on the TroyBilt was better. If Cub Cadet really wanted a super 33" mower they would offer a hydrostatic option. Second, just philosophically, I dislike having to purchase equipment with key mechanicals (transmission and engine) made in China. No real track record; how long will these components last?
Date published: 2019-08-03
Rated

3

out of

5
by
Stan R
from
Initial Quality Issue & Improvement Suggestions
In general, I'm pleased with the features and performance of the CC800. It replaced a 33" mower from another manufacturer that I had been using for the past 15 years. The cutting height adjustment feature is very convenient to use, and the twin-blade mower deck provides for a clean and even cut…better than the triple-blade deck on my old mower. However, after only three hours of mowing the cutting blades stopped working. I removed the cover on the mower deck and discovered that the bellcrank that actuates the rotation of the blades had come loose from its mounting point. It was obvious that the nut required to secure the bolt that holds the bellcrank in place had not been installed during assembly in the factory. After a trip to the hardware store to purchase a lock nut, I was able to put everything back together again in working order. I also have a couple of suggestions for Cub Cadet to improve the CC800: add a cup holder near the control panel to accommodate a water bottle, and replace the lever that controls the mower movement with a trigger that can be actuated from the bottom of the handle bar with your fingers…this would vastly improve the user's ability to finesse the movement of the mower when negotiating tight turns and going around obstacles in the lawn. The current lever is clumsy to use and puts a strain on your wrist with repetitive actuation. I'm also leery of the three thinner cables attached to the control levers, because I'm afraid that they will fatigue very quickly and break.
Date published: 2019-06-16
Rated

5

out of

5
by
JoeD
from
The Beast
This mower is a beast. I purchased this at the beginning of the season after my 48" pull behind mower desk started having issues, again. The desk was always having problems and I think I spent more time fixing it than mowing with it. After spending a couple hours pulling it behind my Kubota, I would need to push mow for another 2 hours to get the slopes. I had read that a powerful self propelled mower was the way to go for my type of property. I after conducting a lot of research I landed on the CC760 ES. When I go to the local dealer, they did not have the 760 in stock, but did have the CC 800. I don't like buying a product without reading reviews, but I decided to take the chance. I have not been disappointed. The mower is easy to start and operate. The propulsion is awesome. In first gear I can tackle the most difficult terrains with precision. It easily goes up some of the steep slopes and the lower gears provide great control for going down. Of course for safety reasons I mow across the slope as much as I can. The electronic starter is great. It immediately starts and runs very smoothly. My only criticisms are the design of the handles. I would rather have triggers rather than squeezing the control levers with my thumbs, and the gears are too close together. I have a difficult time telling whether I am in second or third gear until I start moving. 4th gear is ridicules. I almost need to run behind it in 4th. It is good for goin back up the more gentile slops though. I have not done any major maintenance on it yet, and may update my review once I do a good overhaul. It is a little heavy and has a punch when in 3rd of 4th gear, so I would not recommend it for someone without upper body strength. But for me it is perfect.
Date published: 2017-08-12
Rated

3

out of

5
by
Bernie 6
from
Long term maintenance is problematic
This is actually my second CC800. The first one had a drive failure after running literally about 30 feet, and was replaced under warranty. I've used this current mower for a full summer now. In actual use, it's great - strong, easy to maneuver for such a heavy machine, and provides a nice wide and even cut. BUT: be aware there are no usable grease fittings on this machine. The front wheels have Zirk (grease) fittings, but they're located so close to the axle supports that a grease gun won't fit on them. The only way to grease the front wheels is to raise the mower, back off the axle bolts, spread the supports, grease the axles, and then tighten every thing back up. And there are no grease fittings on any of the spindles or idler pulleys. So when the spindles get dry (and they will), the only alternative is to replace the spindle - that's a major overhaul for a homeowner. A little disappointing for such an otherwise quality machine.
Date published: 2019-10-04
Rated

3

out of

5
by
pete137
from
Not a Mulcher
I purchased this 33" wide cut about a year ago (late 2017) after having an older sister company model.....which was a much better mower; wish I still had it. The new Cub Cadet does not mulch properly, no matter the grass conditions....I've tried it dead dry, longer, shorter. I have to blow off my yard no matter how I cut it....and I normally maintain it 3-1/2"+ long. Very disappointed after having the old unit (same parent company). With less than 40 hours on it I have had to replace the spark plug (not really a big deal) and the entire cable for the drive unit (left lever) which just broke for no obvious reason. I would not recommend this mower to anyone I know and have already told a neighbor not to het this mower. Very Disappointed!!!
Date published: 2018-09-18
Rated

5

out of

5
by
Jasen
from
own it love it
i had the joy of scoring one of these used off craigslist. guy was moving across the country. well anyway it is about 4 years old the one i have. ill tell you what it is a great mower. climbs some seriously steep hills by steep i mean 8 feet up over a 10 foot or less distance. lets keep in mind i am clearing a cliff on my yard. from some seriously high grass. she does eventually die of course cause well the gas does not get to the carborator but come on i think i just discribed an otherwise difficult job and it takes it like a champ. on regular grass she cuts like a champ and corners well. it is a great mower. reading the posts from others on how the unit breaks blah blah blah. oh please. i am telling you i am subjecting my mower to conditions it is not designed for. please understand. you will never do to your mower like i am to mine. it is a solid well built unit and it'll serve you well for years to come. i strongly recommend this mower for regular NORMAL use hills or no hills have a great walk and enjoy your purchase. HAPPY MOWING.
Date published: 2018-12-29
Rated

2

out of

5
by
Unsatisfied Customer
from
Unsatified
I have less than 70 hours on this machine on a normal 12,000 sq foot residential lot and one of the metal cables has already frayed and broke. I called Cub Cadet and was told this is normal wear and tear on the product. It is not covered under the warranty. Covered or not under the warranty a product in this price range should last over 70 hours of use. The quality of this product is sub-par.
Date published: 2018-10-05
Rated

3

out of

5
by
JoeG
from
Definitely not a commercial mower
Definitely not a commercial grade mower but good residential mower. Disappointed with mulching quality.
Date published: 2019-05-16
Rated

5

out of

5
by
Caffeye
from
Great mower
Have had this mower for two months now and I enjoy it. It does a great job mowing and does wonders on our hill
Date published: 2018-07-27
Rated

5

out of

5
by
supertrooper252
from
Real nice mower-Neighbors are envious!
I actually enjoy using this mower. I get some exercise
Date published: 2018-10-17
Rated

2

out of

5
by
ChebSailor
from
I want to like it, but...
Just starting my second year of a pretty light duty lawn. It runs fine, I have had NO problems with it but why is the darned deck so frigging LOUD! I might try putting some lead damping on it, but in 30 hours use it is now unacceptable and will probably be gotten rid of. It makes mowing the lawn a real chore.
Date published: 2020-06-01
Rated

1

out of

5
by
Rocco
from
Very upset ...
This starts by going to Tractor Supply to buy a mower, I wanted the cc600 which was not available, I was told there was a CC800 available but it had front wheel issues do to being stored outside in front of the store. I said ok I'm interested when can it be here, several weeks later and me buying a smaller mower to get me by it showed up, I bought it,rented a trailer and brought it home. Very excited to have purchased a mower that would cut my mowing time down by quite a bit I started mowing that very night. It worked awesome, The day I was determined to finish the rest even though it's very hot out.. My lawn never looked so good.. I had one small spot to do, started my NEW mower and it. Wouldn't move. When it did it made a grinding rattling sound.. It was returned with approx. 3 hrs on the machine... I'm beefing told now it could be weeks till I see it again or I can have my money back.. What a wanted was to mower that I could trust to mow my lawn with more than once... I just trashed another brand because it only mowed my lawn 5times before the start ever time mower would no longer start... I'm in quality for a living and I'm so glad I don't work for Cub.. I'm hoping they will call me and tell me there's a screw loose and it's not in my head... If it works when it comes back I will up date this if possible...
Date published: 2019-07-22
Rated

1

out of

5
by
JMac513
from
Not so hot
5 weeks in and only 4 hours on the machine and the transmission is out!...attempted to call service, only to be on hold for 20 minutes. Poor quality and poor service. Taking this mower back to Home Depot and chalking Cub Cadet up as a loss...
Date published: 2019-06-04
Rated

1

out of

5
by
ScottJO
from
Terrible Product
This mower is advertised as a mulching mower and comes with a mulch plug, however, it does not come close to working. It creates an absolute mess. I strongly recommend not buying this product. It is terrible!
Date published: 2020-06-02
Rated

5

out of

5
by
Scot t
from
Great machine. Perfect for my 1 acre yard
I love this mower. I bought it new this spring, and now have 25 hours on it. No issues. I just had the blades sharpened. BUY FROM A DEALER, not Home depot or TSC. Those places will always let you down. No service when/if you need it. Always develop a relationship with a dealer. The bagger sucks. Dont buy it. It wasnt meant to have one, I dont think. It seems like it was an after thought by CubCadet. Overall Im very satisfied with the machine. A great addition. I wish they would make a 42", Id be the first guy to order it. I hate sitting on a riding mower.
Date published: 2020-07-24
Rated

4

out of

5
by
Chris51
from
Great features
I bought my mower about two months ago. I love the mower but the bagger is not so easy to empty when it fills.
Date published: 2020-07-13
Rated

5

out of

5
by
Chaplain John
from
Owner of a lot of grass cutting
I bought a couple months ago. My unit (25 years old blew motor), so I upgraded to new unit. I cut a lot of ground and need walk behind as well as the zero turn to get it all done weekly. The Cub is used to do the work where our Zero Turn just will not work, as on hills and inside the fence and around the out buildings where more control is needed. I have found nothing the Cub cannot do in the way of overall needs on our property, that of my parents, and that of our son.
Date published: 2020-07-11
Rated

1

out of

5
by
hatch120
from
GOOD LUCK
Product is good ,as long as the parts are available. Been waiting since late May for lawnmower to be repaired. Warranty is questionable . my first review was rejected because it was the truth and not to Cub Cadets liking.Still waiting for my lawn mower to be repaired ( making payments on a broken lawnmower with little service help )
Date published: 2020-07-10
Rated

5

out of

5
by
lowputt
from
Great mower for my yard!!
bought this mower a month ago and it has work out perfectly. I have roughly 3/4 of an acre and I didn't want a rider so decided with the 33 inch walk behind and so far so good!
Date published: 2020-06-29
Rated

1

out of

5
by
Mitch40
from
poor functioning mower
I have had this mower for about 2 months. It does an awful job cutting heavy thick grass, leaving strips of grass incompletely cut, etc. It does a terrible job on hills, the narrow tires having a hard time getting traction when trying to turn when on a hill. Controlling it when you want to turn when on a hill is very difficult since the power to the rear tire appears to go to mainly the right and it is either all or none. It is difficult to go around trees, plants, land scaping due to having to stop, change the gear, etc. Time to cut my yard has increased from about 1 hour and 10 minutes to 1 hour and 40 minutes or more. I have very unhappy that I bought this machine. It is not designed to cut grass unless perhaps one has a poor, thin stand of grass, perfectly flat and no obstacles to cut around.
Date published: 2020-06-22
Rated

3

out of

5
by
Ohio mowing
from
Solid product - but heavy on maintenance
Good mower with a great cut. One area for improvement is the drive and blade control cables. I've had to replace typically at least two of the four cables every season. They're "wear and tear" items but they break too frequently and without warning. We're only using this for a .75 acre residential yard so it isn't a matter of overuse. Just be forewarned.
Date published: 2020-06-20
Rated

3

out of

5
by
Southern_NJ
from
Doesn't Give A Good Cut (BTW, I am a lawn snob)
I bought my 33" cub cadet April 2018 and sold it June 2020 (30+ hours of use). First off, the mower started every time I turned the key so no problems there. However, and this is a big however, the mower never gave me a professional looking cut. My 35 year old walk behind (36" deck) gave me a better cut. Cons: 1. The front wheels are too close to the cutting deck and are made of solid rubber. 2. The back tires were too tall and thin. 3. You have to muscle the mower to make it turn (disengage the gears and force the mower to turn) versus the paddle brakes on the side. This adds a significant amount of time to mowing your lawn. 4. When cutting, 4th gear is too fast to walk behind and the 3rd gear is too slow. I am 6-2 with a long stride; the mower can't handle the speed with all the bouncing and quick turns. 5. You can't shift the gears when it's running in a specific gear. You have to disengage the gear you are in to shift gears. Pros: 1. Absolutely love, love, love the electric start. 2. Easy on gas. 3. Never had an issue with the engine, etc. (then again, I only had 30+ hours on the mower). 4. Held its resale value. 5. Didn't take up a lot of space in my shed. 6. The cutting blade can be kept on if you are in reverse. 7. It's relatively light as compared to professional units. My Summary: #1: I have a flat piece of property to cut and this mower could not hold a straight line. And when you factor in the steering challenge due to the "on or off" gearing, I decided to sell this mower before it lost more value. I have a backup mower (lawn tractor) that will hold me over until I upgrade to a 36" mower that makes me round of my lawn. I sooo miss my old 35 year old 36" walk behind. #2: If you are a homeowner who doesn't have a large piece of property or care about straight lines, etc. it's a nice mower. If you are a professional lawn service I would not hesitate to recommend this to you if you planned on having an extra mower for tight place. But I would think twice before buying it as your primary mower.
Date published: 2020-06-18
Rated

1

out of

5
by
Pared
from
Dead with less than 5 hours on it.
Less than 5 hours on the mower and it is completely dead. I bought it three weeks ago and have mowed my yard twice. I went to start it last weekend and nothing. Completely dead, as in even the "start every time" pull start gets me nothing. It runs for less than a second and dies. I checked the battery and it is showing 13.6 volts. The fuse is good. Now I have to rent a trailer to take a brand new mower in for warranty work. Don't waste your time with this mower. Go with the Toro or spend the extra to get another brand's zero turn.
Date published: 2020-04-22
bvseo_sdk, dw_cartridge, 18.2.0, p_sdk_3.2.0
CLOUD, getReviews, 12ms
reviews, product