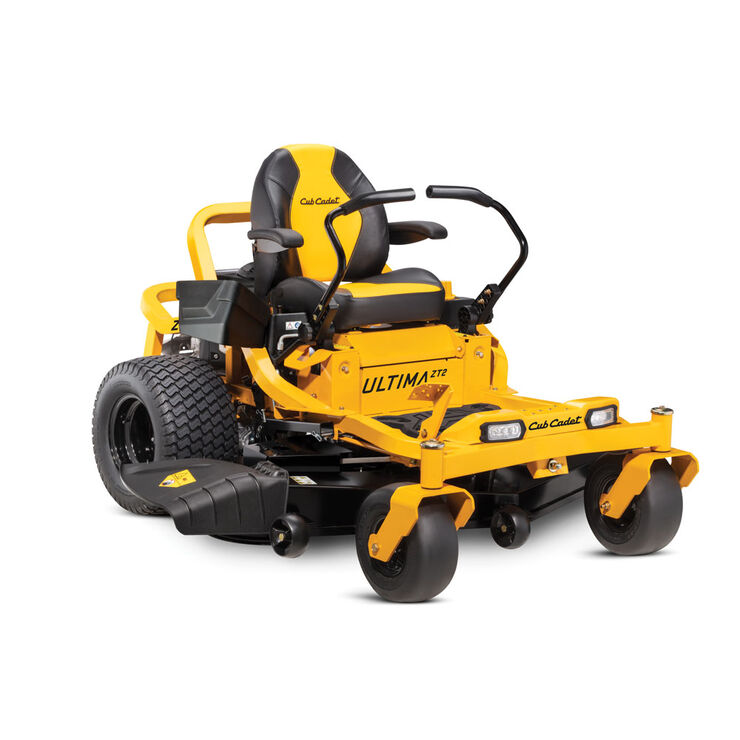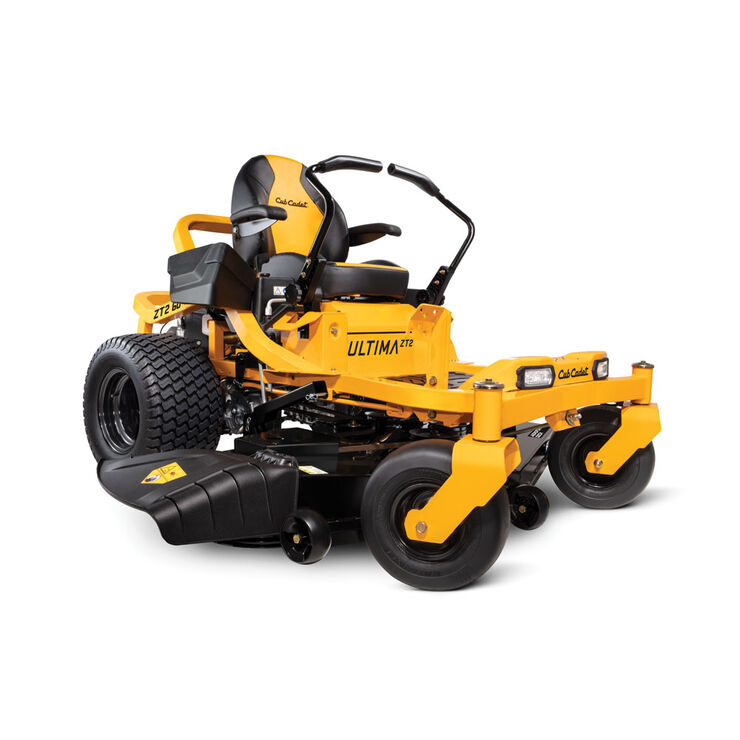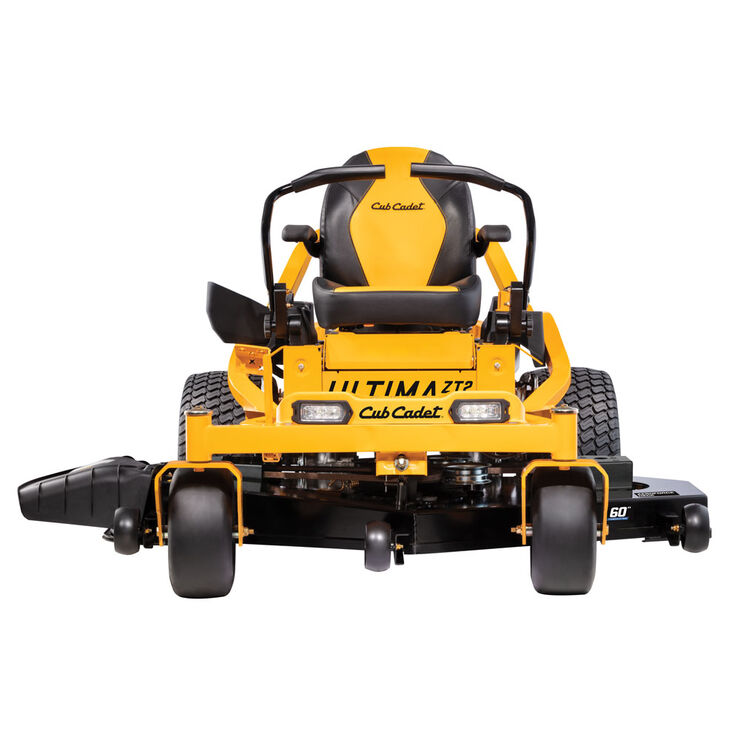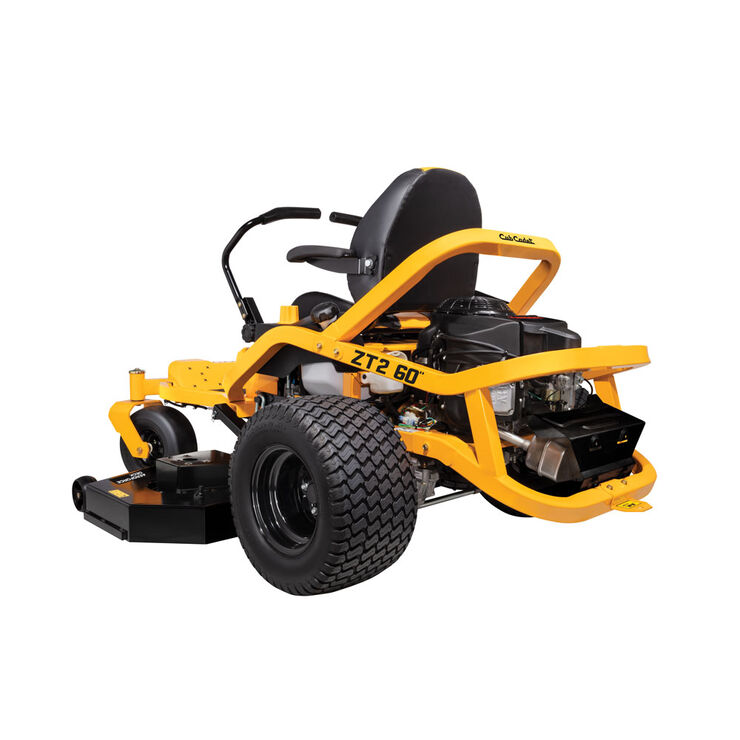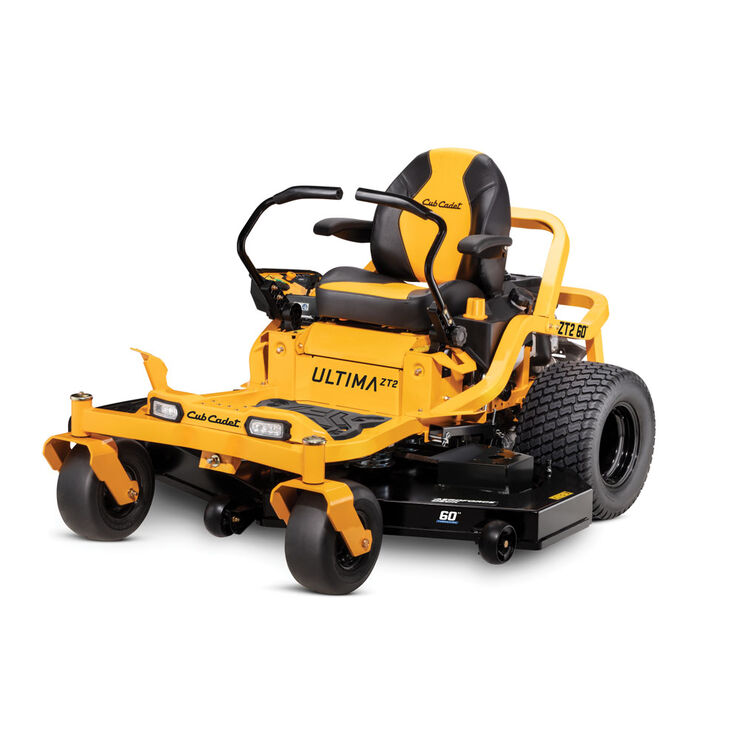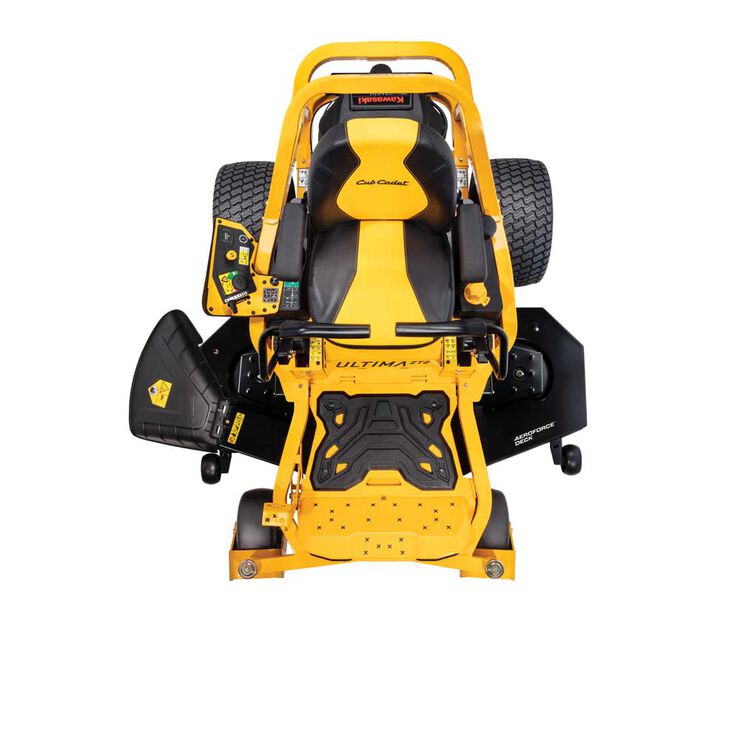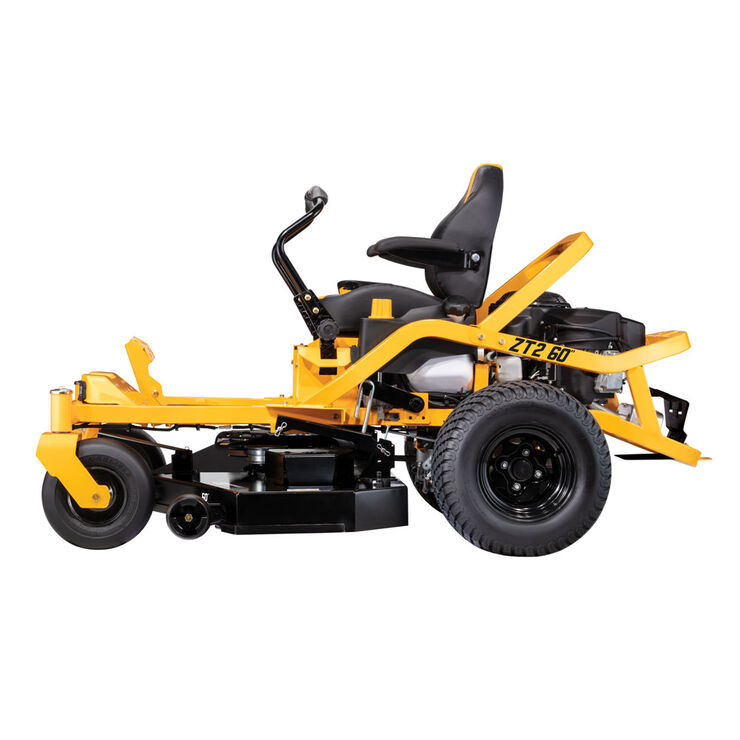 ---
Or
$181/mo | 0% APR3 | 24Mo with $125 Promo Fee. Total: $4,324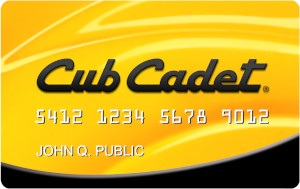 ---
Premium 24 hp 726cc Kawasaki® FR730 Series Twin-cylinder OHV Engine, Commercial-grade powerplant that meets your yard's toughest demands.
Ideal for mowing slight rolling hills and several obstacles up to 5 acres
A heavy-duty 11-gauge 60-in. fabricated triple-blade (high lift) deck
Open frame design and hinged/removable floor pan allow easy access to the deck and engine for quick and simple maintenance
---
---
ZT2 60 Features
Built with Strength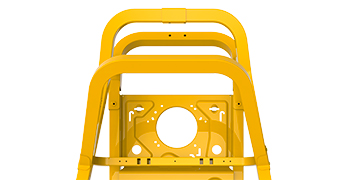 Our continuous square tubular frame was designed for enhanced strength and durability.
Redefining Comfort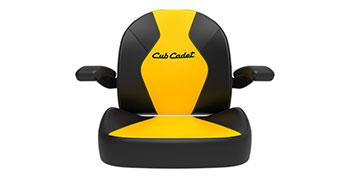 Settle in to a fully adjustable command center and experience next-level comfort designed for optimized speed and control from head to toe.
Engine
Engine Brand

Kawasaki®

Engine Model

FR730 Series V-twin OHV

Engine Displacement

726cc

Engine Output

24 HP

Fuel Tank Capacity

3.5 Gallon fuel tank capacity to keep you mowing and minimize time loss for refueling needs
Drive System
Transmission

Hydro-Gear ZT 2800

Forward Speed

7.5 MPH

Reverse Speed

3.5 MPH
Cutting Deck
Deck Cutting Width

60"

Deck Wash

SmartJet deck wash system provides high pressure water that cleans out grass and debris build-up under the deck

Deck Material

11-gauge fabricated steel

Deck Engagement (PTO)

Electronic fingertip blade engagement PTO

Spindle Construction

Sealed cast aluminum housing (maintenance-free)

Blade(s)

Triple Blade deck blades

Cutting Height Range

1'' - 4.5'' leads to a precise even cut

Deck Positions

Foot pedal with spring assist creates the perfect cut |15 Positions
Chassis
Frame

High-strength, continuous square 2'' x 2'' tubular steel frame with fully E-Coat lower frame and Triple Guard Corrosion Defense System™ protects against wear and tear.

Front Axle

Fixed 2" x 2.5" fully welded tubular steel axle (e-coated

Turning Radius

Zero degrees

Front Tires

13"x 6.5"-6" smooth tread front wheels pivot 180 degrees without turf damage

Rear Tires

20"x12"-10" Turf Master premium rear tires offer excellent traction, minimize turfing and provide a better ride on uneven ground at higher speeds

Protection

2" x 2" Tubular steel bumper

Rear Tow Hitch

Standard
Controls
Handle

3- way adjustable ergonomic lap bar

Brakes

Integrated parking brake system in lap bars for ease of use

Steering Control

Lap Bars
Comfort
Seat Type

20" high back seat

Seat Suspension

Durable, advanced polymer seat suspension system optimizes comfort while reducing operators fatigue
Dimensions
Dimensions L/W/H

80'' x 71'' x 48''

Weight (approx.)

640 lbs.
Additional Specifications
Headlight(s)

Illuminating Dual-LED Headlights

Model Number

17AIEAC5010
Warranty
Warranty

The Strongest Warranty in it's class 3-year / unlimited-hour warranty

Frame Warranty

Limited lifetime warranty on frame and fabricated deck shell.
Manuals
17AIEAC5010
MANL:OPER:BILING:RZ19 Consolid
MANL:OPER:BILING:RZ19 Consolid
769-18950
MANL:OPER:BILING:RZ19 Consolid
769-18950A
MANL:OPER:BILING:RZ19 Consolid
769-18950B
MANL:OPER:BILING:RZ19 Consolid
769-18950C
MANL:OPER:BILING:RZ19 Consolid
769-18950D
SHEET:SUP:BILING:EPA:EVP:06301
769-15171
SHEET:SUP:BILING:EPA:EVP:18-19
769-17171
SHEET:SUP:BILING:EPA:EVP:18-19
769-23590
SHEET:SUPP:WARR/PARTS:CC ZT1/Z
769-18151
SHEET:SUPP:WARR/PARTS:CC ZT1/Z
769-18151A
Attachments & Accessories
Product Reviews
Rated

5

out of

5
by
Thomaswbo
from
The machine with no fear!
Man didn't Cub Cadet out do it with this series! This year's Ultima series is the best around. I have the ZT2 60 and man she's a mean machine. This machine fears nothing and the strength and power it has is amazing. No matter if you have one or 5 acres if its flat land or rolling hills there's no terrain will stop it (of course you can't go straight down a steep slope.) The frame work is amazing built steel tough and who doesn't like to ride comfortable. Best comfortable in the market it has an 18-inch seat that doesn't hurt the back! The deck is built to last if the zero turn I don't have the bagger but will probably be adding it. As of now it leaves so clump grass behind, but the bagger would come in handy for winter leaf's! Now comes the horse power and boy does she pack a punch or two! the powerful 24 Kawasaki engine provides enough power for this machine and you can never go wrong with a Kawasaki engine! This beauty is back by a 3-year unlimited hour warranty not many does that! Along with limited on the frame and fabricated deck but I'm sure this Cub you won't ever use the warranty! She's a beauty I now just need the bagger for my 60-inch deck, and she will be a complete piece of art!
Date published: 2019-05-03
Rated

4

out of

5
by
Lojo89
from
Smooth ride
I absolutely love this mower! It's handles great and turns so easily. It took more than a few minutes to figure out how everything worked but I got it. It's a little confusing at first, because you have to remember how to make the blade go up and down as well as learning the handles. Once I took a couple runs in the yard I learned how to work it. Practice makes perfect. I would recommend this mower!
Date published: 2019-04-05
Rated

5

out of

5
by
Cloe
from
This machine is amazing
This machine is amazing. It gives you a very wide cutting space. Easy to turn and maneuver. Driving arms are spaced out so you can easily sit in the comfortable padded seat. Easy to start. The changeover from driving to cutting is a bit stuttered but manageable. Bright yellow paint is easily visable . 3 speeds to do your cutting . This is a well made well built durable zero turn machine for large area and branch's lands. This is a must have for any one who has a decent amount of land to cut.
Date published: 2019-04-05
Rated

4

out of

5
by
Junior
from
Cuts fast, smoothly and comfortably.
Pros: Good match between speed of mower and cutting ability Comfy Nice cut with hi-lift blades Easy access to everything requiring maintenance Nice appearance Easy to setup/adjust (comes with tool) Cons: Hitch plate keeps vibrating loose Belt tensioner spring on top of deck vibrates loudly against deck Summary: I will put loctite on hitch plate bolts I will wrap spring with rubber hose to prevent metal on metal contact I will recommend mower to others; more so, if Cons are addressed Also have 3 year old XT-1. Trouble free and great cut. Definitely give Cub Cadet a look.
Date published: 2019-04-20
Rated

5

out of

5
by
becky90
from
Easier to operate than I thought it would be
I received this mower about a month ago to replace our old one that we had for several years that has seen better days. My husband is an over the road trucker and I take care of our home and yard. I was very nervous about getting this zero turn mower compared to our old one, which you just sit down on and operate with a steering wheel. I was so scared, it took me about 2 days of just driving it around the yard to ensure I was comfortable enough with it before trying to cut anything. I am very impressed with the design and convenience this mower offers and how self explanatory it is to operate, (directions by the key switch). I also love the fact that it has 3 blades instead of 2 to ensure even mowing and also this mower has a place to hook up your water hose to its pressure washing system that washes underneath the deck after you are finished mowing. How awesome is that!? It has a smooth ride and guys this mower even has a cup holder! You can easily get to the motor to check oil and do maintenance as needed. They thought of everything, you can even purchase attachements that hook up on the back of it for like mulching or bagging. I am in love with this mower and wish we would have gotten it sooner. I recommend this to anyone in the search for a new mower, you will not be disappointed!!
Date published: 2019-04-03
Rated

5

out of

5
by
Badmoond
from
Best cut ever
Wow is an understatement with this mower. I thought a 60 was to big of a deck for my yard with a walnut grove but I was wrong it is like a balarina hippo but and nimble. To say I am happy with my purchase is an understatement. My whole neighborhood has mower envy. There is 1 down side if you enjoy spending time on your mower you will be upset on how fast it cuts. I just ride on it enjoy it more after cutting. Super comfy seat and amazing handles that are fully adjustable. Must have mower
Date published: 2019-05-25
Rated

5

out of

5
by
NEpps6977
from
Our Cub Cadet ZT2 60
My husband and I absolutely LOVE our new Cub Cadet ZT2 60 riding lawn mower. This lawn mower is unlike any other standard riding lawn mower. The Cub Cadet has a Kawasaki 4-stroke Air-Cooled V-Twin Gasoline engine which takes regular unleaded gasoline, with a 3.5 gallon fuel tank that lays directly under the seat. It has an adjustable padded seat that is very comfortable and controls extra bouncing and also is a safety that automatically shuts the mower off if you lift off the seat. Unlike your standard rider mower most have a clutch and 3/4 different gears that you have to adjust to control the speed of the lawn mower and different gears to adjust the blades and level of your cut. The zero turn is all controled it the zero turn arms on the mower including reversing the mower to make it easier for cutting. It has an adjustable knob on the side that you can set to the level you want your grass cut. And the front wheels are casters to make it easier to maneuver. It also has a dummy bar on the back that protects you from rolling or tripping the lawn mower over and a slip mat for your feet so your feet won't slide while mowing. Once you use a Cub Cadet one time you will never want another lawn mower.
Date published: 2019-04-14
Rated

1

out of

5
by
sterai
from
Buy this if you want to mow everything twice.
I wish I had bought anything else besides this mower. The first use I discovered that the mounting plates that attach the deck to the frame were loose and had dropped one side of the deck about 3 inches lower than the other. I reattached the bolts, leveled the deck and tried again. I had to mow twice to get a decent cut. The mower was leaving a tall stripe of grass between the outer blades and the inner blade on both sides. New blades installed and I get the same bad cut. I couldn't even get the local dealer to admit that I have a warranty on a mower that was less than 3 weeks old.
Date published: 2019-07-28
Rated

1

out of

5
by
Stephenb1110
from
Problems
I bought the zt2 60 a month ago and now I wish I would have bought a different mower for 2 reasons. 1. The mower does not have an easy fuel indicator so that I know when I am about to run out of gas. I have to stop get off the mower and lift the seat to see the fuel tank. This really isnt that big of a problem but a fuel gauge of some kind would have been nice. 2. The first time I used this mower it cut great and was easy to use. I stored it in the shed until the yard needed another cut (about 4 days). When I went to get my new mower out of the shed I noticed a horrible smell in the shed that I could not find the source of. Once I started mowing I noticed that the mower was leaving a line of uncut grass right down the middle of the mower. After further inspection I realized that I had an enormous amount of grass clipping stuck under the deck of the mower even though I used the wash port after the previous mowing. The wet grass had Mildewed and that is what was stinking in my shed. Once I removed the stuck grass with a scraper, being careful not to scratch the inside of the deck, the mower cut great. I spend about 20 minutes after each mowing with my mower on a set of car ramps to access the undercarriage of the deck so that I can spray the huge clumps of grass out with a water hose so that it doesnt stink in my shed and will cut the next time I need to mow. I put fertilizer down this year and i am mowing every 3 to 4 days making sure that the grass doesnt get too tall. Which would be great for someone who loved having a new toy to play with everytime the yard needed mowing but not for me. I have sharpened the new blades, I have sprayed dry graphite under deck to help keep the grass from building up all with no luck. If it were not for this issue I would recommend this mower to anyone but due to this major pain everytime I mower I would not recommend this mower!
Date published: 2019-05-15
Rated

1

out of

5
by
Wasted Money
from
Failing - not worth the money
Let's see if Cub Cadet allows this review to be posted. We have now had the ZT2 60 for one month now so we've had an opportunity to use it 4-5 times now. In short, if you like wearing most of the grass you cut....this is the mower for you. I'm not sure if it's the chute angle or the deck itself but either way in even a light wind the grass ejected from the deck ends up covering the rider. So much so that Cub Cadet might as well omit the cup holder because it is useless when grass ends up covering whatever during you have in it. I thought at first that the lack of fenders could be part of the problem so I purchased the fenders but they didn't do much to fix the issue. The fender kit is as poorly designed as the deck and chute. It barely covers the tires and leaves an opening below the frame that still allows a lot of grass to enter the engine area and the back of the seat. It is an absolute waste of money. While we're talking about the engine area, let me mention the frame...mine is already rusting. A cross member between the upper frame and the lower frame (on each side) is missing a weld. Since this missing weld is on a downslope of the frame, it has already gathered water and is streaking with rust. It is guaranteed to collect more water and debris inside the frame. There is a small weep hole in the lowest part of the frame but it will plug and create more problems. Back to the deck - I have looked at and made as many adjustments to the anti-scalp wheels but I cannot keep the mower from tilting when turning left and leaving uneven lines in the grass. The problem doesn't seem to be speed related (I've tried everything) so it leaves me to a poor deck mounting system. Lastly, I didn't think the mower striped the yard very well so I decided to put the striping kit (another extra charge) - guess what?? No noticeable difference. So now I have a lot of money tied up into a poorly design and already rusting brand new mower that only looks good but fails on basic functions. Nice job Cub Cadet
Date published: 2019-05-15
Rated

5

out of

5
by
Jetman130
from
Awesome mower!
When I started looking for a zero turn mower I had no idea what I was getting myself into as far as the different brands out there and going through all the different information on each. After all my research I chose the ZT2 60 by Cub Cadet and I couldn't be happier. I was using a 48 inch rider before and this unit cut my mowing time in half!! It looks great and is a blast to mow! I chose the ZT2 60 for the features of the deck and the serviceable transmission. And yes it also looks great and is very comfortable! The quality of cut is great and I couldn't be happier with my purchase.
Date published: 2020-05-27
Rated

1

out of

5
by
stev
from
mowing with a hollowed shell
pretty bad that all other brands regular mowers have a thicker deck than these. Sounds hollow and loud compared to other mowing decks. Have been unsatisfied since I bought the mowing a year ago and cub cadet doesn't care about the customer. Simply put get another brand mower!
Date published: 2020-05-11
Rated

5

out of

5
by
Dugar
from
Good mower
I love my mower cut three pretty good size yards in about a hour zero problems...
Date published: 2019-06-12
bvseo_sdk, dw_cartridge, 18.2.0, p_sdk_3.2.0
CLOUD, getReviews, 38ms
reviews, product