3X 30" TRAC Snow Blower
3X™ THREE-STAGE POWER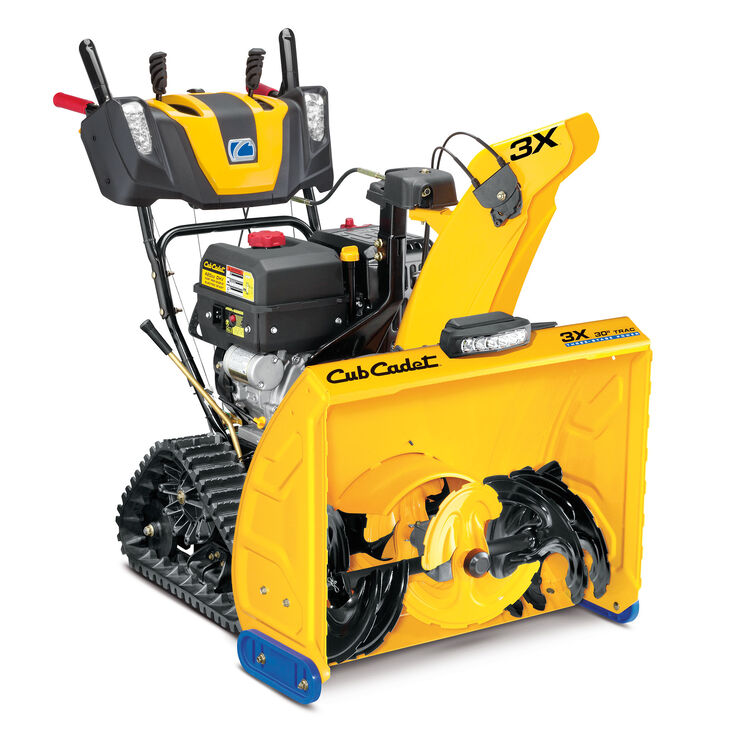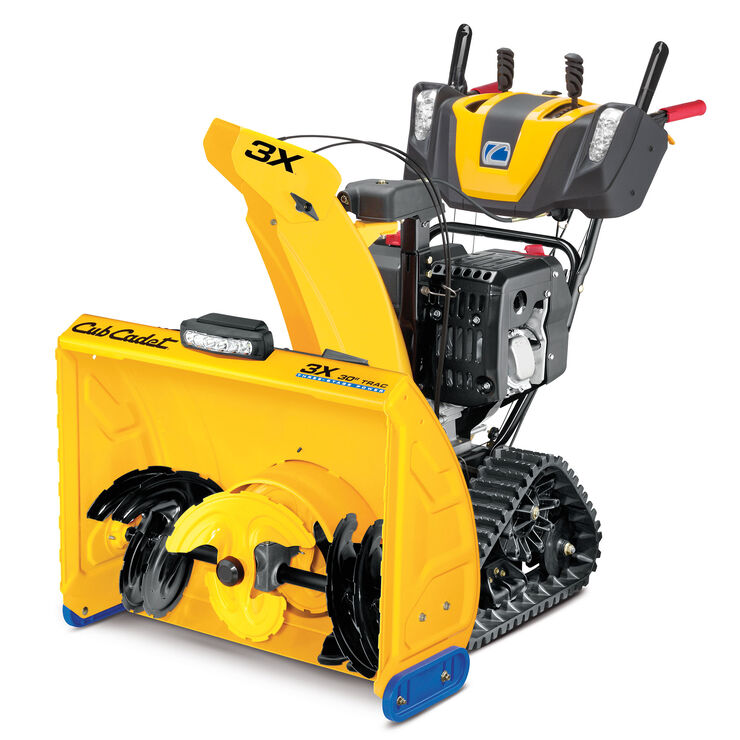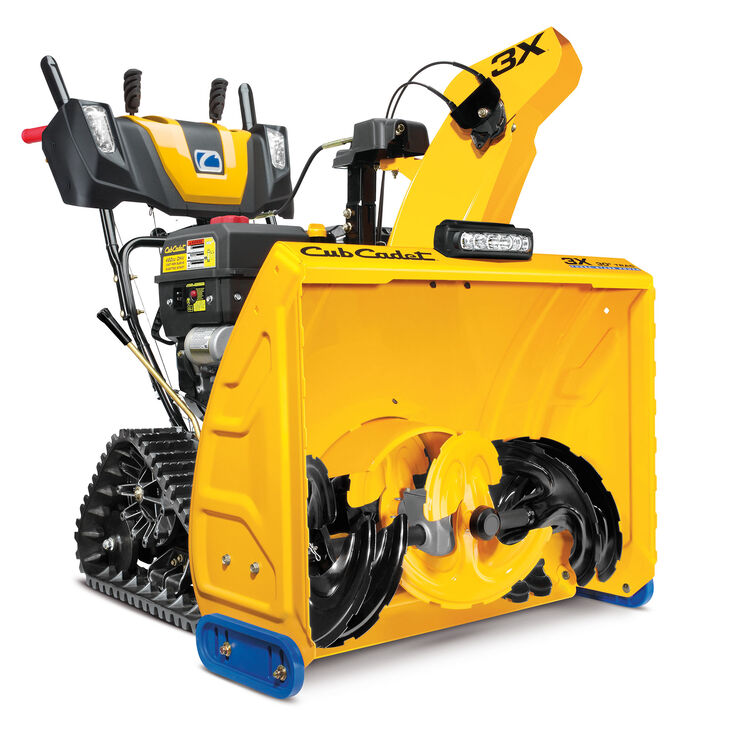 3X 30" TRAC Snow Blower
3X™ THREE-STAGE POWER
---
Or
$117/mo No interest if paid in full within 18 months16
Interest will be charged from the purchase date if the purchase balance is not paid in full at the end of the promotional period. Advertised minimum payment is greater than required minimum payment.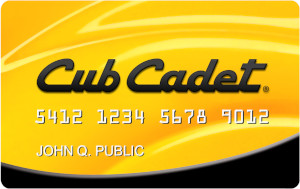 ---
357cc OHV Engine is powerful, dependable and equipped with push-button electric start.
30 inch clearing width and 23 inch intake height.
Track drive system creates 50 percent more ground contact for added stability and traction in heavy snow and ice.
LED lightbar and Dual LED headlights for greater visibility in low-light conditions.
---
---
3X 30" TRAC Snow Blower Features
Easy Start Ups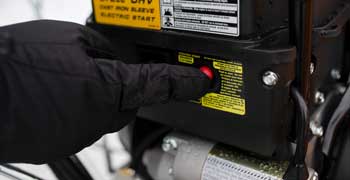 Start your engine at the push of a button when you need it most with electric start.
Better Maneuverability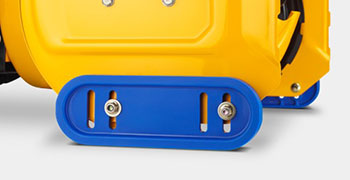 Cool blue reversible skid shoes glide along surfaces for better maneuverability and won't rust or leaves marks on your driveway.
Effortless Control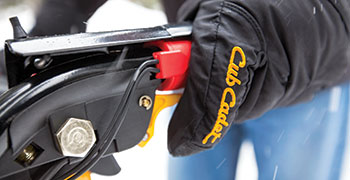 Trigger-controlled power steering and self-propelled drive for unmatched control, effortless maneuverability and single-hand operation.
Work Longer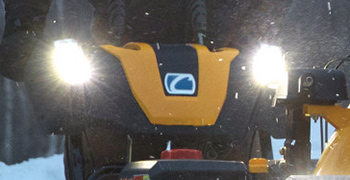 Work before dawn or after dark with dual LED headlights.
Added Durability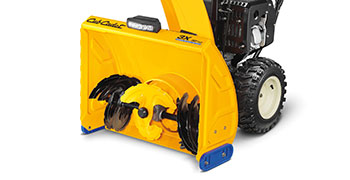 Heavy-duty cast aluminum auger gearbox and steel chute will hold up against the toughest winters..
Strong Warranty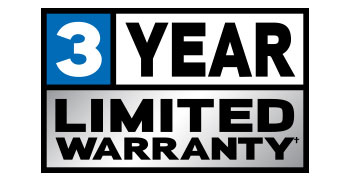 3-year limited residential and 1-year limited commercial warranty for peace of mind.
More Intake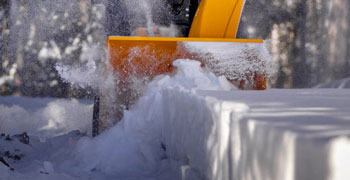 A 23-inch intake height allows you to clear snow more efficiently.
Extra Comfort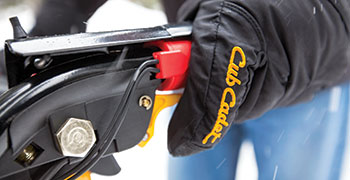 Heated hand grips provide extra warmth in extreme weather conditions.
Reliable Traction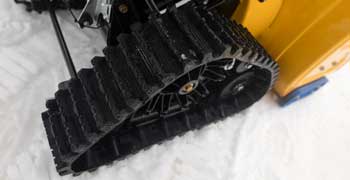 Track drive is ideal for slopes, inclines, and gravel surfaces, providing reliable traction in extreme weather conditions.
Patented Three-Stage Technology
Patented three-stage technology includes an induction accelerator that quickly pulls slush through the system and clears deep snowfall up to 50% faster than a Cub Cadet® 2X.
Engine
Engine Brand

Cub Cadet®

Engine Model

690-WUB OHV

Engine Displacement

420cc

Starter Type

Electric and Recoil

Fuel Tank Capacity

5 qt.

Engine Start

Standard (110 volt)

Fuel Delivery

Carburetor
Warranty
Auger Gearbox Warranty

5-year limited auger gearbox

Warranty

3-year limited residential

Commercial Warranty

1-year limited commercial

Disclaimer

See owners manual for warranty details and information. Certain restrictions apply.
Controls
Handle Grip(s)

Soft-Touch Heated Grips

Pitch Control

Remote Single-Lever

Chute Rotation

200°

Chute Control

Overhead Crank

Single-Hand Operation

Standard

Steering Control

Trigger-Controlled Power Steering

Drive Type

Friction Disc / Track Drive

Tread

Track Drive
Power and Performance
Starting System

Push Button Electric Start (110 volt)

Clearing Width

30"

Intake Height

23"

Auger Gear Box

Heavy-duty cast aluminum

Number of Stages

Three
Dimensions
Auger Diameter

12"

Impeller Diameter

12"

Accelerator Diameter

12"
Additional Specifications
Headlight(s)

Dual LED and LED Light Bar

Shave Plate

Heavy Duty Steel

Skid Shoes

COOL BLUE™ Reversible Poly

Auger Material

Heavy-duty serrated steel

Chute Material

Steel

Model Number

31AH7EVZ710
Specifications
Forward/Reverse Speeds

6 forward / 2 reverse

Promotion

$100 off
| Model | Manual | Form Number | |
| --- | --- | --- | --- |
| 31AH7EVZ710 | MANL:OPER:BILING:31X:3/5/6/800 | | |
| | MANL:OPER:BILING:31X:3/5/6/800 | 769-11510C | Download |
| | MANL:OPER:BILING:31X:700:US_CA | 769-24890 | Download |
| | MANL:OPER:BILING:31X:7XX | 769-11517A | Download |
| | MANL:OPER:BILING:31X:7XX | 769-16190 | Download |
| | MANL:OPER:BILING:31X:7XX | 769-22275 | Download |
| | MANL:OPER:BILING:MTD ENG:277/3 | 769-11494B | Download |
| | MANL:OPER:BILING:MTD ENG:357/4 | 769-14992 | Download |
| | MANL:OPER:BILING:MTD ENG:357/4 | 769-25490 | Download |
| | SHEET:SUP:31X2X-3X:CUB:US_CA | 769-24534 | Download |
| | SHEET:SUP:BILING:EPA:CARB:EXH: | 769-15174 | Download |
| | SHEET:SUP:BILING:EPA:CARB:EXH: | 769-17172 | Download |
| | SHEET:SUP:BILING:EPA:CARB:EXH: | 769-23593 | Download |
| | SHEET:SUP:BILING:EPA:EVP:06301 | 769-15171 | Download |
| | SHEET:SUP:BILING:EPA:EVP:18-19 | 769-17171 | Download |
| | SHEET:SUP:BILING:EPA:EVP:18-19 | 769-23590 | Download |
| | SHEET:SUP:ENGL:31X:7XX:CUB | 769-12300 | Download |
| | SHEET:SUP:ENGL:31X:7XX:CUB | 769-16931 | Download |
| | SHEET:SUP:ENGL:31X:7XX:CUB | 769-22281 | Download |
Attachments & Accessories
Product Reviews
Rated

5

out of

5
by
Lexicon303
from
Unbelievable piece of equipment!
Purchased the 30 inch 3x with tracks. Using in North Dakota.I try to give the best actual use reviews that i can good and bad. Lets start at the top. The controls are great, the hand controls these are larger, if you have small hands it may pose a small issue, but, the levers are not hard to press down either. When moving forward with the auger on you can take your hand off of the auger control for one handed use this is good to have sometimes personally I don't use it much. The triggers for the zero turn capability are great and the feature works great, although, it seems to be easier for me to just move the machine by my own power, getting the blower to move quickly with this feature would mean stopping and switching to one of the faster gears to turn around fast. The Chute worm drive works great, on a few occasions i have had the cables that run over the chute gear box hang up on that box and i have to move them off or it wont turn, not a big deal. the lever controlling the chutes directional out put, great no problems. One thing i didn't understand is that the all metal chute sits on a polymer base, glass filled plastic i guess? I would have preferred steel paying 2k for a machine you would think they wouldn't cheap out on that. Heating hand grips get toasty enough, if you have big gloves and its 40 below then they are ok. The gear speeds are what you would expect although R1 is basically useless, but, that has been my experience with all blowers, just go right to R2, 6 is perfect for top end fast. The engine on the machine is impeccable, the thing is a monster, it seems like the more load you give it the more it wants to throw snow even farther...wow. it holds a TON of gas too, which i love, and its pretty quiet in my opinion for a 420cc engine. As we move down you have the height adjustment, transport, gravel, packed etc. This feature works great and they really thought about the settings i think, they are great for each application, although you will likely use them for something other than what is marked. The lever on the adjustment can be pretty hard to move for a smaller person though. On to the Tracks, these things are great, i have to blow out tons of snow out of my yard and sometimes you run up on snow pack, wheels dig in and you are stuck, the tracks just keep on moving love this feature. The tracks will slip, internally, when they are wet or slightly icy or if you are trying to go forward or back and you are decently stuck, not my favorite, hasnt stopped me but i would prefer to not have to put extra wear on that part. The 30 inch cut is what it is, 30 inches, the fact that the engine and the auger will handle anything you stuff in there is what really sells me. it throws and throws and doesn't quit. The 3 stage auger itself, great feature, the machine draws snow much better than a traditional cheap dollar snowblower. The LED lights on the unit are great, you get a great spread of light and its bright. The material the unit will throw. if you have deep light powdery snow, it just fun to use. The blower cuts through that stuff like it isnt even there and tosses it a like 40 feet. Heavier snow that is slightly wet, it seems to throw just as far, the only issue here is that the traction is so good that you start to push a snow-pack out in front of you and you end up stopping, maybe that is user error but it happens to me sometimes. Heavy wet snow, even with this the blower throws it probably 10 or so feet but it throws. Watery Slushy snow, you will find that it just comes out of the Chute 3 or 4 feet but generally does not just fall out the Chute all over the side of the blower. Deep snow, if it is light powdery snow, i have run several inches over the top of the blower and it will just make itself a tunnel and keep going anything after light and fluffy you slow down more and more and may have to even break up the snow in front if its really bad. All in all, this is a Titan in the walk behind class of blowers. If you have the money to spend...SPEND IT! You won't be disappointed. Just looking at this piece of equipment and the craftsmanship, you can tell it will last a very long time. A+ Cub Cadet!
Date published: 2019-03-19
Rated

5

out of

5
by
TakeHeart
from
4th Time Lucky
This Cub Cadet 3X 30" HDT is our 4th snow blower over 26 years. Will compare it based on our experience – so far am pleased in clearing our 200 foot laneway – but not much snow yet to move with it. (We often have drifts 5 feet deep.) - Our first machine was an older 1980's 24" Ariens (used). Had difficulty in clearing the lane as engine was old and problematic, also not capable of deep snow. - Second was 1990's John Deere 27" TRS heavy unit. Worked well, but twice destroyed the Tecumseh Snow King 8 to 10 HP engine, would accelerate until "bang" and a $1000 repair bill. Newer JD machines are not as heavy weight. - Third unit was MTD – Gold 28". Seemed too light to cut into heavy snow, and snow had to be cut up by shovel into bite sized pieces before blower could move it (but then worked fine), although it needed to be pushed a lot in heavy snow as tires would spin. - After 5 years with MTD-Gold Machine, bought the heavy duty track drive Cub Cadet 3X 30" HDT. Things I like: o Heavy unit should hopefully stand up. o Track Drive was well spoken of by dealer. Tried it on wet, packed snow about 12" deep along side of laneway, and machine cut into it, and blew it perhaps 10 feet. Older MTD-Gold had been unable to touch this heavy stuff. o Larger steel chute did not plug when blowing wet snow, while older MTD-Gold plastic chute chronically would plug in wet snow. o Hand warmers work well. o Three headlights (two on control panel and one on auger body) are not blocked by chute, and worked well to illuminate job. o So far, the speed selector seems to work well, and 2nd speed seems reasonable for heavy snow. MTD 2nd gear would often spill snow out the sides. o The adjustable auger height lever seems to work well to keep auger opening slightly above surface, so will hopefully prevent drawing in rocks, or hitting on irregular laneway surfaces.
Date published: 2018-12-16
Rated

5

out of

5
by
Dk77
from
Huge power!
Purchased this fall and just had the chance to use this for our first snow storm of 2019. We received 50cm of snow. This Cub is even more than I expected. I intentionally attempted to push it to its limits and run it through every senario I could think of and it didn't hesitate once. Deep powder, heavy snowplow piles, salted heavy slush and frozen snow piles the day after the storm and this thing didn't hesitate once. The Cub Cadet replaced my 25 year old Ariens 2 stage 30" snowblower that was also an awesome machine. But hands down this thing is twice the machine. It's a beast!
Date published: 2019-01-21
Rated

1

out of

5
by
Mountain Life
from
Disappointed
When I received this snowblower, I thought it seemed very sturdy, but then I used it and changed my mind. I am currently building a new home, so I purchased it to keep my driveway clean for the contractors. The first time it was used, it kept clogging up with snow. The snow was power and it was about 6" deep. It was extremely frustrating because it took me longer to snow blow the drive than it would have to shovel it, and with the effort that is required to turn the machine, it probably would have been less effort to shovel. The second time is used it, I noticed that the left track stopped moving. I had to drag the heavy machine into the garage to look at it, and come to find out, the track wheel is cheap plastic and it had broken (see photo). I would have returned the item, but I purchased it a few months before it snowed and I only had 90 days from the date of purchase to get it returned. Ironically, the snowblower became snowed in and I couldn't get it to the end of my driveway to take it in for repair. I have now paid someone to clear the snow, and I am going to take the snowblower in to see if this is covered under the warranty. After speaking to the Cub Cadet customer service department, and with the issues I have had with this machine, I have zero confidence in this. Please learn from my very expensive mistake and look at other brands for your snow blowing needs.
Date published: 2020-01-29
Rated

4

out of

5
by
Murice
from
It's a work horse in the snow
I have only had snowblower for a few months but I've used it twice once in a 20inch snow storm and the other in a 6inch snow storm. Performance was great or just wants more snow. The only thing I would suggest cub cadet make sure customers purchase plenty of shear pins at the time on purchasing snowblower. Heavy snow will cause them to break it seems every use. But great snowblower.
Date published: 2019-02-16
Rated

5

out of

5
by
Cook
from
Perfect
This was the best purchase that I have made ever. I love my Cub 30 3 stage here in Colorado. DO NOT hesitate to get this blower. Thank your team for building such a fine product.
Date published: 2019-03-04
Rated

5

out of

5
by
backroadrider
from
Best Snowblower I Have Ever Owned!
I purchased Cub Cadet 30" 3X track-drive snow blower to replace a 19 year-old 32" track-drive Honda (HS1132). I have lived in the mountains of the western U.S. for most of my life; and currently live at 7,400' on the eastern slope of the Rockies where it is not unusual to get 2-3 feet of snow in a single storm. Needless to say, I have owned more than a dozen snow blowers over the years. Although my older machine had served me well for the past 19 years, it was finally starting to show signs of its age and I had become worried that a mechanical problem would leave me without a snow blower at an inopportune time. After reading reviews of modern snow blowers, I opted for the 30" 3XCub Cadet, and stuck with the track-drive because my nearly 200' driveway has a fairly steep slope near the end. Now that I have had the chance to use the Cub Cadet, I wish I made the switch sooner! Assembly - Assembly is straightforward and took maybe 20 minutes; and only that long because I read the manual carefully and double-checked every connection. Use- The 420cc engine (which started on the first pull) and 3-stage blower of the Cub Cadet seem to throw snow several feet farther than my older snow blower (which was no slouch); and the larger diameter chute of the Cub supports noticeably faster forward speeds. So far, the Cub has started on the first pull every time and I have not felt the need to use the electric starter. Turning the Cub is as simple as grabbing the steering lever on the side to which you want to turn and pulling upward just slightly on the handlebars. Even my wife can easily manage turning the Cub Cadet, something she could not do easily with our old machine. The weight of the Cub Cadet is also well balanced over the tracks so adjusting the height of the front auger requires just a little pressure on the handlebars while moving the lever - another improvement over our old snow blower. The controls are intuitive and nicely arranged on the control panel; and the chute controls work like a charm - it only takes a couple of easy cranks to swivel the chute 180 degrees horizontally, and the vertical adjustment is smooth and stays where you put it. I also like the hard plastic skid shoes which glide much better than metal skids over a cold driveway covered with cold, dry snow. The other nice touches are the heated handlebars and the LED lighting: I no longer need to stick heat packs in my gloves; and the LED lights illuminate my entire driveway! Bottom Line - This is a great snow blower! So far it has started easily and handled everything with ease without the need to "manhandle" it like I had gotten used to with my older machine. Highly recommended!
Date published: 2018-01-28
Rated

4

out of

5
by
MVSailor
from
Performed well after 1st 7" snowfall
I brought this unit home one day before our first snow, which was a 6-7" one that was wet (tree limbs bent down). The 3x 30 Trac started up flawlessly and had no problems at all removing the heavy snow. The real test was the pile at the end of the drive the plows left. It was very wet and about 14" deep. Blew right through it. The 3 stage does seem to work as advertised. Also, the tank treads just drove through that mess with no issues. The throwing distance wasn't bad, and considering it was a wet snow, did pretty good. The power steering worked very well and is a necessity with tank treads. I only had 2 items I could snipe about. 1. The hand heaters, for an outside machine, were not that hot. My truck steering wheel gets warmer. It would be nice if those went up a notch or two hotter. However, they did heat up and they will be appreciated in the sub zero sessions. 2. The chute pitch adjust to raise and lower the chute exit would not go to the highest setting. I may have to fiddle with the tension on the flange nut there so it will be loose enough to adjust the full range but not so loose it flops around. In summary, I am very happy with it after one medium grade test. I think this will perform well for many years.
Date published: 2017-12-15
bvseo_sdk, dw_cartridge, 18.2.0, p_sdk_3.2.0
CLOUD, getReviews, 7ms
reviews, product