3X 28" Snow Blower
3X™ THREE-STAGE POWER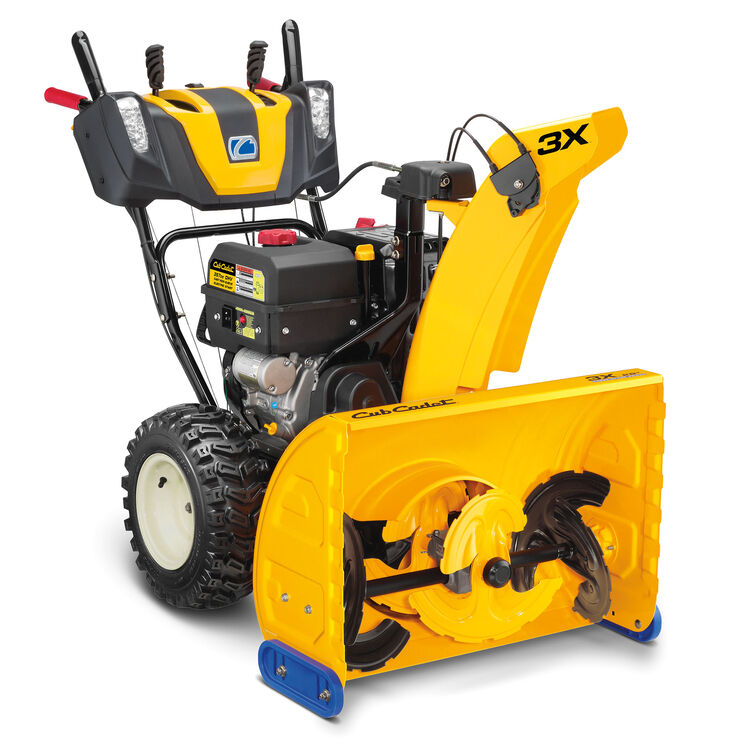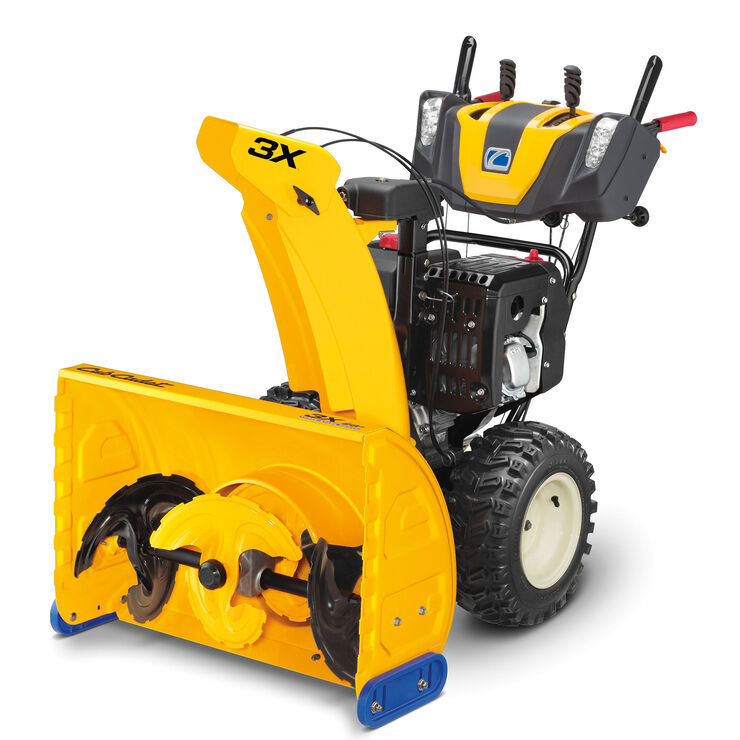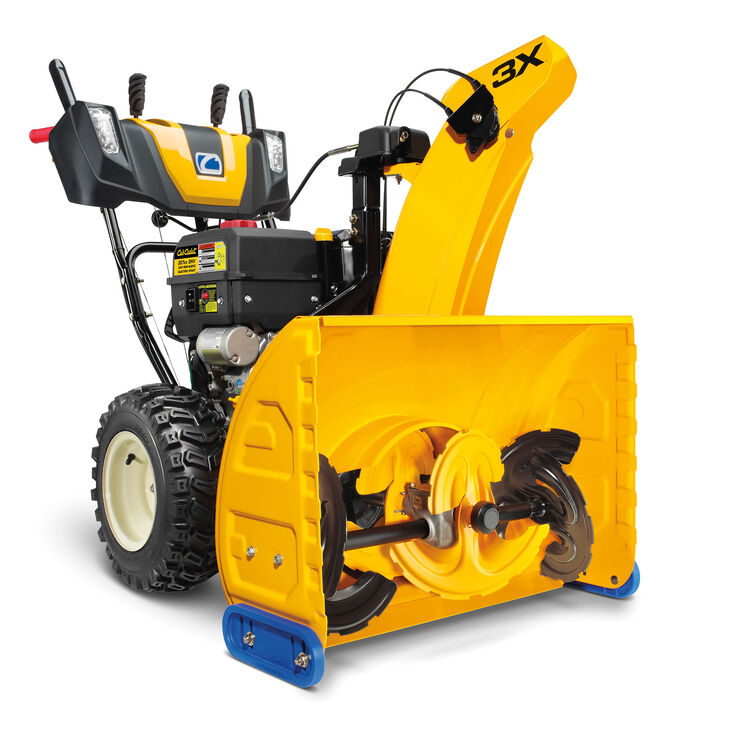 3X 28" Snow Blower
3X™ THREE-STAGE POWER
---
Or
$117/mo No interest if paid in full within 12 months2
Interest will be charged from the purchase date if the purchase balance is not paid in full at the end of the promotional period. Advertised minimum payment is greater than required minimum payment.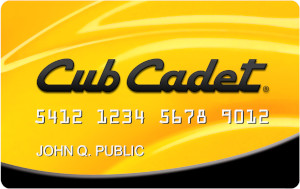 ---
Trigger-control power steering at your fingertips for unmatched control, effortless maneuverability
Push-button electric start 357cc OHV engine
New dual LED headlights offer superior illumination regardless of chute location
---
---
Engine
Engine Brand

Cub Cadet® OHV 4-cycle

Engine Displacement

357cc

Fuel Tank Capacity

5 qt.
Controls
Handle Grip(s)

Standard

Pitch Control

In-dash remote pitch control

Single-Hand Operation

Standard

Direction

Trigger-Controlled Power Steering

Tire Size

16" x 6.5"
Power and Performance
Starting System

Push button electric start (110 volt)

Clearing Width

28"

Intake Height

21"

Auger Gear Box

Heavy-duty cast aluminum

# of Stages

3
Dimensions
Auger Diameter

12"

Impeller Diameter

12"

Accelerator Diameter

12"
Additional Specifications
Shave Plate

Steel

Skid Shoes

COOL BLUE™ rust-resistant, non-marking, reversible

Oil Fill Tube

Extended

Auger Material

Heavy-duty serrated steel

Chute Material

Steel

Model Number

31AH5DVB710
Specifications
Forward/Reverse Speeds

6 forward / 2 reverse
Warranty
Auger Gearbox Warranty

5-year limited residential / 5-year limited commercial

Warranty

3-year limited residential / 1-year limited commercial

Disclaimer

SEE OWNERS MANUAL FOR WARRANTY DETAILS AND INFORMATION.CERTAIN RESTRICTIONS APPLY.
| Model | Manual | Form Number | |
| --- | --- | --- | --- |
| 31AH5DVB710 | MANL:OPER:BILING:31X:3/5/6/800 | | |
| | MANL:OPER:BILING:31X:3/5/6/800 | 769-11510C | Download |
| | MANL:OPER:BILING:31X:3/5/6/800 | 769-11510D | Download |
| | MANL:OPER:BILING:31X:5/6/800 | 769-21930 | Download |
| | MANL:OPER:BILING:31X:5X/6X/8X: | 769-24536 | Download |
| | MANL:OPER:BILING:MTD ENG:277/3 | 769-11494B | Download |
| | MANL:OPER:BILING:MTD ENG:357/4 | 769-14992 | Download |
| | MANL:OPER:BILING:MTD ENG:357/4 | 769-25490 | Download |
| | SHEET:SUP:31X2X-3X:CUB:US_CA | 769-24534 | Download |
| | SHEET:SUP:BILING:EPA:CARB:EXH: | 769-15174 | Download |
| | SHEET:SUP:BILING:EPA:CARB:EXH: | 769-17172 | Download |
| | SHEET:SUP:BILING:EPA:CARB:EXH: | 769-23593 | Download |
| | SHEET:SUP:BILING:EPA:EVP:06301 | 769-15171 | Download |
| | SHEET:SUP:BILING:EPA:EVP:18-19 | 769-17171 | Download |
| | SHEET:SUP:BILING:EPA:EVP:18-19 | 769-23590 | Download |
| | SHEET:SUP:ENG:31X:5XX/6XX:CUB | 769-12297 | Download |
| | SHEET:SUP:ENG:31X:5XX/6XX:CUB | 769-15330 | Download |
| | SHEET:SUP:ENG:31X:5XX/6XX:CUB | 769-22280 | Download |
Attachments & Accessories
Product Reviews
Rated

3

out of

5
by
non3Xfan
from
Clogs & Shear pins
Purchased from Tractor Supply November 2016. Immediately had issues with frequent shear pin breaks. On the 2nd use, December of 16 the V belt for the auger broke. This year I have replaced the cable for the auger control as the spring at the end broke. I also replaced a pin that controls the chute control. Today I replaced the same V Belt for the auger drive. This prompted me to write this review. I frequently have to clear out snow that has packed around the augers to get them moving again. I am ready to return this snowblower and work with a 2-stage. I have fewer problems with the 2-stage at work. Are the side augers suppose to be of different size? Mine is (see the picture, the one on the right has less of an angle), and there is a large gap between the side augers and the forward augers where snow will accumulate and not feed into the impeller. The one good aspect is that I can generally get through the end of the driveway hard snowpack, better than regular snow which it seems to like to push. Handwarmers are nice. I can pull start it with one pull.
Date published: 2018-04-18
Rated

4

out of

5
by
GoArmy
from
Powerful Snowblower!
I purchased this from a local CC dealer. I uses it on our first snowfall of 6" of heavy packy snow. It literally threw the stuff across the street. It did suffer a work stoppage because they connect the chute cable to the rotator with a roll pin that worked free, rendering the machine unable to control where to put the discharge. Cub Cadet - please fix this bad design and use a cotter pin to connect. After a minute of pinning the cable back, it made very short work of the snow. The heated grips are awesome. Got nice and warm thru my gloves in the cold weather. The lights are very bright, but not too bright to blind you in a snowstorm. Big grippy tires are very sure-footed, even on ice. This thing does not fit thru the service for of my garage like my last one did, despite being the same size cut. The engine starts easy with just a quick tug on the rope. I cleared the sidewalk all the way to the end of the block and back in 4th gear, throwing 6" of snow. This thing is worth every penny. Just replace that pin with a 13 cent cotter pin and you're good to go.
Date published: 2019-01-01
Rated

5

out of

5
by
ericfarmz
from
Great Blower!
I have had the 3X 28" snow blower for a full year. I live in the Adirondacks, near Tug Hill Plateau (snow country). I have not run into any kind or amount of snow that it has not handled. I want to say that I use the spray on "no-stick" snow spray, basically silicone and even the slushiest snow goes across my 12 foot drive. I snow blow 4 drives/yards including a large area of my lawn in the back for my wimpy dog to use. I do several "trails" for her to go down and go to the bathroom. Not specific to this machine, but early in the year when the ground is still soft it will sometimes pick up and throw dirt when I get off the blacktop or in the back yard. It doesn't slow the machine down, but makes a mess sometimes. In the spring the grass comes right back. Start very easy and even starts first pull if still warm. It might take a few pulls if cold. Cranking that big motor by hand is no easy task. But electric starts first thing every time. Using it on all 4 drives, I use less than 1/2 a tank of gasoline. (I use 90+ octane, no alcohol gas). The one thing I noticed is the more snow the better it works and throws the snow. I kept hitting things and had to replace a few shear pins, but that was my fault and was pretty easy to replace. Overall..... Great machine
Date published: 2018-12-19
Rated

5

out of

5
by
RickWinters
from
Very happy with my new CubCadet Snowblower
I had a smaller CubCadet 24 inch and decided that I needed just a little bit wider swath. I've used the 3 stage blower over some very difficult conditions and have been very happy with it. My drive has had heavy frozen icy snow and also powdery. In each case the snowblower was able to lift and clean my driveway very well.
Date published: 2018-02-28
Rated

2

out of

5
by
Dan67
from
Not impressed
I have been a fan of Cub Cadet for years. The three stage 28" snowblower was a big let down. Purchased from Tractor Supply. Got it home and it was missing the entire choke assembly. Tractor Supply could not replace snowblower for 5 weeks. Cub Cadet customer service mailed me the parts and I had to assemble it myself. They apologize but never offered compensation of any kind. then can the first snow fall. I admit the snow was heavy but not deep. All the snowblower did was push the snow. I used a neighbor's old two stage snowblower which did great. I returned it for a full refund. What a disappointment.
Date published: 2018-11-28
Rated

2

out of

5
by
mmoogie
from
Useless for wet snow
I bought this with high hopes, and was happy with the performance early in the year when we had a lot of snow that was of normal density...not fluffy, not wet. I enjoyed the easy starting and the heated handgrips. Seems generally well made. But we had quite a few late-season snowfalls where the snow tends to be heavier and wetter, and the 3x auger was constantly clogging. That makes the machine virtually useless for me, as we often have heavier, wetter snows here. After questioning several shops in the area and looking online for possible solutions, I was told that I am not alone in my frustration with this machine in wet snow. One forum I was on suggested lubricants or paints for the auger chute, impeller kits, etc. For this kind of money I shouldn't have to be modifying the machine. I'm getting rid of it. Cub Cadet offered no suggestions or remedies.
Date published: 2018-09-14
Rated

2

out of

5
by
TheMajor48
from
Not so happy!
I initially bought a 3x28 in Oct '18 from Home Depo. It was delivered in the box as I expected. It was easy to assemble. Once put together, it ran fine but would not move or turn the auger. The auger belt was not on the drive shaft, it was twisted and still had a rubber band on it. I fixed that and then it still wouldn't move fwd or bwd. It appeared that the drive belt was old and stretched out. I returned it for a full refund. I then contacted my local dealer (I just assumed that he would be more expensive) and he provided me one for the same price, with free setup, delivery and training on it's use. This one is much heavier that my old 28 inch two stage which was getting old. I'm disappointed in the 3x28. It pushes snow as one previous reviewer showed in his video. Three snows so far and it pushes more in the lighter snows where I have to back up and ram the pile to get it into the auger. Also whenever I stop and move it backward (like to turn around) it always leaves a pile of snow 3-4 inches deep. I've learned to pull off the side before backing up or just turning in a circle so not to leave a pile. My driveway always has some clumps left on it, where with the two stage it did not. The 3x28 works, I'm just not happy with it. Cub Cadet doesn't seem to have a customer satisfaction policy like Home Depo. I talked to the dealer and he gave me no satisfaction.
Date published: 2018-12-20
Rated

1

out of

5
by
Pete 18
from
Looks nice!!
If you only get powder snow, It my be a useable Blower . For us it is a nightmare of unclogging after every pass. I feel so let down because I have always liked CC products but the 3X is a bust for me. Sorry.
Date published: 2019-12-28
Rated

3

out of

5
by
Ddt7300
from
Very disappointed
Bought a 2x26 October 2018. Used on a short driveway maybe 4 times. Rund good but paint bubbling off in lower shute area. Poor painting prep in factory. Will rust through soon. Should have kept my Ariens.
Date published: 2019-12-18
Rated

1

out of

5
by
need help
from
cub cadet should recall this product
I purchased the snow blower ( 3 stage x 28 width) on 01/29/18. The product would not blow heavy wet snow,It constantly clogged. It has been returned to the dealer on a warranty. After service it still clogged. I had my 2 stage cub cadet refurbished to remove snow. I can not get any satisfaction from the manufacturer. Do not purchase this model.
Date published: 2020-02-27
Rated

1

out of

5
by
Rob52656
from
A Shovel Works Better
I have a unusual driveway. I always had trouble clearing snow. I first used a lawn mower with a blade. But most of the time had to hire someone with a 4 wheeler. This year after much research; I purchased this cub cabet. It has snowed twice since I purchased this snowblower, and twice the snow blower did not even clear the first pass down my drive way. I reley would like to take this junk back for a refund.
Date published: 2020-01-25
Rated

2

out of

5
by
GW41120
from
Poor Performance with wet snow
I bought the 3 stage 28" snow blower last year as we live in VT. The Cub Cadet ads say it will go through slushy and wet snow, but my experience has been different. It does fine with dry powder snow but when the snow get wet enough to make a snowball, it tends to get plugged up inside the chute and augers. Even tried a Teflon spray but it only works until it wears off. Yesterday we had snow and I spent 3 hours almost trying to clear our driveway. At least 1/3 of the time was spent stopping and digging out the machine. An awful lot of money spent on something that under performs. I would have been better off taking the $1300 and putting it towards a small Kubota or JD tractor with a bucket.
Date published: 2020-01-02
Rated

5

out of

5
by
Ken53092
from
very happy
Just used my Cub Cadet 3x 28 snow blower for the first time and I love it. There was only one small problem... in first gear it runs WAY too fast! How fast? It actually pops a wheelie when the gear is engaged! I figured out how to adjust the speed, took only a few moments and a couple of tools, and now slow is slow....fast is fast... and reverse is just right.
Date published: 2020-01-01
Rated

5

out of

5
by
lcsr
from
Quality product and excelent waranty
This is the third snowblower purchased and the quality is superior on each model. The warranty is excellent when needed and the dealer network takes care of all service and repairs.
Date published: 2018-01-28
Rated

5

out of

5
by
Morty69
from
S'no pretender
Bought this puppy at Home Depot on 18 Dec 2017 just before a big storm (I live on Canada's East Coast). This was my 1st snowblower so I was kinda nervous (there are a lot of levers & knobs). After 5 minutes I had it down cold. Turns very easy. The reverse gears are a bit slower than I'd like so I usually just squeeze both brake release handles and do it manually. Mine doesn't have a light bar on the front like the picture here (weird) but the LED headlights do the job just fine. It should come with a fitted cover for the price. I bought a Cub Cadet cover elsewhere but only the bag it came in says Cub Cadet. That's disappointing. I like to display my stuff (I have a large garage) but it is just a rectangular black cover. Save money and get a large BBQ cover at Wal-Mart for less than $20. The machine itself is awesome, powerful and fast (in top gear). Great tires (though I would like chains or studs) and throws snow a long ways. Our snow is usually wet and heavy (we are on the ocean) and this baby cut through it like butter! My driveway is long (110' long and 12 feet wide at the narrowest point 50 at the widest - - - it's "L" shaped) and I cleaned every flake off it with this blower in around an hour. It'll get faster as I get more accustomed to it. Long review short - - a great purchase and I would highly recommend this snowblower.
Date published: 2018-01-26
Rated

5

out of

5
by
Tigman
from
Great Snowblower
I had to wait over a month to use it but when I did I was not disappointed. It starts easy and runs very well. I thought that it would throw snow a little farther but it may have been that there was only about 3 to 4 inches.It may do better with more accumulation.All said I am very happy with it so far!
Date published: 2017-12-27
bvseo_sdk, dw_cartridge, 18.2.0, p_sdk_3.2.0
CLOUD, getReviews, 17ms
reviews, product