3X 26" Snow Blower
3X™ THREE-STAGE POWER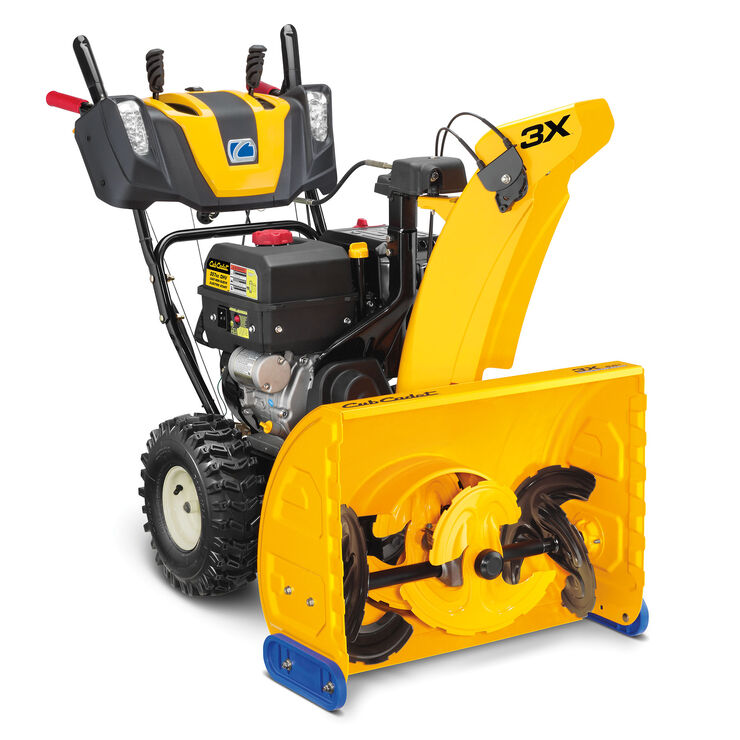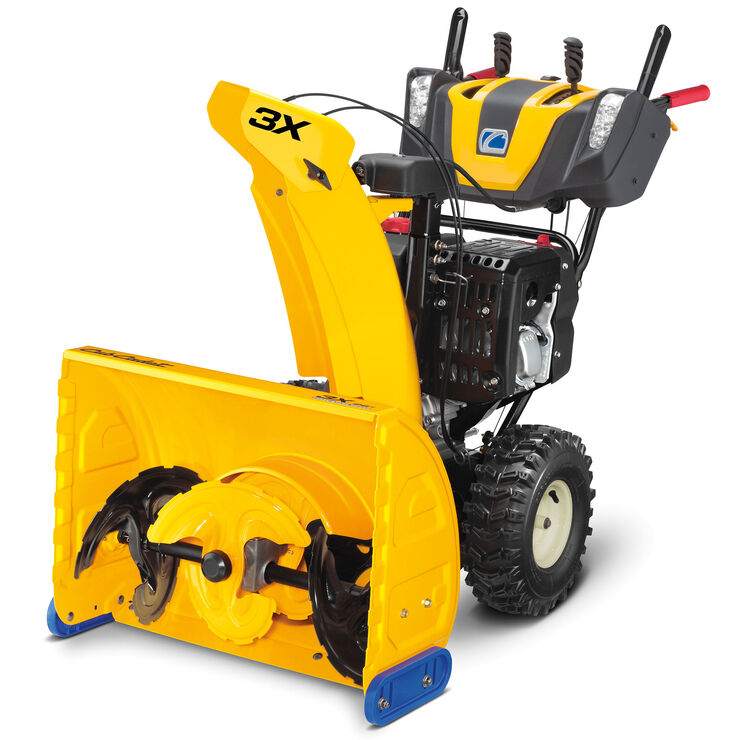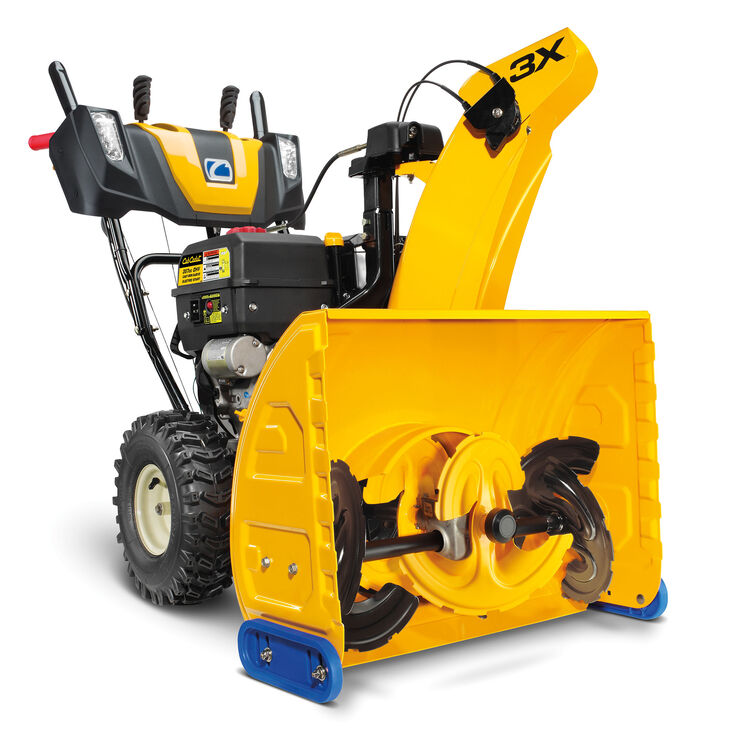 3X 26" Snow Blower
3X™ THREE-STAGE POWER
---
Or
$73/mo No interest if paid in full within 18 months16
Interest will be charged from the purchase date if the purchase balance is not paid in full at the end of the promotional period. Advertised minimum payment is greater than required minimum payment.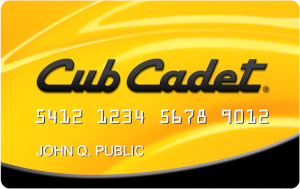 ---
357cc OHV Engine is powerful, dependable and equipped with push-button electric start.
26 inch clearing width and 21 inch intake height.
16" X-Trac™ tires provide strong traction in snowy conditions.
Dual LED headlights to clear snow before dawn or after dark.
---
---
Attachments & Accessories
3X 26" Snow Blower Features
Easy Start Ups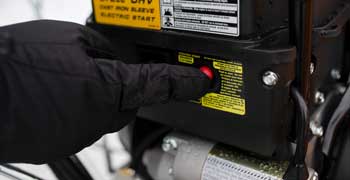 Start your engine at the push of a button when you need it most with electric start.
Better Maneuverability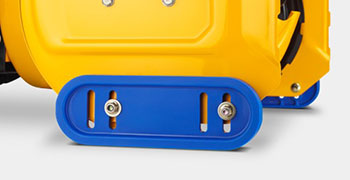 Cool blue reversible skid shoes glide along surfaces for better maneuverability and won't rust or leaves marks on your driveway.
Effortless Control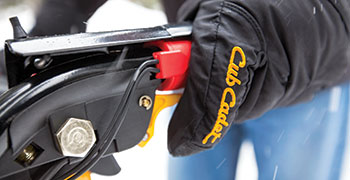 Trigger-controlled power steering and self-propelled drive for unmatched control, effortless maneuverability and single-hand operation.
Work Longer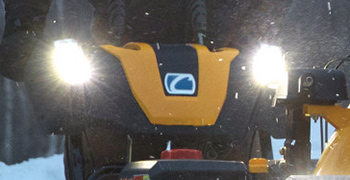 Work before dawn or after dark with dual LED headlights.
Added Durability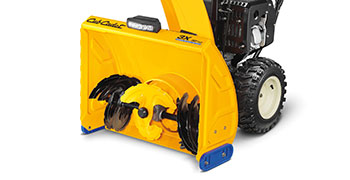 Heavy-duty cast aluminum auger gearbox and steel chute will hold up against the toughest winters..
Strong Warranty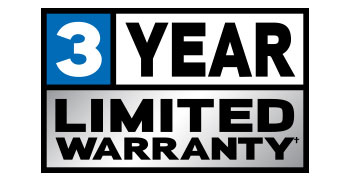 3-year limited residential and 1-year limited commercial warranty for peace of mind.
Extra Comfort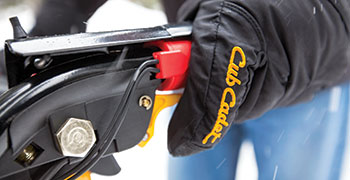 Heated hand grips provide extra warmth in extreme weather conditions.
Patented Three-Stage Technology
Patented three-stage technology includes an induction accelerator that quickly pulls slush through the system and clears deep snowfall up to 50% faster than a Cub Cadet® 2X.
Engine
Engine Brand

Cub Cadet®

Engine Model

683-WUB OHV

Engine Displacement

357cc

Starter Type

Electric and Recoil

Fuel Tank Capacity

5 qt.

Engine Start

Standard (110 volt)

Fuel Delivery

Carburetor
Warranty
Auger Gearbox Warranty

5-year limited auger gearbox

Warranty

3-year limited residential

Commercial Warranty

1-year limited commercial

Disclaimer

See owners manual for warranty details and information. Certain restrictions apply.
Controls
Handle Grip(s)

Soft-Touch Heated Grips

Pitch Control

Remote Single-Lever

Chute Rotation

200°

Chute Control

Overhead Crank

Single-Hand Operation

Standard

Steering Control

Trigger-Controlled Power Steering

Tire Size

16" x 4.8"

Drive Type

Friction Disc / X-Trac Tires

Tread

X-TRAC™
Power and Performance
Starting System

Push Button Electric Start (110 volt)

Clearing Width

26"

Intake Height

21"

Auger Gear Box

Heavy-duty cast-aluminum

Number of Stages

Three
Dimensions
Auger Diameter

12"

Impeller Diameter

12"

Accelerator Diameter

12"
Additional Specifications
Headlight(s)

Dual LED

Shave Plate

Heavy Duty Steel

Skid Shoes

COOL BLUE™ Reversible Poly

Auger Material

Heavy-duty serrated steel

Chute Material

Steel

Model Number

31AH5DVA710
Specifications
Forward/Reverse Speeds

6 forward / 2 reverse
| Model | Manual | Form Number | |
| --- | --- | --- | --- |
| 31AH5DVA710 | MANL:OPER:BILING:31X:3/5/6/800 | | |
| | MANL:OPER:BILING:31X:3/5/6/800 | 769-11510C | Download |
| | MANL:OPER:BILING:31X:3/5/6/800 | 769-11510D | Download |
| | MANL:OPER:BILING:31X:5/6/800 | 769-21930 | Download |
| | MANL:OPER:BILING:31X:5X/6X/8X: | 769-24536 | Download |
| | MANL:OPER:BILING:MTD ENG:277/3 | 769-11494B | Download |
| | MANL:OPER:BILING:MTD ENG:357/4 | 769-14992 | Download |
| | MANL:OPER:BILING:MTD ENG:357/4 | 769-25490 | Download |
| | SHEET:SUP:31X2X-3X:CUB:US_CA | 769-24534 | Download |
| | SHEET:SUP:BILING:EPA:CARB:EXH: | 769-15174 | Download |
| | SHEET:SUP:BILING:EPA:CARB:EXH: | 769-17172 | Download |
| | SHEET:SUP:BILING:EPA:CARB:EXH: | 769-23593 | Download |
| | SHEET:SUP:BILING:EPA:EVP:06301 | 769-15171 | Download |
| | SHEET:SUP:BILING:EPA:EVP:18-19 | 769-17171 | Download |
| | SHEET:SUP:BILING:EPA:EVP:18-19 | 769-23590 | Download |
| | SHEET:SUP:ENG:31X:5XX/6XX:CUB | 769-12297 | Download |
| | SHEET:SUP:ENG:31X:5XX/6XX:CUB | 769-15330 | Download |
| | SHEET:SUP:ENG:31X:5XX/6XX:CUB | 769-20750 | Download |
| | SHEET:SUP:ENG:31X:5XX/6XX:CUB | 769-22280 | Download |
Product Reviews
Rated

1

out of

5
by
Cris
from
SHEAR PINS!!
I replaced and old troybult 4.5HP 2 stage blower 18 years old. Go this last year... only used it once during a storm, broke a couple sheer pins. Snow was not fluffy ... maybe hit a piece of ice. This Just got the first storm of this season.. Got it all up and running.. started out... FIRST PASS 6" of snow (NOT WET , but not FLUFF) normal stuff. 70ft straight run. ONLY IN FIRST GEAR... Broke 2 Shear pins ... Replaced them... Grrr... Second Pass 2 more shear pins ... replaced them... GRRRRRR... After another couple passes I broke a couple more... Finally after 2 hours I have broken over 12 Shear pins and want to put this thing in the street for a plow to hit , so I don't have to look at it anymore. I should have bought a 2 stage... this snow Blender "Accelerator" "Shear pin eater" Is driving me nutz! is there a kit I can buy to make this a normal 2 stage blower? I'm debating on either putting straight bolts in it.. everyone says that bolts will probably break the gearbox and the accelerator won't work.. BUT> Its not really working now anyways.. I spent more time replacing the sheer pins than actually moving snow... My wife was laughing at me and was doing better with a Shovel.. I would be happy if this blower performed half as good as it as it said it could. Last season I bought a bag of 50 pins.. thinking I would be set for the life of the machine with this many..... at this rate I will need more pins before march.. and I will need a magnet on my lawnmower in the spring to pickup all the little metal brown pin parts everywhere...
Date published: 2019-12-02
Rated

1

out of

5
by
Minnesota1982
from
Do not stand behind warranty
I purchased my snowblower March 2018 and used it 4 times. Auger got bent and belt ruined. Not one shear pin Broke & Company said the pins are an added safety measure but does not guarantee it will stop damage. And they claim it's normal wear and tear.
Date published: 2020-01-11
Rated

5

out of

5
by
Geneo21
from
It is a great machine .
I have used it 3 times so far and it blows the snow it don't matter if it is heavy or light fluffy it does a great job . I run it in a 6'high fenced in yard to clear the grass off so our golden doodle can go out there and do his business it picks up the dogs do do it thru it over the fence over the ally and on top of the neighbors garage. My drive way is concrete it is 20'x 95' long it takes about 15 minutes to do .Heated grip are great led lights are nice as well .The only thing I bought extra was a walk behind cover to be under for the cub cadet to not get any snow blowed back on me that was a waste of money it is all wrinkled up they say to take a hair blower and work it out that did not work for me .It keeps the snow off of me but you just can't see out of it especially after dark .i would rate that as a zero.
Date published: 2019-02-14
Rated

5

out of

5
by
nancy
from
started right up and went through the snow with no problem. love the turning when you touch the braking lever.
Date published: 2017-12-15
Rated

1

out of

5
by
MS77
from
Bad purchase
I live in new england and bought this machine last year. Disnt get much use out of it but was always disappointed with the power. This year we got 2 ft and broke 8 pins and shoveled most of my 300 ft driveway by hand. I chalked this up as too much heavy snow, but I was sold on the 3stage as powerful enough for this. Today i get 3inches break the rest of the pins I had on hand and while the pins were not broke is still couldnt handle the 3 inches of snow. Buy a better machine
Date published: 2019-12-18
Rated

1

out of

5
by
Ryan71
from
Extremely frustrated
This thing will not blow snow. Constantly clogged. I read reviews of this product that just don't match reality.
Date published: 2019-11-29
Rated

5

out of

5
by
Yoyo
from
Power steering
There's no fighting there's no manhandling there's a lot to be desired using and watching a friend trying this out. It's just a pleasure to walk behind and admire how well it gets the job done. A great snowblower to be admired for years to come. Recommended definitely
Date published: 2018-02-28
Rated

4

out of

5
by
Wesley
from
Faster
I purchased my Cadet 3X 26 snow thrower in December 2017 after the first major snow event in Northeast Ohio. After setting up the snow thrower I took it out for a trip around my lot and up and down my driveway and was immediately impressed with how fast I was able to clear my driveway and sidewalks around my property.
Date published: 2018-02-01
Rated

1

out of

5
by
JimJ
from
Horrible customer service.
I had one shipped to me and the drive did not work. I was on hold for an hour and a half with no answer. I tried online chat and they told me to take it to a dealer. My nearest dealer is 2 hours away. I would never buy one again.
Date published: 2019-12-19
Rated

3

out of

5
by
Antonio
from
Disappointing
Bought at the end of last winter; used is for the first time in November of 2018. R1 was not working; then it would not "throw" the snow...it did push it, however. Took it to get repaired under warranty, and have not used it since I got it back. Let's hope it works as advertised in the future
Date published: 2019-03-18
Rated

3

out of

5
by
ArnieR
from
Disappointed.
Used it three times so far. First time worked great. Second time the hitch pin the rotate the chute falls out. Have to turn the chute by hand. I blame Home Depot for that one. Third time I use it. Screw, washer, or whatever on the flap, on the non-chute control head, on the top of the chute falls off. Pressure of the snow almost broke the flap off. Blame Cub Cadet for poor assembly. I had my other unit for 33 years and didn't have this many problems. I like the blower. Works well when something isn't falling off. Leary to use it now. Don't expect to have these kind of problems when I pay this kind of money.
Date published: 2019-01-31
Rated

5

out of

5
by
palomo01
from
A Great Machine.. Powerful and easy to operate, also I love this features; like the heated grips and the lights.
Date published: 2018-01-27
Rated

5

out of

5
by
OhioCal
from
Unbelievable power, and so easy to use!
I cant believe how easy this snow blower is to use. It started instantly (and no cord yanking thanks to the electric start) and only took about 10 minutes to get used to all the controls. Once familiar with the unit it made quick work of cleaning my long driveway, greatly aided by the user friendly power steering. I wish I would have bought this machine years ago!
Date published: 2018-01-27
Rated

5

out of

5
by
JLK1
from
Very Happy
I am very pleased with the performance and operation of this snow blower. I clears all types of snow well, easy to start and operate. I researched a number of different units and am glad I purchased this one.
Date published: 2018-01-27
Rated

5

out of

5
by
Rhino
from
Digs out fast
We just had our first blizzard of the season. This thing was a beast. No problem clearing our property, & had to help a couple neighbors too. Over a foot of wet heavy snow and it did not intimidate this Cub.
Date published: 2018-01-26
Rated

5

out of

5
by
ranger
from
I love it is great product it is s a extremely machine I'm happy that i got it.
Date published: 2018-01-26
Rated

1

out of

5
by
xhosa156
from
Garbage and they don't stand behind their product
I bought this and winter 2017/18. Chute control rod snapped in half on first use. Used it three times the whole winter. After second use, augers failed to stop spinning when ever is released because the belt snapped. Cub cadet customer service says that it falls under normal maintenance so the belt is not covered beyond 30 days of purchase regardless of the 3-year manufacturer warranty. I guess you're supposed to expect your belt to break every month with regular use. I also paid for an extra three years extended coverage from the retailer, but because it's still under the manufacturer warranty I'm out of luck. so after all that still had to pay out of pocket to get this piece of garbage fixed. To late to return and who's going to but a broken machine? If I could return it, I definitely would. Oh, and buy plenty of extra shear pins because these things snap EXTREMELY easily.
Date published: 2019-03-19
Rated

1

out of

5
by
Rusty9
from
My Cub Cadet is a lemon
I purchased a Cub Cadet 3X 26" snow blower in October 2018 from Home Depot. I relied on the Consumer Reports review and ratings. These 3X models were described in CR as "blowers on steroids" and "if you get a lot of wet, heavy snow….you will want to consider one". We had a very mild season, only 2 small storms of less than 6 ". On the 4th of March we had a storm of 10 to 12 inches of snow, exactly what I bought the Cadet 3X to handle. It was a disaster. The auger and impeller would stop, although engaged by the controls. (It behaved as if the drive belts were not working) The machine would clog and snow had to be cleared from auger area. The same problem and clearing process was repeated several times. This was not a very heavy snow, but the Cub couldn't handle it and forget about trying to get through the plow pile at the end of the drive. After several clogs, I had to get out my 20 year old Bolens to finish the job. So I ask you the following: Are the Consumer Reports ratings wrong? Is the Cub Cadet 3X just a bad design? Did Home Depot assemble the unit wrong? What steps can I take to get a working snow blower? Customer service was a waste of time. I couldn't be more disappointed in Cub Cadet, Home Depot and Consumer Reports.
Date published: 2019-05-05
Rated

4

out of

5
by
Snow
from
Not great for a high end model
purchased the unit from Home depot fully assembled for the first snow storm. Used the unit for about 25 minutes before 1) the pin holding the chute control came off 2) one of the blades must have been bent as some of the sheer pins also broke. At this point the machine was not operable and was scheduled for a warranty repair. I've had cheaper units that performed much better.
Date published: 2018-01-31
Rated

3

out of

5
by
abspapa
from
Could be better
I am 67 year old male. I have a double car driveway and 100' of sidewalk to plow. I like to plow when the snow gets to no more than four inches. I live in Northern Idaho. It's rare to get 1' of snow in each storm, but it has happened. 6" is our average snow storm here. I did a lot of research on all brands of machines available in my area before buying the Cub Cadet. I ended up buying the cub probably because of the three stage blades. Now for my review. My machine plugs up quite frequently. It's not easy to unplug the chute everytime it plugs up. You have to stop plowing and take the plastic shovel they give you to unplug the ice that compacts in the chute. It takes a lot of extra energy to stop plowing every time the chute plugs up. The chunks of solid ice that builds up and stops the snow from passing through the chute are hard to remove from the base of the chute. I don't know the scientific reason that it plugs up so frequently, however I'm inclined to think the third stage blades are the cause for the frequent plugs at the base of the chute. I have a next door neighbor who has a two stage thrower (red in color) that plows right next to me. He never stops to unplug his. If I knew then what I know now, I wouldn't buy a 3 stage cub. But you can't test drive them before you buy. So you go by what they say the machine will do. It would be nice that things we buy would do what they say they will do. This machine wears me out after about an hour of plowing. After that hour, I'm so wore out that I have very little steam left to do anything else but take a nap. The machine has several forward speeds. The slowest speed is a bit to fast for me. It could use one more slower speed than the slowest speed it is configured for. It has a very slow reverse speed. I'm not sure why they did not include a very slow forward speed for those that might be more comfortable walking slower in cold weather. Especially on 180 degree turn. It really whips you around. The hand grips are hard to squeeze for arthritic fingers. The motor is strong. Starts every time. Good traction at the tires level. The lights are kind of useless. They get covered with snow very quickly: of course you can wipe them off frequently. Hand warmers work. They should put a snow melter at the base of the chute to keep it from plugging. I'm going to wait to see if anyone from Cub Cadet reads this review and contacts me to say how sorry they are that I'm disappointed with their product.
Date published: 2019-02-23
Rated

5

out of

5
by
CraigW
from
Machine Works Great! Must Have!
I bought this machine through Home Depot, it's replacing a 6 year old 24" Craftsman 2 Stage Snow thrower. The old snow thrower had a 177cc engine, it would get slowed down with a snow load and didn't move very fast. The 3 Stage Cub Cadet is awesome with performance, control and handling, engine size, etc. I am happy with the purchase, it cleared snow from a recent 10" snow storm... like a champ. Also didn't skip a beat when it came to the plow pile at the end of the drive left behind from the road department.
Date published: 2019-02-01
Rated

5

out of

5
by
SnowlessInMidAtlantic
from
Blown away
My 2017 3x Cub Cadet sits next to my 1985 2x Cub Cadet... both work brilliantly Needless to say, we don't get the frequency of snow in the Mid Atlantic that they get up north, but we can get pounded. My Cub Cadets stand ready, and at the first sign of impending snow, I fire them up on the hilltop, and challenge the clouds to try their best! I hope I'm around in 33 years to buy Cub Cadet number 3.
Date published: 2018-02-27
Rated

2

out of

5
by
WesternME
from
Lower quality than expected
The overall performance is good and the unit has a lot of power however the drive system seems to slip a lot when the unit is cold, it slips less after it has warmed up. The Blue Polymer Slide Shoe is horrible and poor quality, they needed to be replaced after only 8 storms…
Date published: 2018-02-27
Rated

3

out of

5
by
Rangeryder
from
Good, but could be "a lot" better
I purchased this snowblower last year. It actually replaced a larger unit, which to my dismay - kept clogging and would pitch up in a full snow load. After researching on line, and seeing the video's, I felt confident that a three stage snowblower would do the job. I elected to go with a "slightly" smaller unit as compared to my previous snowblower. I purchased it at Home Depot and had it delivered. When it arrived, the "box" was not in really good shape, however an inspection revealed every thing was okay. Setting up the units was not to difficult, following the instructions. It came filled with oil, I added gas and it easily started. I practice with it in the driveway on a lazy fall afternoon. First year snow storms, no problem. It worked just like the video's. Enter the second year: some observations: • Where I could start it COLD by pulling on the starter, now required the electric start - okay. Starts on the first pull, when warm/hot. • The "reverse" now has only one speed - really slow. I am researching the problem as now it seems I have no play in the shift system that can set the reverse positions. • Thinking impossible, I actually jammed the show blower, not the chute. I always spray silicone spray on the snow path system - no sticking snow. I was removing packable snow and it seemed to overwhelm the snow blower. - Maybe this was a quirk? • I see they improved the "turning triggers," while the ones on my snow blower are functional, they are somewhat "clunky" to grip. I thank the designers for fixing the problem. • The lights (I have two) are a joke. Some one should realize their value and make them practical. And on the subject, how about a "rear view mirror" and a visible flashing red light for us users who have to move in and out of a street with snow! So why only three stars, well, not all of us have long straight walks and driveways, We have to go back and forth - we need a little more reverse speed. The lights, well read the above. While I have not mentioned this, the engine controls are in a really bad position if you want to mount a snow blower cab, be prepared to speak a few choice words. I'll keep it, it still is better than my last one, I am a use to getting use to it guy.
Date published: 2019-01-31
Rated

1

out of

5
by
Yoda
from
Stay away
Just like the other negatives I can't say a single positive thing about this piece of junk. Eats shear pins like a hungry child. I replace the auger engagement cable twice a season due to it beaking where the spring attaches. I've given up and now pay a service to do my driveway. Do not make the mistake of buying this blower.
Date published: 2019-12-07
Rated

5

out of

5
by
Seganmore
from
Powerful
Only had two snowfalls since purchasing, one was a sleet / snow and the other only two inches, so I honestly haven't had a chance to run it through it's paces yet. Pros: immediate start with just the pull string. I'm normally an electric start person but just one pull starts this beast right up. Headlights are bright, I find first gear perfect speed so far, have only used higher speeds for moving into positions to start plowing. Heated grips are a nice addition, never had them on previous machines I've owned. Cons: two reverse gears are practically non existent. Much easier to back a little and use power turn to change opposite direction than back up at less than turtle pace the length of driveway run. In icy conditions the knobby tires could absolutely use chains, as they spin a lot when trying to move on anything other than a flat surface.
Date published: 2019-02-15
Rated

5

out of

5
by
riccub
from
A joy to own with great throwing power
The snow blower was easy to put together. The electric start was fun to utilize for the fist couple of uses. After that, I used the handle pull start. The diagrams posted on the snowblower are a great assistant in becoming familiar with this machine. The machine does a great job of removing snow. The power steering assist triggers really come in handy when turning around to go back up the driveway for the next pass.
Date published: 2018-02-28
Rated

4

out of

5
by
John B
from
Good Snow Thrower
I purchased a Cub Cadet 3 X 26 in SEP18 from Home Depot at the same time I purchased a new Cub Cadet LT 42 EFI Lawn Tractor. I put a plow on the lawn tractor and use it for light stuff and its bit quicker but, even with snow chains and a weight kit, is limited for what it can push and on what kind of terrain. it will get stuck if I leave the driveway etc. I have used the 3X three times so far to remove 5, 4 and 8 inches of snow from my paved driveway. It does a good job and is better on deeper snow. It eats snow piles. It goes over grass without issue, so I can plow a path to my propane tank, but generally I'll gently push down on the handles to make sure it doesn't dig into the dirt. Both reverse gears are slow. I just pull it back manually. I leveled out the skid shoes by putting a thin piece of wood under the shave plate cranked down on skid shoes. I have only two complaints. 1. The shoot sticks. Even if I have the controls at max angle to throw the snow the furthest distance, it will only throw it 6 feet. I have to manually adjust the shoot with my hand. 2. It throws snow no where near the "up to 40 feet" advertised. Max it will throw snow is 15-20 so far. I don't know if its any better than a 2 X.
Date published: 2018-12-06
Rated

2

out of

5
by
Oldfart72
from
Oops
Bought in Fall this yr. (2019). Just used this past Wednesday for first time. Had about 5" of snow. This snow blower is not for applications hat r less than at least 6". What happens is that it turns into a snow pusher instead of a blower because the second stage blades don't pick up the snow unless I is deeper. It's Ashame that this info is not mentioned in the product description!!!!! All the other features work great including the heated grips, chute controls, elec. start, skid plates,lights etc, just very disappointed in the lack of performance with the lack of performance with lesser amounts of snow
Date published: 2019-02-01
Rated

2

out of

5
by
Freddy
from
was very disapointed had 1 good season
after last season had 2 snow storms maybe 4 hours use this year the belts broke and the auger cable was streched out the auger hole is too small when snow is more then 6in causing thechute to clog waited 1 week for parts so i got stuck doing it by hand very difficult to r&r belts got the job done will sell it cheep and by another brand
Date published: 2018-01-16
bvseo_sdk, dw_cartridge, 18.2.0, p_sdk_3.2.0
CLOUD, getReviews, 5ms
reviews, product