SC 100 HW
SIGNATURE CUT™ PUSH LAWN MOWERS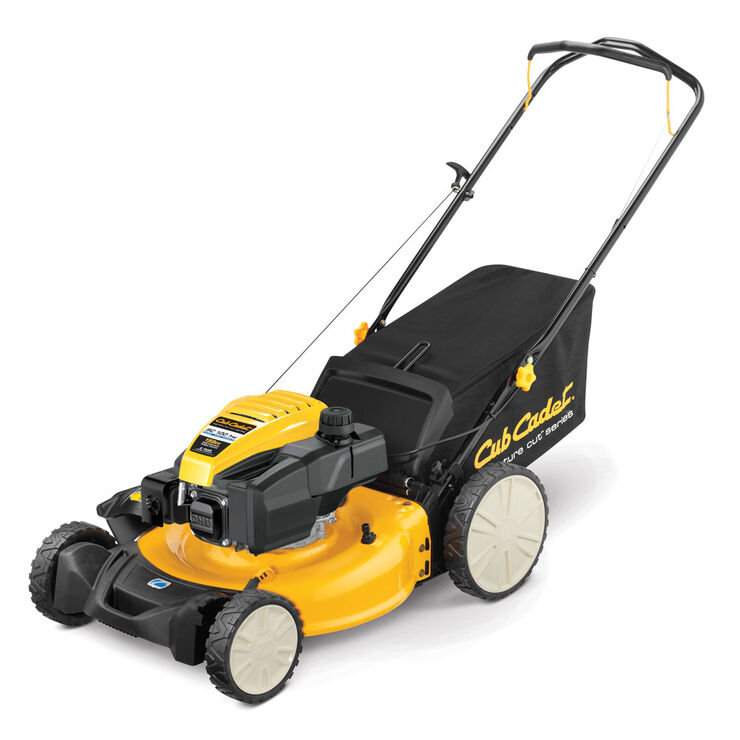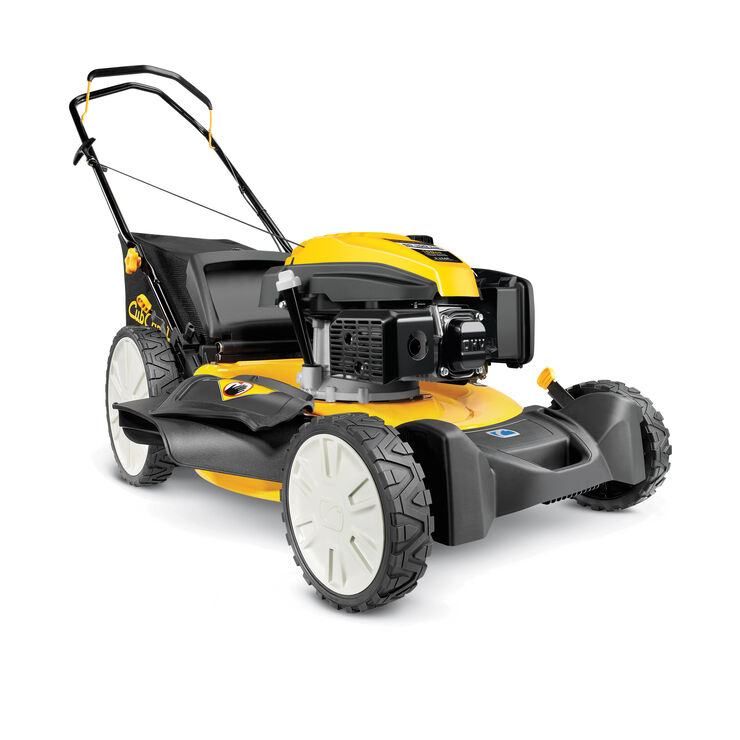 SC 100 HW
SIGNATURE CUT™ PUSH LAWN MOWERS
---
3-in-1 bag, mulch and side discharge
159cc Cub Cadet® OHV engine
11" Rear wheels provide optimum stability and control
---
---
Engine
Engine Brand

Cub Cadet® OHV

Engine Displacement

159cc

Starter Type

Recoil

Fuel Tank Capacity

1 qt.

Engine Start

Thermal Auto Choke w/ SureStart Guarantee
Drive System
Front End

Deluxe poly with handle

Drive System

Push
Cutting Deck
Deck Cutting Width

21-in

Cutting Modes

3-in-1 bag, mulch, side discharge

Deck Wash

Patented SmartJet™ high-pressure deck washing system

Deck Material

Steel

Deck Lift

Dual-lever, 6-positions

Cutting Height Range

1.25 in. to 3.75 in.

Deck Positions

6-position, Dual Lever Wheel Adjustments
Chassis
Front Tires

8-in

Rear Tires

11-in

Tire Tread

Industrial tread
Controls
Handle

3-way adjustable/Ergo

Handle Grip(s)

Soft touch grip
Wheels
Front Wheels

8-in

Rear Wheels

11-in
Additional Specifications
Mulch Plug

Integrated

Model Number

11A-B9M5710
Warranty
Warranty

3-year limited residential
| Model | Manual | Form Number | |
| --- | --- | --- | --- |
| 11AB9M5710 | MAN:OWN:COL3X_159CC_196CC_ENG | | |
| | MAN:OWN:COL3X_159CC_196CC_ENG | 769-12384 | Download |
| | MAN:OWN:COL3X_159CC_196CC_ENG | 769-15770 | Download |
| | MAN:OWN:COL3X_159CC_196CC_ENG | 769-15770B | Download |
| | MAN:OWN:COL3X_159CC_196CC_ENG | 769-15770C | Download |
| | MANL:OPER:BILING:11X:CONSOLIDA | 769-11143 | Download |
| | MANL:OPER:BILING:11X:CONSOLIDA | 769-17232 | Download |
| | MANL:OPER:BILING:11X:GEN:DIGES | 769-22910A | Download |
| | MANL:OPER:BILING:11X:GEN:DIGES | 769-22910B | Download |
| | MANL:OPER:BILING:MTD:159cc:GEN | 769-10972A | Download |
| | MANL:OPER:BILING:MTD:159cc:GEN | 769-10972B | Download |
| | MANL:OPER:FRENCH:11X:CONSOLIDA | 769-17232_FR | Download |
| | SHEET:SUP:BILING:11X:CUB | 769-11148 | Download |
| | SHEET:SUP:BILING:11X:CUB | 769-17295 | Download |
| | SHEET:SUP:BILING:21IN:11X:12X: | 769-23231 | Download |
| | SHEET:SUP:BILING:EPA:CARB:EVP: | 769-15172 | Download |
| | SHEET:SUP:BILING:EPA:CARB:EVP: | 769-17170 | Download |
| | SHEET:SUP:BILING:EPA:CARB:EVP: | 769-23591 | Download |
| | SHEET:SUP:BILING:EPA:CARB:EXH: | 769-15174 | Download |
| | SHEET:SUP:BILING:EPA:CARB:EXH: | 769-17172 | Download |
| | SHEET:SUP:BILING:EPA:CARB:EXH: | 769-17301 | Download |
| | SHEET:SUP:BILING:EPA:CARB:EXH: | 769-23593 | Download |
| | SHEET:SUP:BILING:EPA:EVP:06301 | 769-15171 | Download |
| | SHEET:SUP:BILING:EPA:EVP:06301 | 769-17300 | Download |
| | SHEET:SUP:FRENCH:11X:CUB | 769-17295_FR | Download |
Attachments & Accessories
Product Reviews
Rated

5

out of

5
by
worktick
from
Your wasting money on other products!!
I recently purchased the, " Cub Cadet SC 100 HW walk behind". Worth every bit of (my), your hard earn money. Easy to locate in the store. The box it was in, secured, well made. Once opened, one plastic package with four items and the mower. Sorry an incredible piece of machinery. I pulled it out of the box. No flimsy parts to contend with. The metal is real! The plastic parts are extremely durable! The instructions were real easy to follow. Once I put it together, filled it with the supplied oil. Yes! It was included. I filled the tank, and it started with one pull. I have had many lawn mowers and I bought them through convenience and the cheapest I could find. I wasted a lot of money. This was a great investment. You won't get anything better for the money. Pushing it is easy because the wheel base fits the machine. The power this thing has is impeccable. The whole design, durability, and performance the machine provides is great. I write very little reviews on products. But this takes the cake. Thanks Cub Cadet, I will have this for many years to come.
Date published: 2018-05-16
Rated

5

out of

5
by
Sam23
from
Excellent Mower for the Price!
Received this mower in the mail from the Home Depot. Had a little trouble with assembly but that was my fault. It was missing a hubcap out of the box, but CubCadet made it right and sent a new one right out. I have been very happy with this mower since I purchased it a couple months ago. Starts on 1st pull, cuts well and is easy to push. I got a good deal on it for Home Depot matched an online price. So far it has been worth every penny. Bag works well if assemble correctly. I made this mistake also at first, but once I put it together correctly I had no issues with it.
Date published: 2018-06-25
Rated

5

out of

5
by
tony di
from
Excellent purchase
my previous lawnmower provided me long reliable service and it would not die, but that brand is no longer made, so I was wary about buying a new one....but after reading reviews of the cub cadet I decided to pull the trigger.....outstanding performance so far after a half dozen cuts....starts right up, no priming, great wheels bag is sturdy, cleans easily.....recommend highly!!!
Date published: 2018-07-09
Rated

5

out of

5
by
Tmush
from
A great mower for the price
I bought this mower over the labor day sale. It is one of the best machines I've ever had and I owned a lawn business!
Date published: 2018-10-24
Rated

5

out of

5
by
Mower24
from
Great product
I just purchased the Signature Cut 159 cc push mower. Out of the box, gased it up (non ethanol) added my oil, included, set it up, first pull started, pull was easy. Very easy to push. Love it. Good exercise with ease.
Date published: 2018-05-07
Rated

5

out of

5
by
DAVIDC
from
SC100HW MOWER
have used this mower 3 times now--had it about a month-starts at 1st pull--the nozzle feature to wash the underside is aces--i enjoy my yard work again-
Date published: 2018-08-13
Rated

1

out of

5
by
frustrated101
from
JUNK- DONT BUY
Bought this from Tractor Supply- used it once- now it will not stay on for more than 30 sec. starts up- sounds strong then sputters and dies. has gas- new spark- new air filter- everything new- new- new- dead- dead - dead--- is there anything of quality out there any more?
Date published: 2019-04-28
Rated

5

out of

5
by
Beagleman
from
Exellent Basic Mower
Bought mower in July of 17. Fantastic mower! Always starts 1st. pull. Easy to change oil. Runs way quieter than mower it replaced. Really only use for trim work around trees so don't use bagger. Do yourself a favor and ONLY USE ethanol free fuel in your small engines! A bit expensive but well worth it. Another welcome Cub Cadet addition to garage!
Date published: 2019-01-20
Rated

1

out of

5
by
MichaelO
from
Pretty sad...
So I purchased this 5/15/18, and it died 7/15/18. I didn't even get a tank of fuel through it. I don't have a huge yard, maybe 1000sf between the front and back. I pilled it out, it fired right up, and ran for about 10 minutes before shutting down. I checked the basics, oil, fuel, all good, but no spark. I called the warranty number, and got a few names of authorized service centers, one of which is out of business. As of writing this review, the mower has been in the shop for almost a month. Needless to say, not that impressed. I really wanted this to work, I purchased this because of all the good reviews, and maybe I got the lemon, but I have not had a very good experience.
Date published: 2018-09-10
Rated

1

out of

5
by
john the
from
garbage
buy anything exept that....not worth 100$ pure garbage
Date published: 2020-03-31
Rated

1

out of

5
by
Justinr999
from
This is the biggest pile I've ever owned!
I've owned this mower for two years and pretty much have to work on it each time I mow. I've had it in the shop twice, cleaned the carburetor a few times myself, the bagger gets clogged at the entrance, I've had to replace the blades, and I can't imagine anyone giving this mower more than one star. I've never mowed my lawn more than once in two weeks and am known to the neighbors for going a month (meaning it isn't overused). At this point, just considering the money spent and not the countless hours working on this, I could've bought a brand new one.
Date published: 2019-06-02
Rated

5

out of

5
by
Gmc7
from
Does the job
Tm He mower does everything that it needs to get the job done
Date published: 2020-06-21
Rated

5

out of

5
by
drags
from
Glad I chose Cub Cadet
Have used all 3 mowing options, all work well. Easy assembly, starts first pull, and it doesn't roll it glides along effortlessly. AND IT DOES COME WITH NEW OIL TO GET YOU STARTED WITH
Date published: 2020-06-18
Rated

1

out of

5
by
RAC1
from
Lasted 1 year
Mower ran well at first and progressively got worse. Replaced gas filter, spark plug and oil, still no improvement. Lightly used ,small yard not abused. Had a Sears mower that ran for years without problems. Disappointing. Do not buy. This is junk. Sp
Date published: 2020-06-13
Rated

5

out of

5
by
Ralph1
from
Great mower!!!
This is everything I wanted in a push mower. Easy start, easy to push and ability to turn clippings into mulch.
Date published: 2020-06-12
Rated

5

out of

5
by
KG14
from
Great push mower
I purchased this a month ago. I have used it 4 times so far using both bagging and mulching. I have a few small hills and obsticals that I do not use my rider to cut. I love the front wheel drive going up the incline makes cutting much easier. It is light weight which is perfect for me! I tried the deck cleaning and it did not work like I had expected. It left a lot of grass under the deck that I had to remove by hand. Overall I am very happy with my first Cub Cadet purchase.
Date published: 2020-06-07
Rated

1

out of

5
by
This is Manny
from
Can't start it!
I bought this from tractor supply co near me on 5/18/20. When I opened the box I found the pull cord under the mowing deck not even attached. If that's the quality out of box, I'm not going to mess with this mower
Date published: 2020-05-22
Rated

4

out of

5
by
truemuscle
from
great mower, feels like quality when using
I have an extensive education in mowers/maintenance and am proud to say this is by far my favorite basic push mower i've purchased. mine came damaged from home depots shipping/handling but besides that has worked perfect.. future upgrades or suggestions would be to add a primer bulb to help new season starts.. nothing alittle primer fuel from a can cant fix but still would be nice
Date published: 2020-05-21
Rated

5

out of

5
by
138Steve
from
Good Machine
Great cut, easy to use, starts up every time, better than my last mower.
Date published: 2020-05-15
Rated

5

out of

5
by
Ckennedy
from
Great mower
Starts with first pull every time. Nice mower and easy to use.
Date published: 2020-04-19
Rated

1

out of

5
by
Tom Texas
from
Forget Cub Cadet honoring their 2-year warranty.
After a year it started to smoke when I started it and progressively got worse. After calling Cub Cadet's warranty department, I was told to take it to the retailer where I purchased it, Over the next year I took it back to the retailers small engine repair and they could not determine why. The week after my warranty expired, Cut Cadet said it was past the warranty and they could do nothing for me. So I wrote to the CEO and explained the history. All I asked for was a replacement that did not smoke. I asked for a Honda engine. FORGET IT!!!
Date published: 2020-03-11
Rated

5

out of

5
by
MarkG
from
Great Purchase
This is a mower with great options and clever design. Starts effortlessly. Great value for the money.
Date published: 2019-06-25
Rated

5

out of

5
by
Spider57
from
Great mower easy start
Great mower I've used it several times, no problems and easy starting
Date published: 2019-06-05
bvseo_sdk, dw_cartridge, 18.2.0, p_sdk_3.2.0
CLOUD, getReviews, 65ms
reviews, product