XT2 SLX50 FAB
XT2 ENDURO SERIES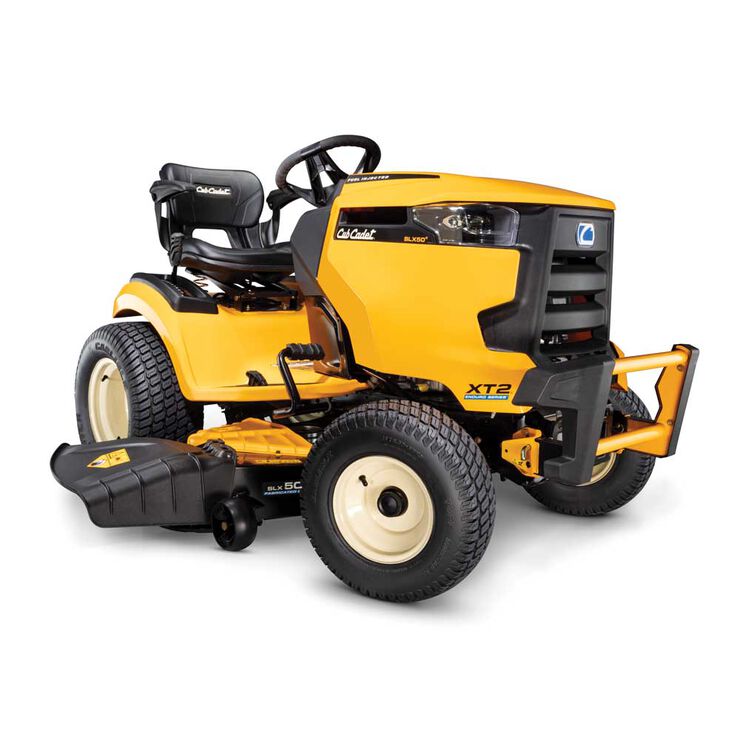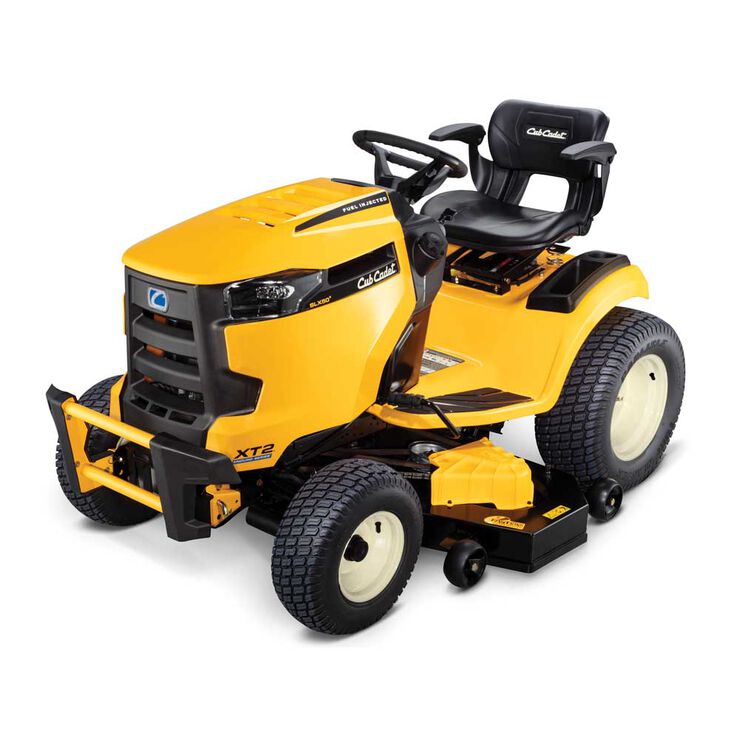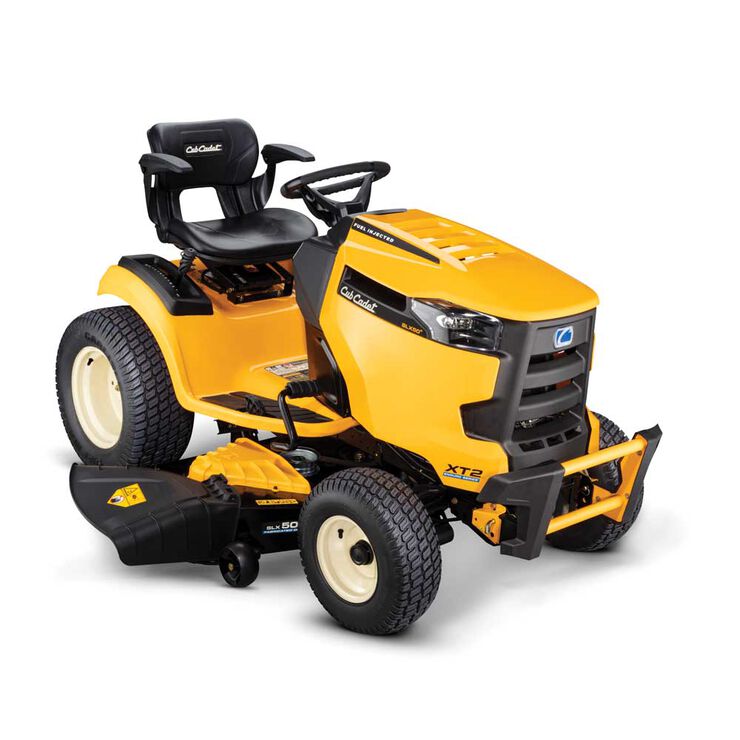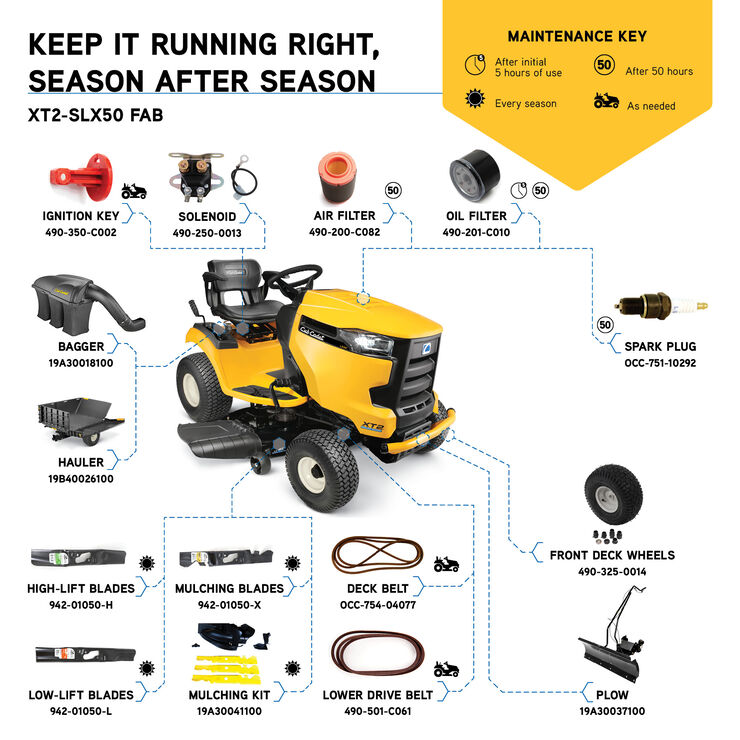 XT2 SLX50 FAB
XT2 ENDURO SERIES
---
Or
$131/mo | 0% APR3 | 24Mo with $125 Promo Fee. Total: $3,124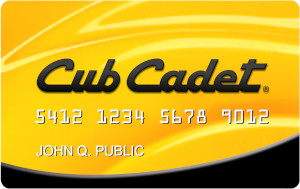 ---
The Cub Cadet XT2 SLX50 FAB is powered by a Cub Cadet twin cylinder 679cc engine equipped with EFI for 25% less fuel consumption, less maintenance, dependable starting, and easy off-season storage
50-inch fabricated, 11-gauge, triple blade deck with AeroForce deck design that optimizes airflow and maximizes suction to reduce clumping during discharge and improves bagging performance while delivering strong durability and the pristine Cub Cadet signature cut.
Soft grip steering wheel provides more control that's easy on your hands.
3-year/no hour limit warranty (includes powertrain) and 5-year chassis and front axle unlimited hours/limited lifetime fabricated deck shell.
Ideal for mowing 2-4 acres of mostly flat terrain and a few obstacles.
---
---
XT2 SLX50 FAB Features
Incredibly Responsive Handling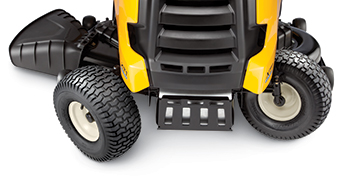 Optimized command and control at every turn with hydrostatic transmissions. No more shifting. Just push the pedal and go.
FastAttach Blade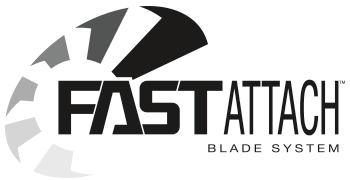 Helps you get the most out of your machine by simplifying blade maintenance. Requires no tools and makes blade changes quick and easy.
Corrosion Defense System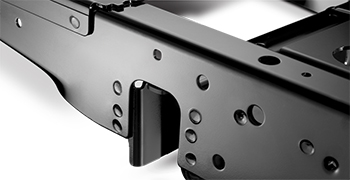 A multi-step process electronically applies automotive-grade corrosion resistance with meticulous care to protect against wear and tear.
Engine
Engine Brand

Cub Cadet

Engine Model

w/ EFI

Engine Displacement

679cc

Fuel Tank Capacity

2.5 gal.

Cylinders/Material

Twin

Engine Start

Push button start

Engine Oil Capacity

2 qt.

Lubrication

Fully pressurized

Charging System

15 amp regulated

Fuel Gauge

Fuel sight window

Governor

Manual

Choke

Electronic

Air Filter

Single element

Oil Filter

Yes
Battery
Battery

12V 300 cold crank amps
Drive System
Transmission

Hydrostatic, foot

Forward Speed

5.5 MPH

Reverse Speed

3.1 MPH

Rear Axle

3/4" w/dual PM steel drive hubs

Transmission Housing

Cast aluminum

Transmission Type

Tuff Torq K46

Engine to Transmission

Heavy-duty belt
Cutting Deck
Deck Cutting Width

50"

Cutting Modes

Discharge/mulch/bagging

Deck Wash

Included

Deck Material

Steel, 11-gauge

Deck Attach/Removal

QuickAttach™ (no tools required)

Deck Engagement (PTO)

Pull knob (electric)

Deck Construction

50'' 11-gauge stamped fabricated deck

Spindle Construction

3/4" with steel cap and Triple Lip Sealed

Blade(s)

3 - FastAttach

Deck Lift

Lever

Cutting Height Range

1" - 4"

Anti-Scalping

4 ball, 1 nose

Deck Positions

12-position
Chassis
Frame

Robotically welded

Front Axle

Cast iron

Turning Radius

16"

Front Tires

16"x6.5"-8"

Rear Tires

22"x9.5"-12"

Tire Tread

Turf Master

Protection

Front brush guard

Rear Tow Hitch

Included

Corrosion Protection

E-coating
Controls
Cruise Control

Included

Brakes

Automotive-style disc

Steering Control

Manual sector and pinion

Display

Hour meter
Comfort
Seat Type

15" high-back seat

Armrests

Included

Seat Suspension

Seat spring

Seat Adjustment

Lever

Floor Mats

Traction Pad

Steering Comfort

Soft Touch steering wheel
Dimensions
Dimensions L/W/H

68"/60"/42.5"

Weight (approx.)

640 lbs.
Additional Specifications
Mulch Kit

Optional

Headlight(s)

2 - LED

Discharge Chute

Included

Cup Holder

Included

Operator Presence System

Included

Bagger

Optional

Model Number

13BZA2CZ010
Warranty
Warranty

3-year/unlimited hour warranty

Frame Warranty

5-year/unlimited hour warranty

Front Axle Warranty

5-year/unlimited hour warranty

Deck Shell Warranty

Limited lifetime warranty
| Model | Manual | Form Number | |
| --- | --- | --- | --- |
| 13BZA2CZ010 | MAN:OPER:TRILING:NX15 | | |
| | MAN:OPER:TRILING:NX15 | 769-20951 | Download |
| | MAN:OPER:TRILING:NX15 | 769-20951A | Download |
| | MANL:OPER:BILING:MTD ENG:679cc | 769-17313 | Download |
| | SHEET:SUP:BILING:EPA:CARB:EXH: | 769-17172 | Download |
| | SHEET:SUP:BILING:EPA:CARB:EXH: | 769-23593 | Download |
| | SHEET:SUP:BILING:EPA:EVP:18-19 | 769-17171 | Download |
| | SHEET:SUP:BILING:EPA:EVP:18-19 | 769-23590 | Download |
| | SHEET:SUPP:WARR/PARTS:CC NX15 | 769-23211 | Download |
Attachments & Accessories
Product Reviews
Rated

5

out of

5
by
JeffAlex2
from
Love my XT2 SLX50
This is my 2nd full season with the tractor and am at 53 hours. I mow 3.5 acres and maintain some nature trails with it. Plenty of power, love the EFI engine. I sharpen the blades twice per season and it cuts very well. Couple of words of advice... run the tires at 10lbs... it rides smoother... and lube the mower deck belt tension arm once a year with grease by removing the bolt.
Date published: 2019-06-27
Rated

4

out of

5
by
KKumar
from
Tractor attachments
I got this tractor from my son as a fathers day gift. Love my son for doing this for me. Tractor has amazing power and very comfortable to drive. My only issue is, my son paid for the mulch kit to be installed by the dealer and it does not fit. The dealer is still looking into it but its sad that cub cadet has not made a kit that fits correctly to my 50 inch fab deck. Hope there is a solution for it soon. Over all I enjoyed the tractor, even though i only used it once.
Date published: 2019-06-19
Rated

4

out of

5
by
Todd1234
from
Quick blade system not that great
I wanted to make review until after at least a full season of mowing. Overall I am pleased with the mower, I just can't give it 5 stars because I have a vibration issue that I can't resolve. I wear ear muffs when using the mower because it is LOUD. After about 20 hours it devolved a vibration while the deck is engaged. Not a vibration you feel but one I hear with the side of ear muffs. This is my second season now and it's louder. I need to take a break halfway through cutting to rest my ears. I checked everything (balance, etc). The only thing that I see amid is the quick release hubs wiggle. Since they are spring loaded and not solid like the old style hubs—this is the only place I can see that would be causing this issue. I'm not interested in spending money just to see. I'm looking for a kit to swap them out. Also, I believe there's no point to the quick release because after removing the deck (wheels are cheap too) and a season of mowing they aren't quick or easy release. Grass clippings bind them up and you need tools and penetrating lubricants to get them to release the blades. They actually take longer to swap blades than if I used a wrench on a hub. In addition, the design makes it difficult to balance the blades due to the z shape hole in the center. I would actually have put 3.5 stars if that was and option. I hope to locate a conversion kit to replace these quick things that are sloppy and not quick. Other than that, the mower is great. Runs great, easy to maintain, nice seat, nimble, etc. if not my deck being so loud and this vibration I would highly recommend it.
Date published: 2020-06-06
Rated

5

out of

5
by
boulder140
from
Very satisfied
I purchased this machine in March and have eight hours on it. The fuel injected engine produces excellent power. It cuts and bags very well and the clippings are very fine. No chute clogs so far even with wet grass. The deck is rugged and for a 50" floats very well. The steering is outstanding. Turns easily and very tight. The tires don't dig in on tight turns and it is very easy to stripe straight lines over a distance. The dealer was excellent too. Very satisfied with what is a capable machine that has cut my lawn cut time in half.
Date published: 2019-05-17
Rated

5

out of

5
by
PenguinSid1967
from
Everything we expected
Five hours into using our new Cub Cadet, and I have no concerns. Mowing my lawn has gone from a 2+ hour job to 30 minutes. The towable and bagging system are excellent. And the EFI system is awesome. We've had other lawn tractors in the past (not recently), and I absolutely did my research on this one. The quick release blade system was a major plus, and a unit that could be an all around yard tool without needing to step up to a garden tractor was important. I also wanted a dealer that answered the phone, responded to text messages, and wanted my relationship and business was all a part of the decision. So far this mows, hauls, bags as hoped. We don't have the time to waste hours mowing twice a week, and when I work gives us a break I sure don't want all of that break to be eaten up by yard work. Oil change was easy....although finding a replacement oil filter has been a giant pain in the neck (even in a city with lots of places to find one). Will add a snow blade for the winter to help with clearing my neighbor's wall and driveway along with our own. Very happy with our unit!
Date published: 2019-05-12
Rated

3

out of

5
by
GPF56
from
cautiously optimistic
After a month of ownership I am cautiously optimistic that my new Cub will be a good machine. With only 2.1 hours on the clock, I was mowing my lawn and all of sudden the tractor just stopped! Engine and blades were going, but no forward motion! Call my dealer, and they come and pick it up immediately. Turns out it threw the drive belt. Dealer is great! Returned it the same day. Otherwise it mows great. We will see how it goes.
Date published: 2019-05-28
Rated

3

out of

5
by
JohnTheBaptist
from
Glad (Mostly) about the Upgrade - But a few FLAWS!
I recently went with this model (XT2 SLX50) cub cadet because my old i1042 (42 inch – 1 cylinder) gave up the ghost (I will NEVER buy a one [1] cylinder again!). There were obviously many "pros" and "cons" to this XT2 SLX50 model. I had hoped that getting a more powerful engine (which this one has), an engine with two (2) cylinders (which this one has), and a larger deck, would improve my mowing experiences significantly. So far, I am happy with the power of the XT2 (it, having over 100cc's more than the old i1042) – so this is a "pro." I am also happy with the two (2) cylinders, as it doesn't "bog" down in ANY way (even in tough/tall grass) – Another "pro." The only problem (con) that I have noticed is that the "cut" is not as clean (or thorough) as my old machine. I think this may have something to do with the very "short" cutting surface of the newer (3 blade) XT2 50 inch system. On the old 42 inch (two blade) system, the cutting surface is over TWICE the area/length than of the 50 inch (XT2) system (the 50in blade area being 3.5 inches long, and the 50in blade area being 6.5 inches long). The 42in blades also seem to be much more "heavy" (and the 50in more thin, with much less "heft"). You would THINK that three (3) blades would do a BETTER job, but with the smaller cutting surface (of the 50 in) I have found that this mower does NOT cut better. The only "saving grace" is that the new XT2 does indeed go [MUCH] faster, than the old mower. -- So in many cases, I have to go over the mowing area TWICE (in order to get a well cut [or "even"] mowing experience). I also LOVE the new EFI (Fuel Injected) engine system! It does indeed (so far) live up to expectations, as it starts INSTANTLY (no pause), and also gets MUCH better fuel economy (100%, as advertised). – also…HURRAY!! -- NO MORE Carburetors!! Besides the uneven cut, the only other (major) negative I've experienced so far with the engine has to do with the PTO/Clutch engagement. For the first week or so, when I'd engage the PTO the clutch would "shutter" (and majorly SHAKE) like a miniature earthquake!! I was told, by the dealer, to engage the PTO at a lower idle speed, but this only makes the earthquake less "noisy." (so the jury is still out, on this one). I have [recently] added the "mulch" system, which does make the things more tolerable (as you don't have to "bag" the clippings [but I STILL have to go over the lawn, a FEW times, to get a good mulch]). Lastly, the changing of the mowing blades is almost "heaven" (as I have the new "Fast-Attach" Blade system). So as you can see, there are a number of "Pros" & "Cons" with the XT2 SLX50 model. Is it "worth it"? This is hard to say, most of the cons being somewhat minor (except the uneven grass cut), but, as noted, the mowing "speed" does offset this con somewhat. I would suggest that if you'd like to get a better [more even] cut, then go with the two (2) blade 42 or 46 inch model. I believe the bigger blades will have a much LONGER "blade surface," that will give you a better experience (and result). My 2 cents. John
Date published: 2020-05-21
Rated

2

out of

5
by
Don12342
from
Not up to par
My previous Lawn Tractor was a Cubcadet 2518, A great Lawn Tractor. The SLX50 leaves a lot to be desired compared to the 2518. , It scalps my lawn and is a lot less sturdy than my previous Cubcadet. The fabricated deck needs better wheels.
Date published: 2019-04-22
bvseo_sdk, dw_cartridge, 18.2.0, p_sdk_3.2.0
CLOUD, getReviews, 4ms
reviews, product