XT2 GX54 D FAB
XT2 ENDURO SERIES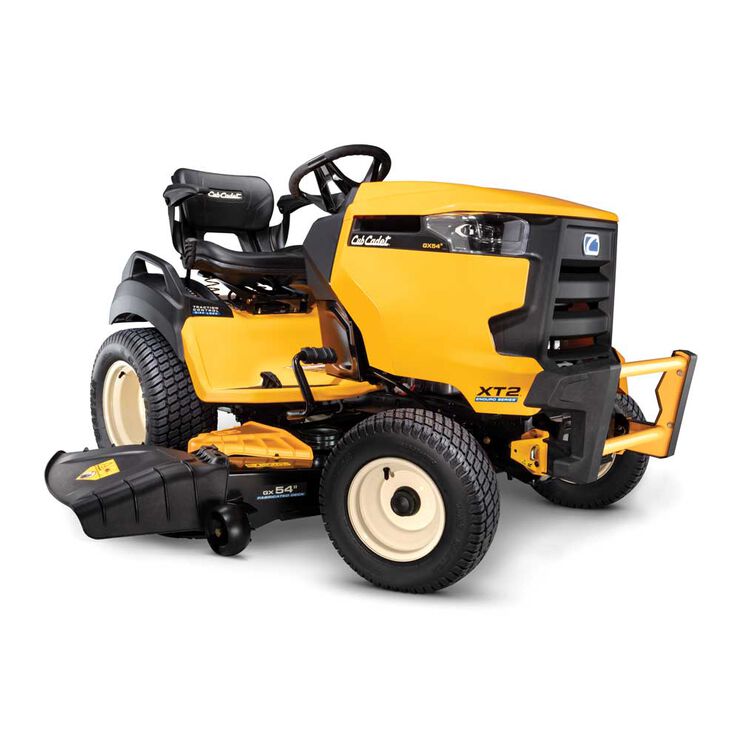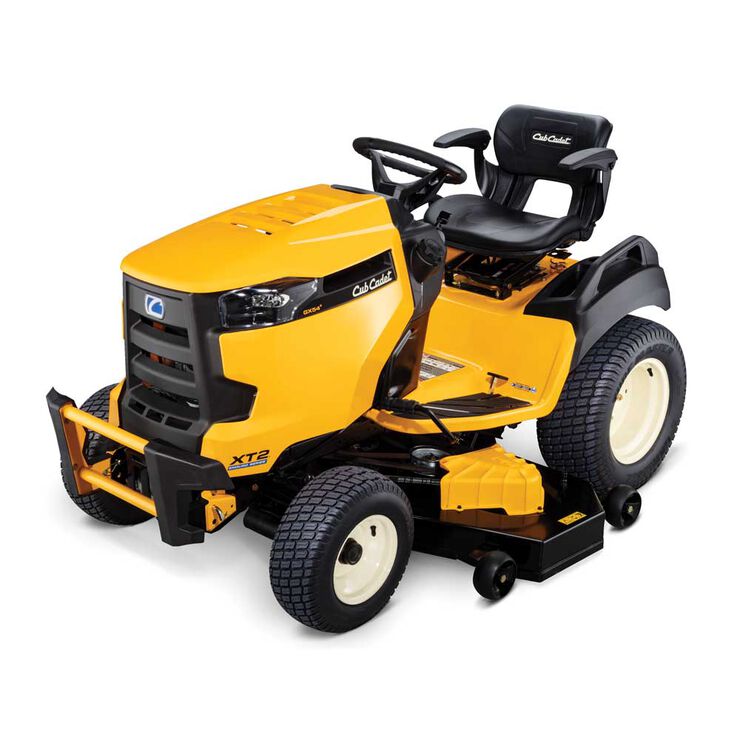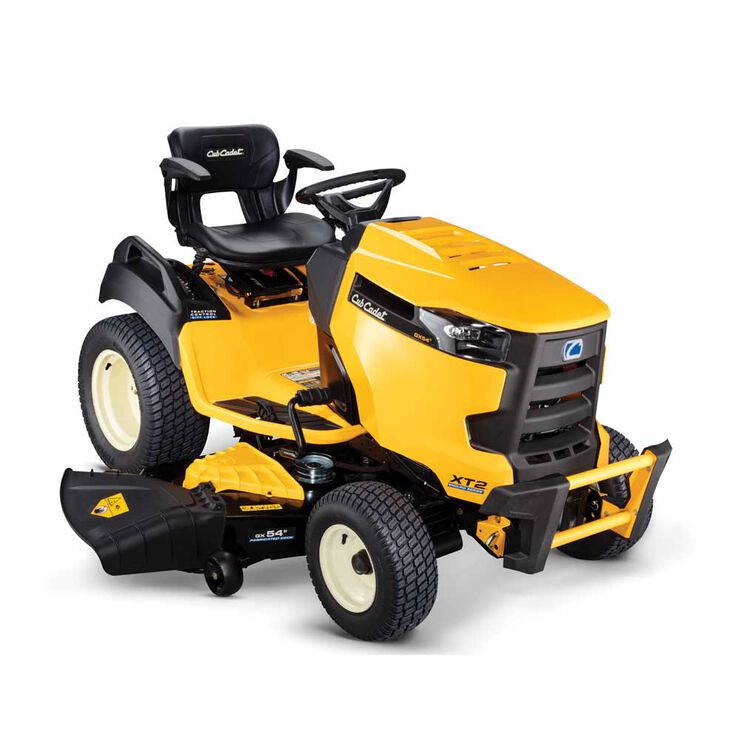 XT2 GX54 D FAB
XT2 ENDURO SERIES
---
Or
$164/mo | 0% APR3 | 24Mo with $125 Promo Fee. Total: $3,924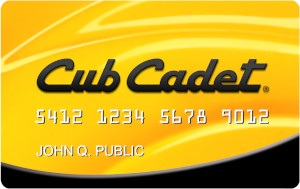 ---
The Cub Cadet XT2 GX54 D FAB is powered by a 26 hp KOHLER 7000 Series twin cylinder engine.
54-inch fabricated, 11-gauge, triple blade deck with AeroForce deck design that optimizes airflow and maximizes suction to reduce clumping during discharge and improves bagging performance.
Rear differential locking provides increased traction compared to a standard or open differential, easily engage with a foot pedal when the rear tire is slipping on uneven terrain or hills.
3-year/no hour limit warranty (includes powertrain) and 5-year chassis and front axle unlimited hours/limited lifetime fabricated deck shell.
Ideal for mowing 2-4 acres of mostly flat terrain and a few obstacles.
---
---
XT2 GX54 D FAB Features
Incredibly Responsive Handling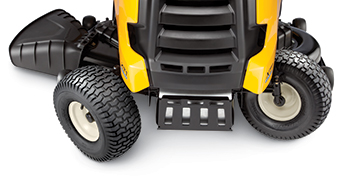 Optimized command and control at every turn with hydrostatic transmissions. No more shifting. Just push the pedal and go.
Corrosion Defense System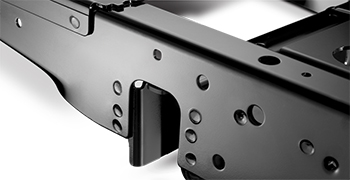 A multi-step process electronically applies automotive-grade corrosion resistance with meticulous care to protect against wear and tear.
Diff-Lock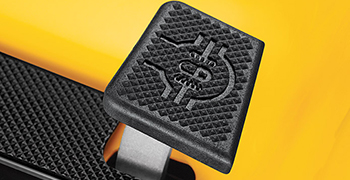 Foot-controlled traction control differential lock for all weather conditions and cutting terrains.
Engine
Engine Brand

Kohler®

Engine Model

7000 Series

Engine Displacement

747cc

Engine Output

26 HP

Fuel Tank Capacity

3 gal.

Cylinders/Material

Twin

Engine Start

Key

Engine Oil Capacity

2.0 qt.

Lubrication

Fully pressurized

Charging System

12 amp regulated

Fuel Gauge

Fuel sight window

Governor

Manual

Choke

Choke-a-matic

Air Filter

Single element

Oil Filter

Yes
Battery
Battery

12V 300 cold crank amps
Drive System
Transmission

Hydrostatic, foot

Forward Speed

5.5 MPH

Reverse Speed

3 MPH

Rear Axle

1" w/ dual PM steel drive hubs

Transmission Housing

Cast aluminum

Transmission Type

Tuff Torq K62

Engine to Transmission

Heavy-duty belt

Rear Differential Lock

Included
Cutting Deck
Deck Cutting Width

54"

Cutting Modes

Discharge/mulch/bagging

Deck Wash

Included

Deck Material

Steel, 11-gauge

Deck Attach/Removal

QuickAttach™ (no tools required)

Deck Engagement (PTO)

Pull knob (electric)

Deck Construction

Fabricated

Spindle Construction

3/4" with steel cap and Triple Lip Sealed

Blade(s)

3 - FastAttach

Deck Lift

Lever

Cutting Height Range

1" - 4"

Anti-Scalping

4 ball, 1 nose

Deck Positions

12-position
Chassis
Frame

Robotically welded

Front Axle

Cast iron

Turning Radius

16"

Front Tires

16"x6.5"-8"

Rear Tires

22"x9.5"-12"

Tire Tread

Turf Master

Protection

Front brush guard

Rear Tow Hitch

Included

Corrosion Protection

E-coating
Controls
Cruise Control

Soft touch engagement

Brakes

Automotive-style disc

Steering Control

Manual sector and pinion

Display

Hour meter
Comfort
Seat Type

15" high-back seat

Armrests

Included

Seat Suspension

Seat spring

Seat Adjustment

Lever

Floor Mats

Traction Pad

Steering Comfort

Soft Touch steering wheel
Dimensions
Dimensions L/W/H

72.5"/63"/44.5"

Weight (approx.)

700 lbs.
Additional Specifications
Mulch Kit

Optional

Headlight(s)

2 - LED

Discharge Chute

Included

Cup Holder

Included

Operator Presence System

Included

Bagger

Optional

Model Number

14D7A6CA010
Warranty
Warranty

3-year/unlimited hour warranty

Frame Warranty

5-year/unlimited hour warranty

Front Axle Warranty

5-year/unlimited hour warranty

Deck Shell Warranty

Limited lifetime warranty
Attachments & Accessories
Product Reviews
Rated

1

out of

5
by
jlame1984
from
Disappointed
I bought the 2018 Model of this mower and I've had nothing but problems with it. Just 2 months in the seat split, not covered under warranty. I'm 5'10" and 180 lbs, not the largest of individuals. Just got it back from the mower shop. It's an under-powered gas guzzler. I have another 42" mower that will do my whole lawn (3 acres) with one tank of gas. This takes 2 tanks of gas and I get off of this thing smelling like exhaust. In fact the plastic engine cover is stained black from soot in the exhaust. If you approach thick gas you have to raise the deck, unlike my other mower. The initial problem was with the carburetor which according to the mower shop is not covered under warranty. It was running rich and kept fouling plugs so I replaced the carburetor and plugs. It ran ok for a little while and then started fouling the plugs again. I took it to the mower shop and they replaced the plugs and electro-thermostatic choke, again not covered under warranty. I've been very disappointed with this purchase and I'm skeptical about the reliability moving forward.
Date published: 2020-05-04
Rated

5

out of

5
by
Watchman
from
Great Tractor
Purchased this model XT2 GX54 tractor in 2017. Wanted to make sure that it held up before I wrote this. I have 2.5 acres that I have to mow. I couldn't be happier with it. It does it all and have never had a problem with anything. The Fabricated Deck is super strong. There are however a lot of bolts etc sticking through the deck which collects grass etc. I usually have to scrape it out after every third time. the washing ports really help keep it clean. If you start plugging up after every use. Look at your blades. They probably have to be replaced. Even if they are only worn down on the outside edge a little bit. Found that out the hard way. Replaced mine this year. Be careful on your attachments. The parts numbers on your tractor may not match what is on line. The part number for the correct snow blade that fits mine shows it shouldn't fit on line when I checked. Had to call to ensure that the part # listed on my tractor was correct. This tractor has a heavier frame than the standard XT2 so make sure you get the right accessories that fit your model. The snow blade for this model could be way better. To adjust the angle you have to get off the machine. Their isn't a latch or spring loaded stop to lock the blade up when moving. You have to physically hold it up with one hand while driving. :(
Date published: 2019-11-11
Rated

5

out of

5
by
Flyguy68
from
Love the Locking Differential
Plowed a 30' x 50' garden and cultivated it in 45 minutes. This tractor is a beast! And it mows the grass is no time (2 1/2 acres).
Date published: 2020-05-05
Rated

5

out of

5
by
Mike728
from
Great Value !!
This is my second review since purchasing this tractor last fall. My first review was about how well this tractor worked with it's snowblower attachment. I have put over 30 hrs on this tractor since last fall. I have used it to mow and haul dirt on about 2 acres of lawn and apple orchard on flat to slightly hilly terrain. I am still totally impressed with this machine. the power and handling is incredible! for machine in this price range.
Date published: 2019-08-30
Rated

5

out of

5
by
CedarvilleCub
from
The Cub Cadet XT2 GX54 D is unbelievable.
I mow a 3 acre yard with various slopes and obstacles. My 2007, i1050 zero turn had served me well with over 750 hours and no problems. After seeing the new XT2 line at my local Cub Cadet dealer (J.B.'s Small Engine Works) in Utica I had to upgrade. John made it so easy to purchase, answered all my questions and delivered my new GX54 D in less than a week. I have just completed my 10 hour service check and love all the upgrades and changes that Cub Cadet has made in the XT 2 series. The ease of steering and improvements in the no choke 26 hp Koehler 7000 are very impressive. Changing the oil and filter is a breeze with the new design. The keyless engine start and the Bluetooth technology makes it unbelievable that you can have all your maintenance information and reminders connected right to your smart phone. The heavy duty K62 Tuff Torq hydrostatic transmission and 22 x 9.5 rear tires gives you quality peace of mind. The fabricated 54 inch deck cuts the grass beautifully. I love everything about the XT2 GX54 D tractor and would highly recommend it to my friends and neighbors. Thanks John for all the help!
Date published: 2017-05-13
Rated

5

out of

5
by
thepdrive
from
Just received my XT2 GX54 D!
Need to qualify this up front: I just received this tractor on 5/16/19 and did my first cut of my 2.5 acre lot. Also, this is my first GT, or any tractor, ever. So far, it is living up to every expectation after doing tons of research and interviews with other GT users! It is a beast! It delivered a perfect cut...never hesitated...even at full speed (but I mostly cut at half speed). I have some 45 degree inclines. I checked for safety, engaged the reverse cutting system, and systematically cut up and down the hills vertically. It had power to spare at full throttle. Things I like: Power, fuel injection, electric start, easy to engage blade, reverse cutting, big grippy tires and strong deck. I'm a big guy (6'0, 280) and its comfortable for me...the elbow rest are movable too. This is making me glad I chose the GT vs a zero-turn. Only thing I don't like, but can deal with: With pedal activated speed control, my foot gets tired. However, I expect to use the cruise control more as I get to know the yard. I expect it will perform well with a snow blade this winter. I will update my review in 3 months.
Date published: 2019-05-17
Rated

5

out of

5
by
Challenge Accepted
from
Love it, but have a question.....
I bought this tractor at the beginning of the 2019 mowing season. I love the traction it has, but I am inquiring about the snowblower attachment for it and also the spreader attachment for the rear of it. I have a lot of driveway, with a pretty steep uphill. Is it a waste of money, or is this tractor with a snowblower a good idea. I don't want to tear up my new pavement...
Date published: 2020-02-12
Rated

1

out of

5
by
jackie27
from
Mows great when it works.
I bought this brand new in April '17. With less than 20 hours the starter went bad. It was replaced under warranty. Summer of '18 the engine died in the middle of mowing. It would randomly not start. Dealer had it for 3 weeks, couldn't figure out what was wrong. Took to another dealer and a switch was replaced. Less than a year later the same problem. Repair place still has it waiting on parts. It's been 3 weeks. I went and bought a brand new Husqvarna and will the sell the Cub Cadet as soon as I get it back. Worse purchase decision I have made.
Date published: 2019-08-21
Rated

5

out of

5
by
Shuggie
from
Excellent product for large areas!
Excellent mower, heavy duty and built to last. Easy to operate and maintain.
Date published: 2018-05-18
Rated

4

out of

5
by
Winemaking Farmer
from
Mower cuts grass...when broken it just sits.
Bought my Cub Cadet XT2 GX54 D last October and while mowing my 3 acre vineyard I quickly realized it's wider than my last mower and I had to watch where the deck sides were at all times. The grass chute side (right) especially, as it protrudes another 10 inches than the left side. I can't mow down the center of each vineyard row. When I'm mowing the hillside it doesn't matter and the extra width allows for less trips back and forth. I get up the slopes easily with the locking differential and around tight corners without slipping when the grass is wet. One really nice feature is to mow in reverse as I back out of tight spaces near fence lines. The mower deck and blades clean easily with the aid of the water hose connection and the seat with arm rests is comfortable. The choke-less start feature is appreciated when it's cold or raining. The wide tires make it easy to control. I've mowed grass and weeds as tall as my head in the spring and it had enough power to keep running except the grass chute couldn't eliminate the cuttings quick enough without plugging up a bit and forced me to back up to clean the chute out. The fan belt did slip off once and I had to put it back on devising a tool to pull the belt tensioner back. Overall, I recommend the Cub Cadet. One big negative! The manual, as a previous reviewer mentioned, is from a third world country! I couldn't locate a part drawing either in the paper manual or online. I resorted to using the telephone and was on hold for 20 minutes to ask a customer service assistant (yes, don't mention this in your review as is their policy), what part I needed. She was very helpful. I found out there is a "pressure cap" on the "nose roller" to hold the nose roller in place that affixes to the "J" shaped pin which allows the deck to run smoothly over bumps and uneven terrain. We do it yourselfers would prefer to not waste time calling a telephone rep when we can read part drawings ourselves. Not to mention I had no idea the "pressure cap" part was missing at all and ended up driving over the nose roller when it fell off and crushing it to smithereens. I now wait for a week while the part is shipped via UPS. Cub Cadet is sending the part free of charge. AND...it is much appreciated.
Date published: 2019-05-31
Rated

3

out of

5
by
Hiphoosier
from
Good tractor cheap design around edges
I bought this tractor last year and was sure I left a review which no longer appears here. I like the tractor overall, but the manual is a rag poorly illustrated and poorly worded on dirt rag paper. Looks like it was produced in a third world country. The mower deck attachment engineering is archaic with cotter pins, no handle to loosen the belt (instead there is just a punch out and you must use your own tool to lever it loose). I have a 25 year old other brand tractor that has more modern engineering on deck removal. Gas gauge is a cutout where you can simply see the plastic fuel tank, but not much use when dark. Other than that as I said I think it is a good tractor. Have used the diff lock more than once, so handy to have. Performance has been good so far. The thing that really got me was the almost throw-away manual which I found chintzy.
Date published: 2018-11-23
Rated

5

out of

5
by
Nick110
from
Excellent light duty garden tractor!!
This thing is a beast! I just bought it a month ago and used it twice so far with no complaints. I did the dealer delivery which went really well. They set it up completely and ready to go. The 26HP Kohler engine tore thro some pretty tall damp grass and did not even bog down a pinch. And tall I mean past the deck by several inches. The seat with the arm rests are comfortable and the ride is good on the back. And the diff lock is an added bonus, especially for snow plowing. The K62 trans is in the professional line of their trans. Which means it is serviceable, unlike their lineup under these, K58 and under. I've seen many reviews of people hauling plenty of weight behind them without a problem. One person was able to plow his driveway without weights or chains. But the reason I went with this is because of the stronger built frame and what you get for your money. I looked around all winter for a new one and even the ones in orange. But when it was all said and done I kept coming back to this one. The higher horsepower engine is invaluable for any demanding work you need it for. And the K62 trans with the diff lock was a high selling point for me. And so far it has been tested and working great under pressure.
Date published: 2020-05-25
bvseo_sdk, dw_cartridge, 18.2.0, p_sdk_3.2.0
CLOUD, getReviews, 6ms
reviews, product