XT1 LT46
XT ENDURO SERIES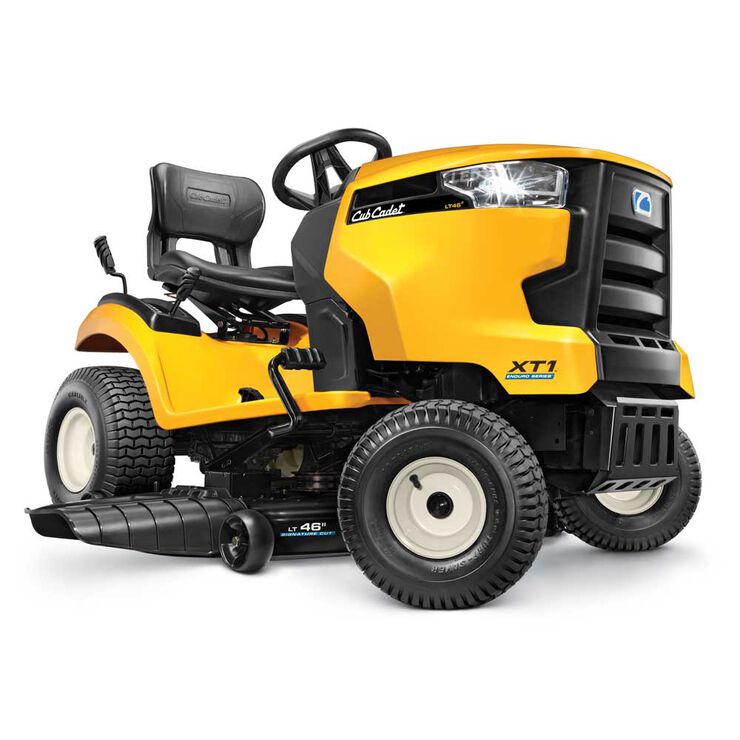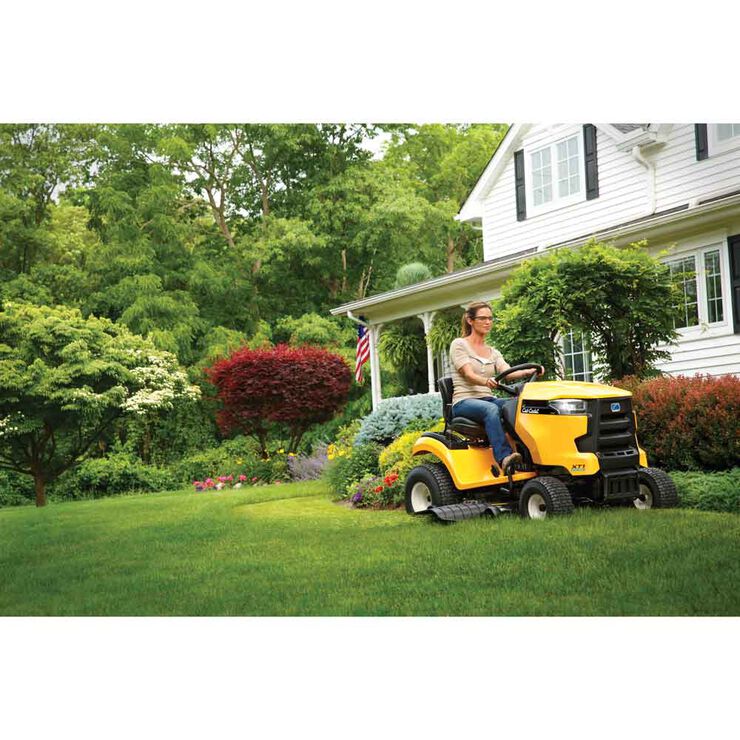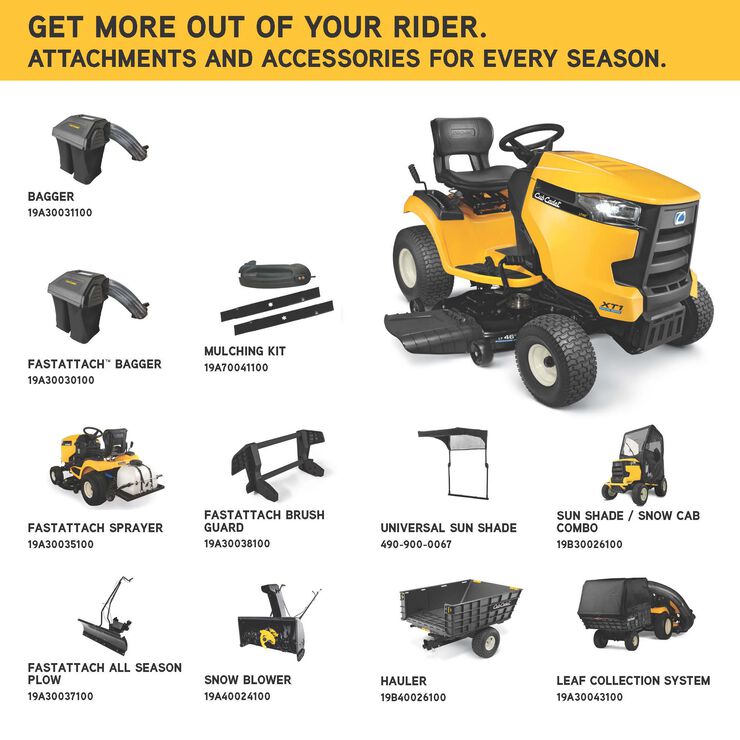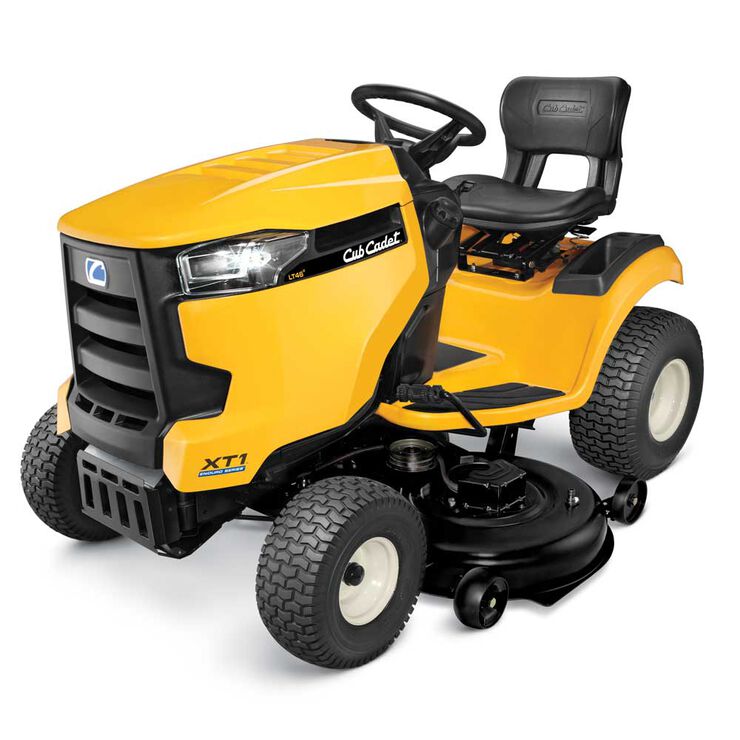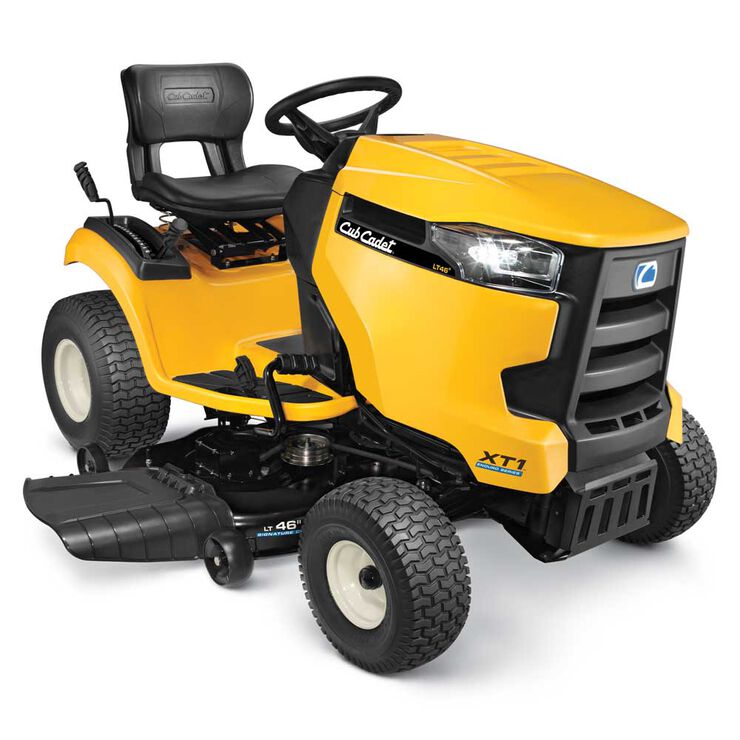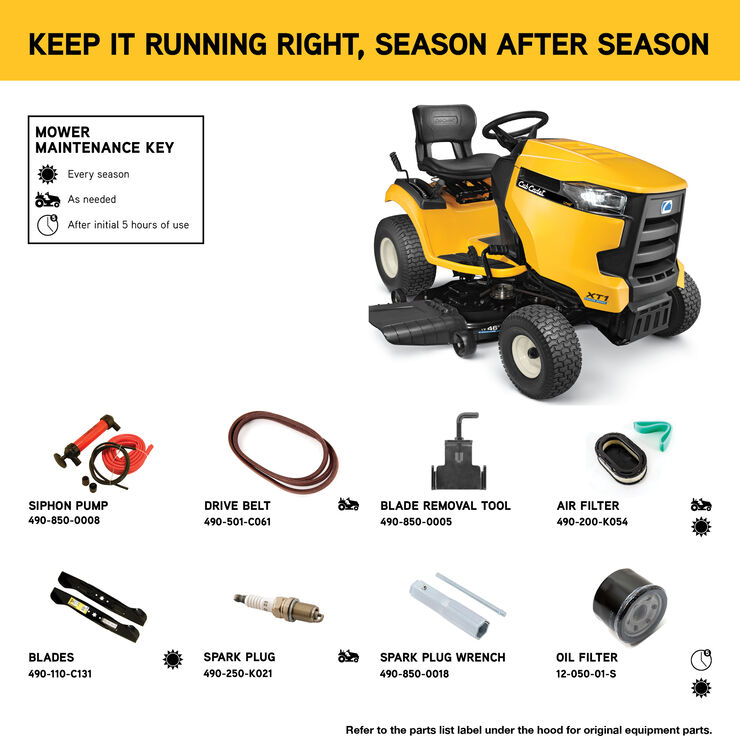 XT1 LT46
XT ENDURO SERIES
---
Or
$85/mo | 0% APR3 | 24Mo with $125 Promo Fee. Total: $2,024.00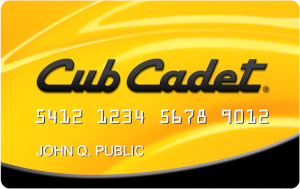 ---
The Cub Cadet XT1 LT46 is powered by a 22 hp KOHLER 7000 Series twin cylinder engine.
46-inch stamped, 12-gauge, twin-blade deck with 12 cutting positions.
Optimized steering system for responsive handling gives a 16-inch turn radius a zero-turn feel.
3-year/no hour limit warranty (includes powertrain) and 5-year chassis and front axle unlimited hours.
Ideal for mowing up to 1.5 acres of mostly flat terrain and a few obstacles.
---
---
Attachments & Accessories
Engine
Engine Brand

Kohler®

Engine Model

7000 Series

Engine Displacement

725cc

Engine Output

22 HP

Fuel Tank Capacity

3.0 gal.

Cylinders/Material

Twin

Engine Start

Key

Engine Oil Capacity

2.0 qts.

Lubrication

Fully pressurized

Charging System

12 amp regulated

Fuel Gauge

Fuel sight window

Governor

Manual

Choke

Choke-a-matic

Air Filter

Single element

Oil Filter

Yes
Battery
Battery

12V 230 cold crank amps
Drive System
Transmission

Hydrostatic, foot

Forward Speed

5.5 MPH

Reverse Speed

3.1 MPH

Rear Axle

3/4" w/dual PM steel drive hubs

Transmission Housing

Die-Cast Aluminum

Transmission Type

Tuff Torq TL-200
Cutting Deck
Deck Cutting Width

46"

Cutting Modes

Discharge/mulch/bagging

Deck Wash

Included

Deck Material

Steel, 12-gauge

Deck Attach/Removal

QuickAttach™ (no tools required)

Deck Engagement (PTO)

Manual lever

Deck Construction

Stamped

Spindle Construction

3/4" with steel cap and triple lip sealed

Blade(s)

2

Deck Lift

Lever

Cutting Height Range

1" - 4"

Anti-Scalping

2 ball, 2 narrow

Deck Positions

12 positions
Warranty
Warranty

3-year/unlimited hour warranty

Frame Warranty

5-year/unlimited hour warranty

Front Axle Warranty

5-year/unlimited hour warranty
Chassis
Frame

Robotically welded

Front Axle

Cast iron

Turning Radius

16"

Front Tires

15"x6"-6"

Rear Tires

20"x8"-8"

Tire Tread

Turf Saver

Rear Tow Hitch

Included

Corrosion Protection

E-coating
Controls
Cruise Control

Included

Brakes

Automotive-style disc

Steering Control

Manual sector and pinion

Display

Hour meter
Comfort
Seat Type

15" high-back seat

Armrests

Seat Adjustment

Seat Suspension

Seat spring

Floor Mats

Traction Pad
Additional Specifications
Mulch Kit

Optional

Headlight(s)

2 - LED

Discharge Chute

Included

Cup Holder

Included

Operator Presence System

Included

Bagger

Optional
| Model | Manual | Form Number | |
| --- | --- | --- | --- |
| 13APA9CT010 | MAN:OPER:DIG:TRILING:NX15 | | |
| | MAN:OPER:DIG:TRILING:NX15 | 769-25738A | Download |
| | MAN:OPER:TRILING:NX15 | 769-20951A | Download |
| | SHEET:SUP:BILING:EPA:EVP:18-19 | 769-17171 | Download |
| | SHEET:SUP:BILING:EPA:EVP:18-19 | 769-23590 | Download |
| | SHEET:SUP:BILING:EPA:EVP:20-21 | 769-25879 | Download |
| | SHEET:SUPP:WARR/PARTS:CC NX15 | 769-23211 | Download |
| | SHEET:SUPP:WARR/PARTS:CC NX15 | 769-23211A | Download |
Product Reviews
Rated

4

out of

5
by
Mikey65360
from
Good mower for the price
I spent a lot of time looking for a reading mower. After reading the reviews I went with the.Xt1 Lt46. I have turned 10 hours on the mower. Pro - the motor is strong pulls up hills without issues, the seat is alright not great. Do your self a favor and add the arm rests, the over all appearance is nice, as I have only used the mower for 10 hours it seems very will built, time will tell Cons - the ride is harsh over rough terrain. The deck likes to hop around a little more then I would like, blades that come with the mower sucks. I bent then in the first couple of minutes mowing. Make sure you pick up a good set. This will save you a trip back to the store. Over all i' m happy with the mower.
Date published: 2020-09-10
Rated

5

out of

5
by
Caliho
from
One tough beast!
I have owned this tank for three years. It has exceeded all expectations. I have 5 acres of everything from an acre of grass around the house to the rest comprised of scotch thistle, cobble, gophers mounds and a myriad of other obstacles that no mower should have to tolerate. Neighbors ask what kind of tractor I have. They're shocked when I tell them it's a riding mower. I couldn't be happier.
Date published: 2020-08-27
Rated

5

out of

5
by
HephaestusBuc
from
I absolutely love this lawn tractor...
I bought this lawn tractor from Tractor Supply a month ago and I couldn't be happier. It replaced a Craftsman YT4500, that was falling apart in front of me. This mower puts the YT to shame even when the YT was brand new. This is my very 1st Cub Cadet and I love it. I've used John Deere, Snapper, Toro, Husqvarna, Huskee, Poulan, Troy-Built and just about everything else. The Cub Cadet is the best I've ever used.
Date published: 2020-08-23
Rated

5

out of

5
by
ncblue
from
Very good mower for the money
I purchased this mower when I was at the dealer picking up my 7 year old cub cadet from getting normal maintenance. I needed a little wider cut and more horsepower. This one fit the bill. After 2 years still doing a great job with normal maintenance. The maintenance is nothing you can't do yourself. The dealer I purchased it from has changed hands and the new owner comes from the big city to our rural area and could care less about it's customers. From my experience with him, I will never go back, however that has nothing to do with the quality of the mower
Date published: 2020-06-21
Rated

4

out of

5
by
Needing another bagger
from
Mixed review
I bought this LT46 just a few weeks ago. I had a previous riding mower for 22 yrs and never got dirty cutting my grass. So far the LT46 from a cutting point of view is a big disappointment. I have tried to set the height of the deck but nothing helps. The deck in combination with the front wheels kicks up a ton of grass and debris. Grass is discharged from in front of the deck and then thrown up in my lap and face. I'm not accustomed to this happening and it is unacceptable from a reputable product. The bagger is working ok and not clogged. I'm setting the blade between 3.0 and 4..0. Seems the suction is not sending all the grass out the discharge chute. Overall the machine is great; fast, agile, good features. The Koehler engine is great. I'm not a fan of the pastic throttle lever. The seat and controls are all good. The cutting blades are good and the grass looks good after being cut. just that I'm covered in grass clippings as well. Really having to consider returning the machine.
Date published: 2020-05-03
Rated

4

out of

5
by
Anonymous
from
Good tractor for the money.
I have only had this tractor for 2 month as so far am very pleased with it. So far, I have only blown snow, but experience has shown me that this is the most taxing on a unit of this type. Good: 1) The 22HP Kohler is very smooth and has plenty of power. 2) The seat and operator area is comfortable and spacious. 3) The forward pedal is large and easy to find. 4) All hand controls are located well and easy to operate. 5) 3X snow blower really clears snow well. I literally throw snow over the corner of the garage. 6) Steering is easy and tight. 7) Snow blower lift handle is effortless compared to my last tractor. 8) I really like the mow in reverse function that stays engaged. My last machine required activation each time the reverse pedal is depressed. 9) Over all construction is sturdy and well done. Lots of metal and very rigid. Bad: 1) The lights are less than great. They are not a bright as I would like, and snow removal often requires good lights. 2) The fuel filler location is disagreeable when the snow blower is mounted. The bar for the chute controls is in the way and a funnel is required. 3) The reverse pedal is small and awkward. This will not be an issue when mowing but for snow removal, reverse is often used and takes getting used to. 4) Snow blower chute will go full up under heavy snow load. I have not been able to find the right tension setting so I don't need to have my hand on the handle when blowing heavy snow. Tips: If you are going to blow snow, get the chains and weight kit right away. I tried it without weights and chains and traction is an issue if snow is deep or compacted. I purchased the weight kit and 1 extra weight and that seems to be about right with my 270# in the seat. I can move 18" deep snow now without issue.
Date published: 2020-02-06
Rated

2

out of

5
by
j all
from
Rough ride, no uphill traction
I bought this 1 yr ago. The roughest riding mower I've ever owned. tires spin when attempting to go up a slight hill or on an angle. under deck does not clean completely with attachment.
Date published: 2020-06-11
Rated

1

out of

5
by
MadoubleT
from
Junk
Owned 45 days. Blade bent at a 90 degree angle - unknown reason - magically not covered under warranty. When engaging PTO, yelps loudly - told that it was normal. Now, PTO will not engage. So, I have a slow bumble bee looking go cart that I've owned for 6 weeks that is headed back to the shop to be repaired again. Out of all of the purchases I've made in the last 5 years, this is easily the most regrettable.
Date published: 2020-08-28
Rated

4

out of

5
by
Wyowapiti
from
Great Tractor / Poor Bagging System
I bought the mower from Home Depot. It does a great job for 2 acres. Very satisfied with the operation. The bagging attachment is very poor quality. In my opinion it has a very poor design. The back does not seal and the latching system does not stay latched. For the price of the bagger it is not worth the price. If you do not need a bagging attachment the mower is great.
Date published: 2020-04-28
Rated

1

out of

5
by
feathernfin
from
15 year Customer Disgusted with Cub Cadet Service!
My new Cub Cadet LT46 had the blades installed into the deck, with the bolt backwards. I can not get anyone at Cub Cadet service to answer the phone. I have been on hold for hours! The web chat service they refer you to does not even connect. It is a dead link. What the heck are you people doing? You are great at taking my money, but do not want to spend any on customer service. Or is the product so bad that you can not hire enough people to deal with the problems?? I am afraid to hit the threaded end from the top to knock it through (I have pulled it hard and it does not budge) because i will not be able to screw the nut back on with the blade.
Date published: 2020-06-12
Rated

4

out of

5
by
Farnsworth
from
Good Mower
I purchased the riding tractor and it does what is supposed to. My complaint is this. They do not make a blade removal tool for the 46 inch deck. That is ridiculous! Everything states UP TO 42 INCHES. My mower is the Cub Cadet XT1 … 46 inch cut. Thanks a lot!
Date published: 2020-04-30
Rated

3

out of

5
by
badfella
from
On the Fence
So the mower does the job. I don't care much for the reverse peddle set up can be really hard to get it going in reverse. Biggest complaint is this, when not giving it gas it will roll down hills on me, when i first bought the product it did not do that. i checked the pto lever and everything. i have 12 hours on the mower and something is broke. trying to see if its under warranty
Date published: 2020-05-04
Rated

1

out of

5
by
Jfro
from
Scatters Leaves in Front of Mower
The mower has very poor suction, as it scatters leaves to the right and out in front of the mower. It also leaves a trail of minced leaves in its path. Also, don't even think of going over the leaves in reverse as it scatters minced leaves in its wake along with scattering leaves to the opposite side. After going over the yard 4 to 5 times you will pick up the majority of the leaves, but by that time you've worn out the turfgrass. After a year of use, the belt started jumping off frequently. Eventually I had to remove the protective cover because it was so burdensome to keep taking it on and off. Also, battery has died after one year.
Date published: 2020-03-24
Rated

4

out of

5
by
Gypsy
from
Great product. Pretty yellow color.
Lots of power . Mows great. Parking brake was not adjusted correctly from dealer' Rolls on hills. They will pick up mower and correct problem. Hopefully
Date published: 2020-11-22
Rated

1

out of

5
by
britt
from
Worst Tractor Ever Made!!
Let me start with saying I owned a LT1046 for 14 years and loved it. I bought this tractor last year. The first week I bent a blade, I do not know how, but it is not covered by warranty and I replaced. The mower belt is loose and has come off 3 times in the past year. Grass gets up underneath the tractor it gets the reverse shaft stuck leaving you no reverse. You have to stop, take a hose and wash under the tractor or do this before or after every mow. The drive belt broke 2 months ago. Today, the battery went dead one year into use. I take the key out after every mow so no chance I let the battery drain. The genius designers put the battery under the seat. What could be wrong with that other than you cannot jump start since the seat needs to be down to start the mower. There is no weight at all in the back so don't even try with hills (even though this tractor is recommended by Cub Cadet for hills.) Finally, the plastic bagger is worthless. You sneeze wrong while you are on the tractor, the plastic latch releases and the grass you are bagging is just blowing back out on the ground. The not so funny part about this tractor is not one issue that has gone wrong is covered by warranty. This is absolutely the worst engineered tractor on the market. I would stay as far away from the product as possible.
Date published: 2020-11-07
Rated

5

out of

5
by
JerryH
from
Best mower I've ever owned
I bought this mower over two months ago and I am so pleased with the purchase that I am beside myself. I've had several other brand riding mowers over the years and this one is hands-down the superior product. The tight turning radius let me get into all the corners of my yard. The ease of steering is remarkable. Seat is super comfortable the mower is relatively quiet or the size of the mower engine. I've come to enjoy my morning sessions instead of dreading the chore, in fact I've mowed my neighbors yard several times just because I enjoy riding the machine. The quality of the build and materials used is noticeably better than other competitors products in the same price range. I would highly recommend Cub cadet to anyone who is serious about purchasing a riding mower.
Date published: 2020-11-01
Rated

5

out of

5
by
Randy A
from
My XT1 LT46 drives like a Cadillac.
Ok maybe I over-exaggerated a bit but I am amazed how easy this Riding Lawnmower XT1 LT46 is to use and how effortlessly turning the steering to make tight turns. I had another brand 22HP 42" mower and that was ok but steering it was a chore. I now look forward to cutting my 1.5 acres. The mower starts up effortlessly and runs very smoothly, The cut is level and the grass is thrown at least 6-8 feet away. I am very impressed by the engineering that went into this machine. The LED lights are excellent when getting dark and looks impressive during the day. I bought the optional front bumper and added a switch for the lights so those were the only two improvements done. I am very happy with the mower and this is my third riding lawnmower at my present residence in 28 years and this mower blows away the others. We will see how long this mower lasts. I do all my service and maintenance as required by manufacturer and that is the key for long lasting equipment, also used properly, it will give you many years of service. I highly recommend this Riding lawnmower and I appreciate the 3 year warranty as this was another reason why I bought this unit. This means Cub Cadet stands behind their products. Very impressive in this day. OK I have to go cut the grass now....YESSS!!!
Date published: 2020-10-22
Rated

1

out of

5
by
vict
from
do not purchase, I repeat do not purchase
Do not purchase, I repeat do not purchase any product from this company-they are rude and disrespectful
Date published: 2020-10-13
Rated

3

out of

5
by
des2020
from
Question really!
gma just bought this only has 4.5miles on it and it stopped in the middle of mowing. Can't start back up. Lights come on so I know its not the battery. Has gas blades look good on track and everything. Afraid to call and no help. Any suggestions??
Date published: 2020-09-25
Rated

2

out of

5
by
Rusty66
from
Disappointing
During first three months of use, the mower has been to shop twice. Once it threw the belt off and serviceman could not find a reason. Next, the muffler fell apart. The mower seems unusually loud and vibrates a lot, especially compared to previous JD I used for 20+ years. Scalping on turns, so checked and deck was not adjusted correctly or tightened during assembly. I am keeping it clean, maintained and stored in garage; hoping it will last.
Date published: 2020-08-17
bvseo_sdk, dw_cartridge, 18.2.0, p_sdk_3.2.0
CLOUD, getReviews, 78ms
reviews, product