XT1 LT42 with IntelliPower™
XT ENDURO SERIES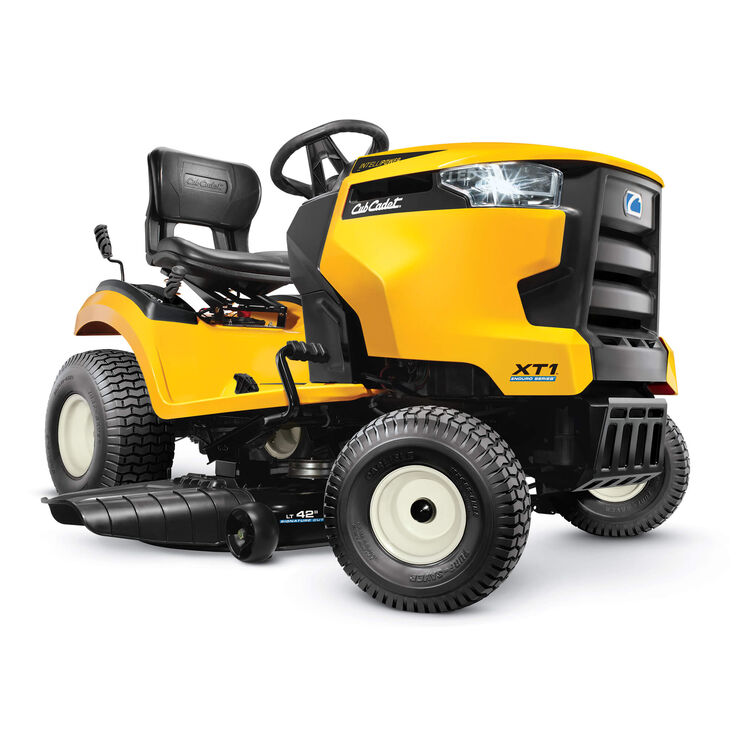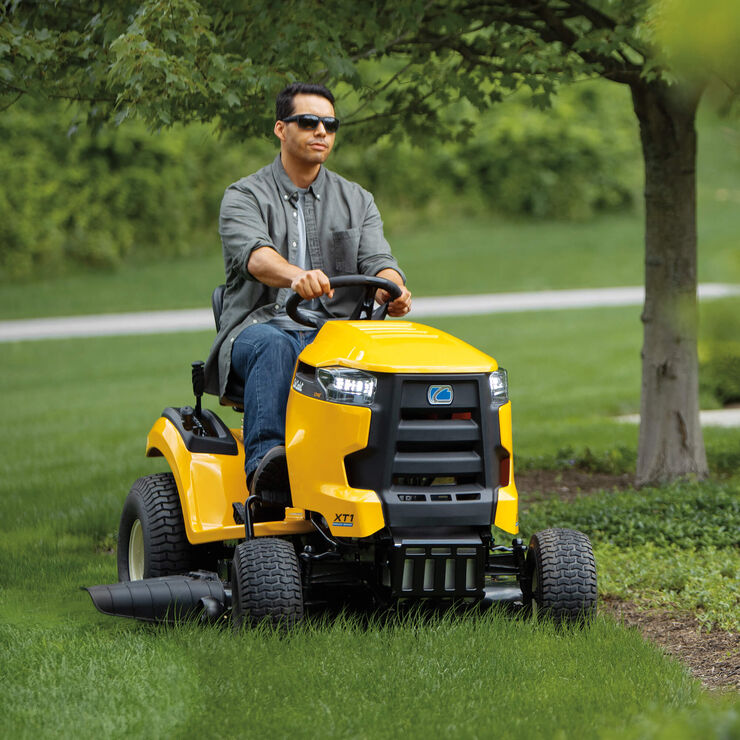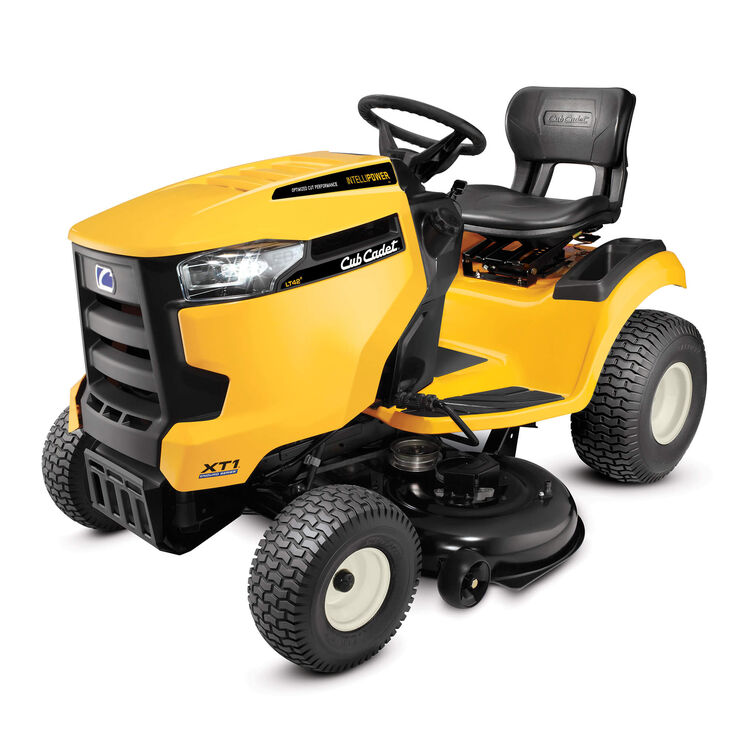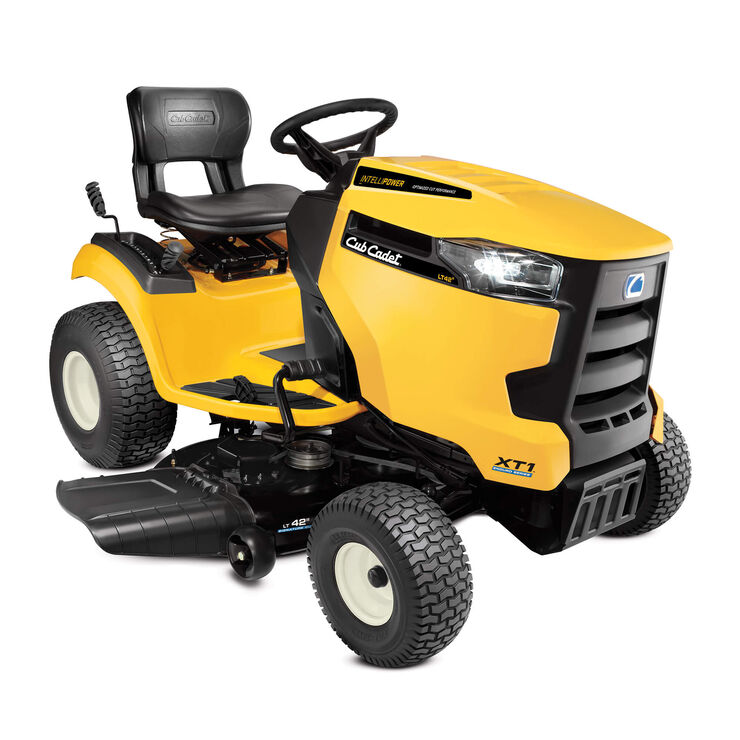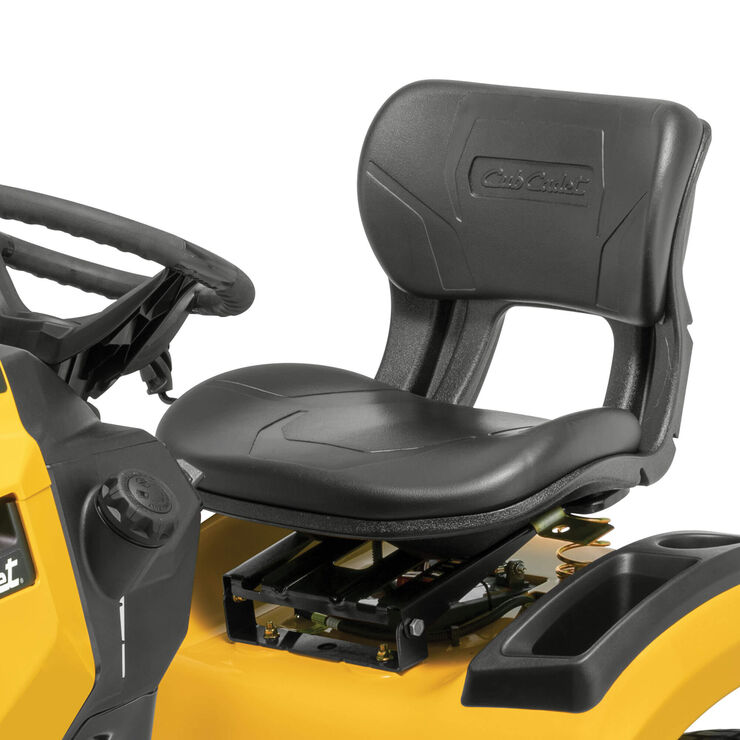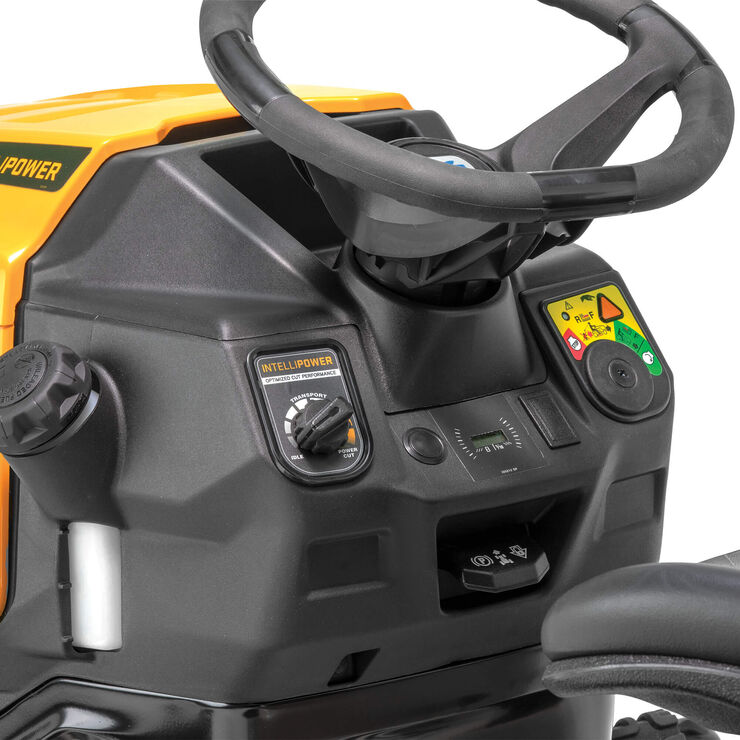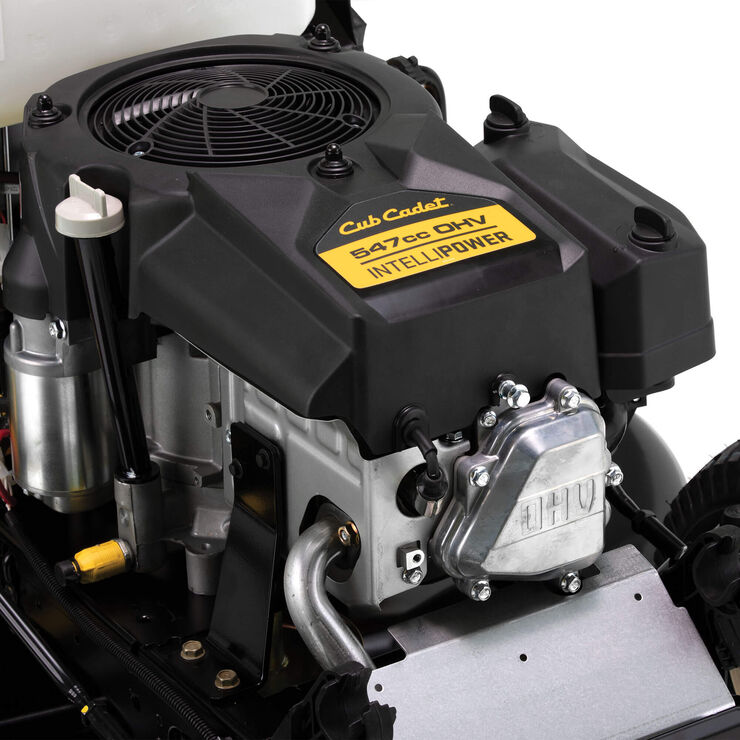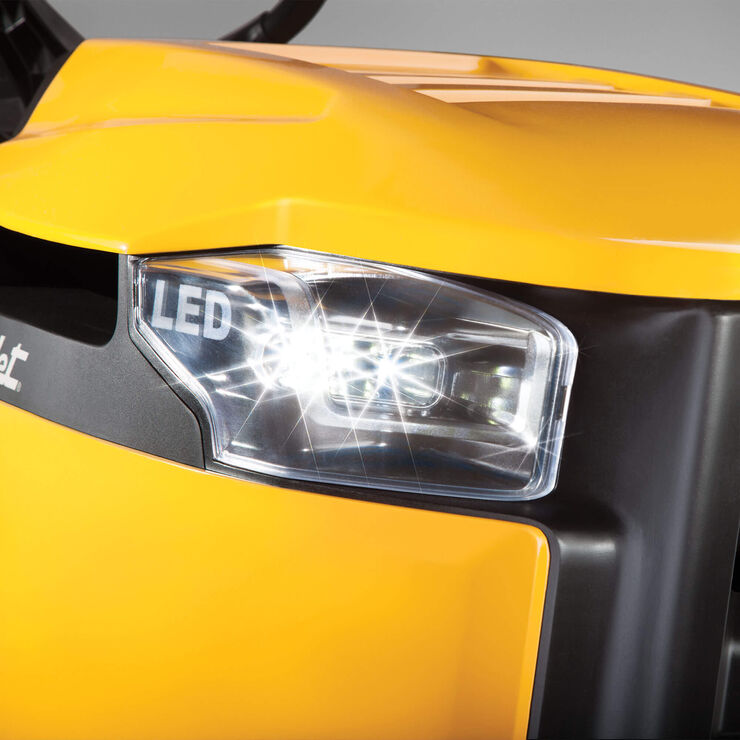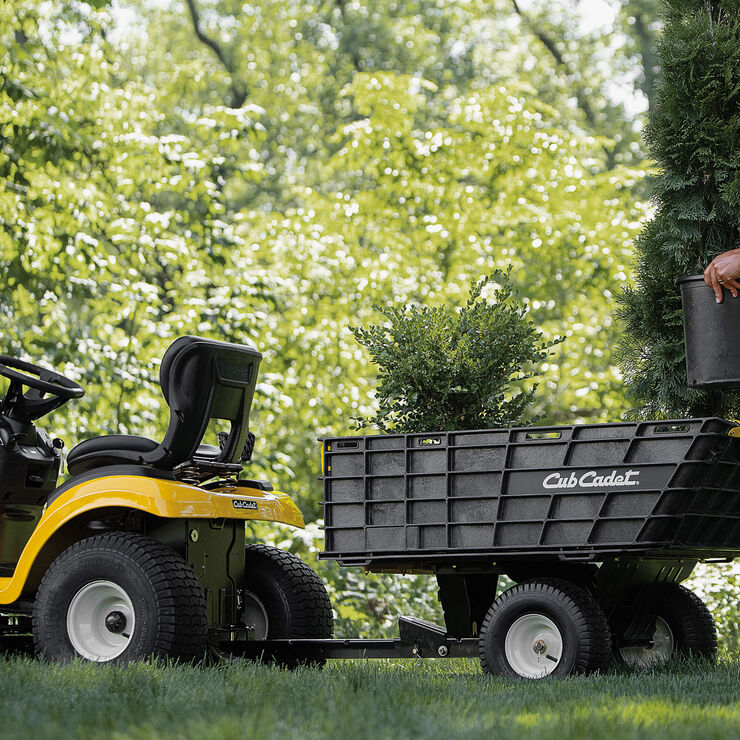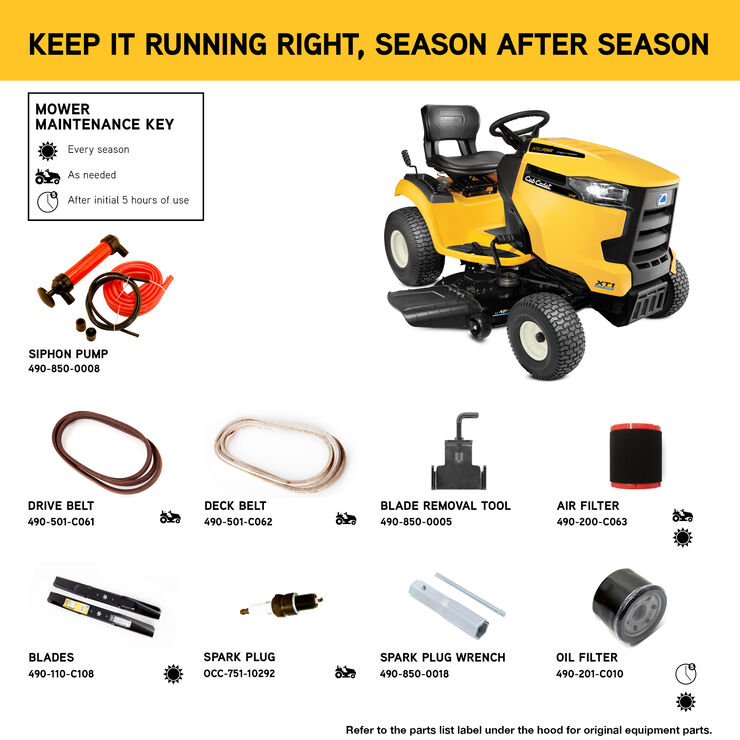 XT1 LT42 with IntelliPower™
XT ENDURO SERIES
---
Or
$77/mo | 0% APR3 | 24Mo with $125 Promo Fee. Total: $1,824.00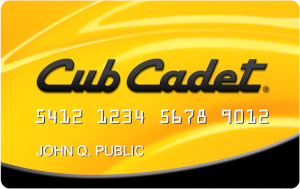 ---
The Cub Cadet XT1 LT42 is powered by a Cub Cadet single cylinder 547cc engine equipped with IntelliPower™ technology that creates a consistent mowing performance for users challenged to cut through thick, wet heavy grass.
42-inch stamped, 13-gauge, twin-blade deck with 12 cutting positions.
Equipped with an optimized steering system for responsive handling to give a 16-inch turn radius a zero-turn feel.
3-year/no hour limit warranty (includes powertrain) and 5-year chassis and front axle unlimited hours.
Ideal for mowing up to 1.5 acres of mostly flat terrain and a few obstacles.
Turff Torq foot controlled hydrostatic transmission, no shifting - just push the pedal and go
---
---
Attachments & Accessories
XT1 LT42 with IntelliPower™ Features
Incredibly Responsive Handling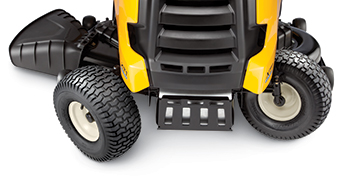 Optimized command and control at every turn with hydrostatic transmissions. No more shifting. Just push the pedal and go.
Advanced Cutting Performance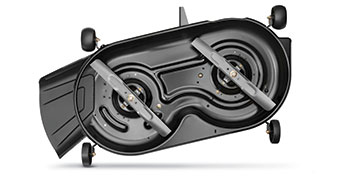 A muscular cutting system featuring stamped and fabricated cutting deck options that deliver an unprecedented level of bagging performance.
Versatility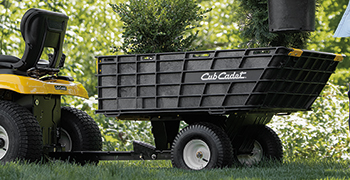 The XT1 lawn tractors are engineered to support a wide variety of attachments for all-season versatility.
Engine
Engine Brand

Cub Cadet

Engine Displacement

547cc

Fuel Tank Capacity

3.0 gal.

Cylinders/Material

Single

Engine Start

Key

Engine Oil Capacity

1.8 qts.

Charging System

15 amp regulated

Fuel Gauge

Fuel sight window

Governor

Electronic

Choke

Electronic

Air Filter

Dual element

Oil Filter

Yes
Battery
Battery

12V 230 cold crank amps
Drive System
Transmission

Hydrostatic, foot

Forward Speed

5.5 MPH

Reverse Speed

3.1 MPH

Rear Axle

3/4" w/dual PM steel drive hubs

Transmission Housing

Die-Cast Aluminum

Transmission Type

Tuff Torq TL-200
Cutting Deck
Deck Cutting Width

42"

Cutting Modes

Discharge/mulch/bagging

Deck Wash

Included

Deck Material

Steel, 13-gauge

Deck Attach/Removal

QuickAttach™ (no tools required)

Deck Engagement (PTO)

Manual lever

Deck Construction

Stamped

Spindle Construction

3/4" with steel cap and Triple Lip Sealed

Blade(s)

2

Deck Lift

Lever

Cutting Height Range

1" - 4"

Anti-Scalping

2 ball

Deck Positions

12 positions
Warranty
Warranty

3-year/unlimited hour warranty

Frame Warranty

5-year/unlimited hour warranty

Front Axle Warranty

5-year/unlimited hour warranty
Chassis
Frame

Robotically welded

Front Axle

Cast iron

Turning Radius

16"

Front Tires

15"x6"-6"

Rear Tires

20"x8"-8"

Tire Tread

Turf Saver

Rear Tow Hitch

Included

Corrosion Protection

E-coating
Controls
Cruise Control

Included

Brakes

Automotive-style disc

Steering Control

Manual sector and pinion

Display

Hour meter
Comfort
Seat Type

15" high-back seat

Seat Suspension

Seat spring

Seat Adjustment

Lever

Floor Mats

Traction Pad
Additional Specifications
Mulch Kit

Optional

Headlight(s)

2 - LED

Discharge Chute

Included

Cup Holder

Included

Operator Presence System

Included

Bagger

Optional
| Model | Manual | Form Number | |
| --- | --- | --- | --- |
| 13A6A9CS010 | MAN:OPER:TRILING:NX15 | | |
| | MAN:OPER:TRILING:NX15 | 769-20951A | Download |
| | MANL:OPER:BILING:547cc:MTD ENG | 769-17314 | Download |
| | MANL:OPER:BILING:547cc:MTD ENG | 769-25330 | Download |
| | SHEET:SUP:BILING:EPA:CARB:EXH: | 769-17172 | Download |
| | SHEET:SUP:BILING:EPA:CARB:EXH: | 769-23593 | Download |
| | SHEET:SUP:BILING:EPA:EVP:18-19 | 769-17171 | Download |
| | SHEET:SUP:BILING:EPA:EVP:18-19 | 769-23590 | Download |
| | SHEET:SUPP:WARR/PARTS:CC NX15 | 769-23211 | Download |
Product Reviews
Rated

5

out of

5
by
AndrewS1985
from
I love it! You will too!
I was very impressed with the cut this mower provided. I have just shy of an acre of land and its all flat so i didnt need anything big and this is perfect. My lawn looks wonderful! The mow in reverse is a great feature. I love it. No longer do i have to keep engaging and disengaging PTO to turn around or whatever. It saves a lot on mow time. Love the hydrostatic transmission. It is very easy to operate. I ordered the front bumper (pictured) and put it on the week i got the mower. It looks good and also is a must in my opinion. Im always bumping into something whether its around the yard or putting it back into my building. It was a great add on. My only complaint is there doesnt seem to be much of a parts variety for the intellipower. Its fairly new also so Im sure there will be. Only thing Ill ad is please check the tire pressure and oil level when your mower arrives. I happened to read this is a few reviews before i got my mower and im so glad that i did because when i checked the tire pressure the front and back were inflated to 35psi!!! The front is supposed to be inflated to 14lb max and the back is 10 lb max! Oil level was right on the money but i have read a few reviews where it will be a little low. I read they do this for shipping reasons but just make sure to check it to be safe. Tires will wear out quickly due to over inflation and also make the deck cut uneven! But, this is a great mower and I couldnt be happier with this purchase! Great product!
Date published: 2020-04-23
Rated

5

out of

5
by
Michael H
from
So far so good.
I bought the John Deere e100.from Home Depot and the next day, after I got it unloaded, gassed up, and charged the battery (not a good start), I proceeded to cut grass for 15 minutes, to which 5 of.those minutes was putting the blade belt back on. I said nope, and took it back to HD and drove off with this bad boy in its place. It's so light. I can push it with one hand. And the gas tank is in a good place. It rides pretty good on a bumpy yard like I have. And the power, well, more the speed. It flies around the yard while still cutting every blade of grass. So far, I have .5 hours on it and I can't wait to drive it again tomorrow to finish up the yard. Please please please let this be a good buy. I want to believe it and so far, I'm loving it.
Date published: 2020-01-17
Rated

5

out of

5
by
Sandra1346
from
Totally worth the money!!
My husband is been wanting to get one of this, but due to the price we've been holding back. Did my research and finally made up my mind and got this for my husband for Christmas, ofcourse I couldn't hide it, so had to tell him before it got home. He's so happy with the style and quality as well as how easy is to use.
Date published: 2019-12-18
Rated

4

out of

5
by
Mikan
from
Like it a lot
Had my LT1 for a few weeks and I like it a lot. Easy to drive and cuts grass really well. Just installed the mulching kit and I like it even better. First service (5) hours was so simple, no tools needed just a container for the used oil. IntelliPower and great maneuverability makes me look forward to mowing my lawn. Only complaint is the tires do not stay inflated so I spend a little bit extra time playing with my cordless inflator.
Date published: 2020-06-14
Rated

5

out of

5
by
Sam I
from
Well worth the money.
After a month of research and window shopping I found myself going back and forth between the Cub Cadet and a John Deere. I'm so happy with this mower. Very comfortable ride and easy to use. I would hands down recommend this mower. Especially for the price, you can't go wrong!
Date published: 2020-04-17
Rated

5

out of

5
by
Dennis H
from
Very happy!
I ordered a week and half ago and im in love my mower. It runs smooth and operates perfectm i have driven deers before and this was so much better. The steering is very comfortable and im already looking to get the trailer hauler
Date published: 2020-04-24
Rated

5

out of

5
by
KMV05
from
Love it!
Bought the mower last year and didn't want to review right away. Just moved it from one shed to another to get ready for the year and it started right up and is good to go for year 2. Extremely happy with this mower. This is the first time I've had a ride on mower for my yard, which is about 3/4 acre. Very clean cut, comfortable driving/ride and should have bought this a few years ago instead of last year. Saves me time, and is a breeze. I also bought the double bagger which adds to the clean cut. Looks great and the lawn does as well. Cub Cadet was recommended by my brother-in-law who did a lot of research, and he was right, Cub Cadet is the best!
Date published: 2020-04-06
Rated

1

out of

5
by
Belt mad
from
Belt problems
Ok well since cub cadet doesn't seem to care about what I had problems with I will leace another review. I have had this mower for 4 months which I bought brand new from Tractor Supply and since then it has broken 3 belts and between replacing belts I have had to put it back on 20 times. Cub Cadet you never contacted me about my issues and I have called several times without getting any help. So Cub Cadet is a company that doesn't care about customers. I will never buy anything from you again
Date published: 2020-09-06
Rated

3

out of

5
by
Tbryant564
from
Ok mower
Purchased the XT1 LX42 now that Ive used it a few times I can review. Good mower Cons. Handle for setting the deck level rattles unless its set low. Engine lacks power to mow my thick grass. Bogs down and struggles. Pros. Has comfortable seat easy to maneuver and has tight turning radius. Not really sure if having headlights is a good or bad thing. As far as having the "IntelliPower" whats the purpose when I have to keep it turned up all the way unless Im just moving riding around the yard. My overall opinion due to limited availability this might be a good mower but really doesnt meet my expectations so this old Marine really can not recommend this model of mower
Date published: 2020-08-04
Rated

5

out of

5
by
Paul c
from
Wow this mower is great
We just bought last night very impressive the fuel injection is sweet very quite. I just mowed the 1 acre and it took .7 hours the tight steering is very nice going around trees don't spend more money for the twin engine it's not fuel injected. You will be very impressed with this tractor!!
Date published: 2020-07-12
Rated

5

out of

5
by
Jinx948
from
Love this mower!
I have always had 46-48 in cut mowers with 22-24hp engines, so I was a little worried when I downsized. I have had no worries and the steering is amazing! The oil is easy to change and I love the open area on top of the deck, easy to remove sticks or just check the belts. I only have 2 small issues, I do not like the button to mow in reverse, its a safety issue, so I understand and the throttle my knee will hit once in a while and turn on the choke while I'm mowing.
Date published: 2020-06-17
Rated

5

out of

5
by
Happy Santa
from
Wow!
I'm a big boy 6' 270lb and this mower is very comfortable! Mows great and has more power than needed, has a great turn radius and even has automatic LED lights! It's awesome!! I wasn't ready to quit mowing so I snuck over and mowed my neighbors yard.
Date published: 2020-05-02
Rated

5

out of

5
by
JPUM
from
Great Mower!
I got the mower about a month ago. I had it delivered to my house and it was dropped off in a crate. Easy demo of the crate just about a dozen screws to take out hen used a pry bar for the rest of the crate. Set up was also easy just attach the hood, console, steering wheel, seat, and attach wires to battery and you all done. Already came with oil, I just checked the dip stick and then added gas to the fuel tank and BOOM you are ready to go! Turn the key it turns over easy you can tell it has power. Here in Texas I am still cutting the yard so I was able to try it out and put it to the test. I like the turning radius for not being a zero turn it is still pretty tight turns. Overall great cut, great ride, great value! Very impressed with cub cadet.
Date published: 2019-12-25
Rated

5

out of

5
by
Anonymous
from
Fantastic Quality
My hubby loves his Cub Cadet - LT-42 with IntelliPower. This riding mower has a super comfortable seat compared to his previous mower and he loves that it goes forward or reverse with just the touch of the pedal. No shifting or putting it into gear. Very easy to use and has great manuverability. Turns super well, even in tighter areas. This is a wonderful product. The assembly was fairly quick. It is very easy to use and to understand. Most importantly it cuts the grass and leaves our yard looking pristine. Precise cutting, very sharp blades, super high quality results with various settings available. Absolutely would recommend this brand!!
Date published: 2019-12-17
Rated

2

out of

5
by
Bigdaddy45
from
Not real happy
I have a new xt1 lt42 and I have 2 hours and the mower died. It refuses to crank. Really not happy. Having to wait on the company that I bought it from to come get it and see what's wrong.
Date published: 2020-04-09
Rated

5

out of

5
by
Terrilyn
from
Great product
I received this product from Tryit sampling. This Cub Cadet Lt-42 riding mower is amazing. It was easy to finish putting together. It cuts real smooth and was easy to clean off after we used it. I love everything about this cub cadet. The delivery company was great at getting it to me. Thank you Tryit sampling.
Date published: 2019-12-26
Rated

5

out of

5
by
Anonymous
from
Impressive
Mowing the lawn has always been a cumbersome chore for me and my family. We have a pretty large lawn and keeping it looking presentable can be difficult, especially with how busy all of us are. The Cub Cadet LT 42 with Intellipower was exactly what we were looking for. It's a mid size riding lawn mower with the features I need to mow the lawn quickly, safely and effectively. One of my favorite features is the ability to mow the lawn even when it's wet. The weather is pretty unpredictable where I live and I need to be able to mow the lawn when I have time rather than wait for a sunny day. IntelliPower allows me to do this; the engine is not overtaxed and does not slow down even with wet grass. It mows so smoothly as if it were dry. My other favorite features is how comfortable the mower is to mow with. I expected a lot of bumps and bruises when I was sitting on the mower since our lawn has uneven terrain. However, the mower has a great shock absorbing system which keeps the ride smooth and steady, rather than choppy. The mower itself is easy to assemble and my husband and I were able to get it all assembled and fixed within a couple of hours. It was then immediately ready to go. Maneuvering was extremely easy as long as you have some experience with driving (not necessarily a lawn mower). It was able to turn around obstacles (like the various trees we have in our yard) with ease and the navigation is very intuitive. I love the little features I wasn't expecting, like the headlights which makes mowing so much easier once I get back from work and can just mow in lower light. The frame work and build is obviously very high quality and I can see this mower lasting for many years to come. All in all, I'm very impressed with the numerous features this riding lawn mower has. It has exceeded my expectations a thousand fold and it's become my go to mower for my lawn. I would recommend this to anyone looking for a mower that is not only convenient, quick and effective, but also built with customers in mind.
Date published: 2019-12-25
Rated

2

out of

5
by
Drew H
from
Meh.......
After a few mows and the first 5 hours on the machine, I have to say I'm completely underwhelmed. I hoped for better based on all the positive reviews for this particular model I've read online. This is the first riding mower I've ever owned after years of saving up. Even with "Intellipower" (still not sure what that is exactly) this machine is very under-powered. Unless it's in "Power Cut" mode, which I believe is nothing more than rabbit speed, it barely has enough power to move itself. The cut is very lackluster and highly outperformed by my little red 21" push mower I bought at a big box home improvement store to which the cut this machine makes doesn't even belong in the same class. I mow my lawn every week and this machine still bogs down due to the lack of power. The "anti-scalp" wheels don't live up to their name as this machine has scalped numerous places on my lawn where as my push-mower never scalped anywhere and I mow higher with this machine than I normally cut with the push mower. It does a great job folding grass over leaving me to have to mow my lawn twice in a different direction each time and with about a 30% overlap and I also am left with lopsided cuts through my lawn and bits of uncut grass. Since I have to mow my lawn twice, it doesn't save me any time over push-mowing my 1/2 acre, pretty much mostly flat lawn. The claim of a 16" turn radius must have been achieved in a lab under best case scenario conditions because mine barely makes 24" at best. The steering is just a sloppy as my 1991 pickup truck with 350,000 miles on it. The reverse mow function sometimes works on the first attempt but I usually have to push the button at least a half dozen times every time I want to back up. The drive pedal is difficult to get it to go in reverse. The deck is thin flimsy sheet metal, another area my push mower outshines this unit. I have to manually release the parking break because it doesn't auto release as it's supposed to. Was also disappointed that only one tire spins. The frame seems flimsy and noticeably bends, twists, and flexes as I make my way across the lawn. It's a great looking machine, it looks like a sports car but performs like a cheap economy foreign one. I like the looks of the machine, the seat is comfortable, the hour meter and the cup holder are nice features but that's about as much as I can say positive. For the expense of the machine and lack of features, I was hoping the money was going in to performance. For what this machine costs, I feel very let down and will probably just leave it parked in my shed and continue to push mow and hope to be able to sell it and recoup as much of my money as I can.
Date published: 2020-08-22
Rated

5

out of

5
by
Shejane80
from
There is so much to love about this mower!
When the mower arrived I wanted to look it over before cranking it for the first time.I started by a walk around inspection and then checked the oil. Everything was in normal limits. I filled the gas tank and it cranked up no hesitation. The seat is great with the taller back support for comfort while mowing. This mower is very impressive on the sound. It is not as loud with the blades engaged as my previous mower.The hydrostatic control makes mowing much easier as well. I love not having to stop and change gears. This mower cuts evenly and with no streaks and with a great turning radius. It also has bright headlight and a fuel guage . The deck raises and lowers smoothly as well. The power and pull this LT has is remarkable. It does not bog and drives right through uneven terrain. The deck wash is another great feature. It makes for easy cleanup. Over all I have no complaints about the performance of my LT . It has made my yard work much easier.
Date published: 2019-12-22
Rated

1

out of

5
by
JonTheAgravated
from
3.1 Hours in and it BROKE
Delivered Friday, uncrated and parked in garage. Mowed Sunday and put 3.1hrs on it. Wife came out to give me some water, so I killed the engine. Would not restart. After serval minutes of research, apparently they are famous for the starting solenoid to go out. I have a 2/3 mowed lawn with rain coming and a BRAND NEW mower with 3.1hrs on it that will not start... Attempting to speak to someone is atrocious and chat is just a bad. Logged into chat and there were 66 people waiting in queue. One hour later on chat queue, still 41 people ahead of me. I purchased a cub cadet product because of quality and relaibility. Sorely disappointed.
Date published: 2020-06-15
Rated

1

out of

5
by
Jaye
from
2 exchanges in 3 months
The first tractor that was delivered would not start, I literally had to crank it 15 to 20 times before it would turn over. I had the store swap it out for a newer version with the intellipower. The new mower starts great but after 3 mows the the tractor no longer responds to the intellipower switch, leaving my power stuck at in the lowest setting. This is the first ride mower that I've purchased and I like the idea of going American made, but I'm going to be switching to a different name brand.
Date published: 2020-08-03
Rated

1

out of

5
by
Murr18
from
Worst Mower I've Ever Owned!
I bought this yesterday(so I haven't even owned it one day) and have yet to use it yet. Got it home from dealer and it won't start. Took it back to the dealer, they took out the spark plug and said it was flooded. Dried off spark plug and it fired right up. So I took it back home and tried to start it, guess what, yep you guessed it won't start again. So I remove the spark plug and it's not even wet. But I dried it off anyways. Still wouldn't start. Finally had to take off the air filter to get it to start(that shouldn't happen for a brand new mower). Then once I got it running I tried to go up and down my hills in the front yard(the whole reason I bought this mower) wouldn't go up just kept spinning, then when I tried to go down it was like the brakes gave out everytime and was just a free fall. I will never own another cub cadet nor will I buy from the particular dealer I bought from.
Date published: 2020-06-07
Rated

1

out of

5
by
Brent R
from
Wouldnt Turn over!
Bought one at home depot, fully battery, just would not turn over over whats so ever , spent 45 min with customer support, an they couldnt , told me to take it back , so had to rent a trailer again to take it back, didnt even have any more instock, charged me 300 dollars for the next model up.
Date published: 2020-05-07
Rated

1

out of

5
by
charly401
from
Horrible mower, would not start Day 1
Horrible mower, would not start Day 1. Ran for 30 mins, stopped and would not start. Occurred multiple times ... I am returning this mower as soon as possible.
Date published: 2020-05-20
Rated

3

out of

5
by
PaulW
from
Issue with seat safety shutoff
I have a brand new Cub Cadet XT1 Enduro LT 42. I've used it twice and both times, when I hit a small bump or rut in the yard, the engine sounds like it is choking out. It only lasts a couple seconds then the engine goes back to normal. This happens continuously (in the beginning and after the engine is warmed up) and both with the blade engaged or not.I feel it may be due to being jostled in the seat enough to activate the seat safety shutoff. Is it possible to adjust the seat? I only weigh 140 lbs.
Date published: 2020-11-28
Rated

1

out of

5
by
Jara
from
Parts breaking down
I had the mower for less than a year. The firs 6 months worked perfect and then the belt from the blade started to get loose very often and now is the entire system that does not go down and is not working. I had try customer service to find out about warranty and haven t hear anything yet. Weekends are close and on the chat I left all my contact info and nothing yet. Very disappointed
Date published: 2020-10-31
Rated

5

out of

5
by
TX2WV
from
Glad I bought it
I bought the XT-1 on recommendation from our contractor who loves his. Now I know why. It's well designed and ruggedly built.B The biggest surprise was how maneuverable it is. I was concerned about the layout and obstacles in the yard, but that is no problem. And power, too. In our wildflower garden, taller vegetation and an incline of about 12% present no challenge.
Date published: 2020-10-15
Rated

1

out of

5
by
jsalz
from
Not a great initial experience
Once I started the mower and started riding it. The right axel and wheel came lose. Whoever put it together did not screwed the nut the right way. They stripped it and left on and came off. Not what I was expecting after spending top money on a premium product. I bought it at Home Depot and maybe they did not install it right. There should be some quality control in place.
Date published: 2020-10-13
Rated

5

out of

5
by
anmpr1
from
Works Fine
I've used it four times. No problems on about 3/4 acre of flat grass. Sharp turning radius. Easy to steer. Controls intuitive.
Date published: 2020-08-11
Rated

3

out of

5
by
Belt Repair
from
Brand New and Belt keeps coming off
I bought this mower last month and I have cut my grass 7 times and I have had to put the belt back on 7 times WHY?????? It cuts and runs great but the first cut the belt ( that came on the mower ) broke. I purchased a new belt and everytime I cut grass the belt comes off. I spent alot of money on a new mower that I am having to work on each time?? We use to buy Murray mowers and we never had trouble with belts, but the engines would not last more than three years. I figured I would buy American made mower, but wasn't expecting to have this much trouble. My yard is one acre and it is level ground and no trees and I keep the deck clean I want to know why I have to keep working on a brand new mower???
Date published: 2020-07-22
bvseo_sdk, dw_cartridge, 18.2.0, p_sdk_3.2.0
CLOUD, getReviews, 75ms
reviews, product