XT1 LT42e
ELECTRIC RIDING MOWER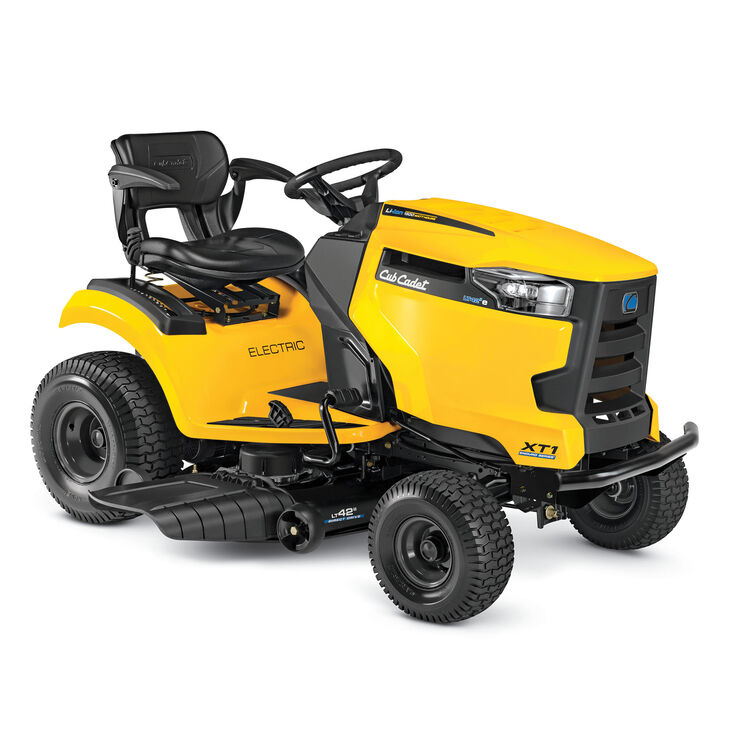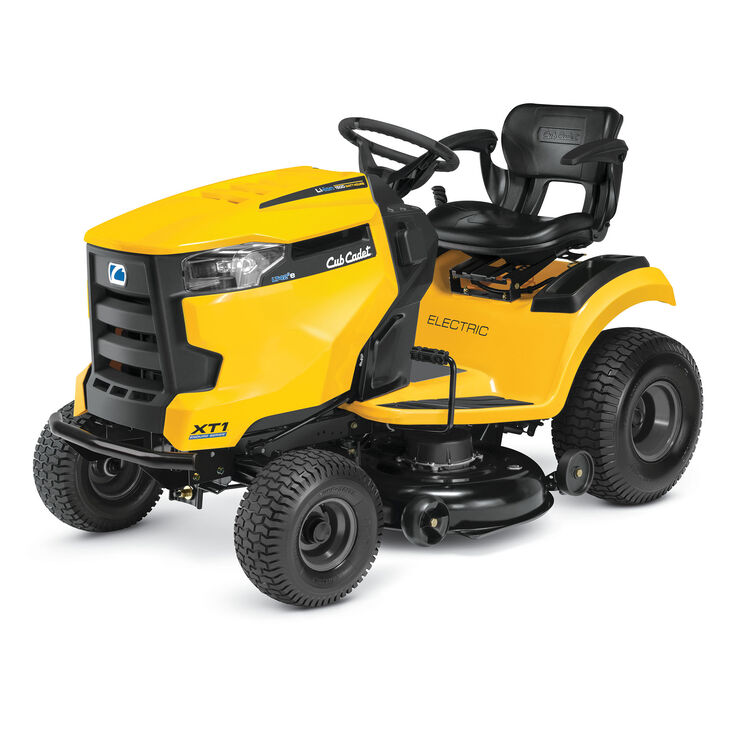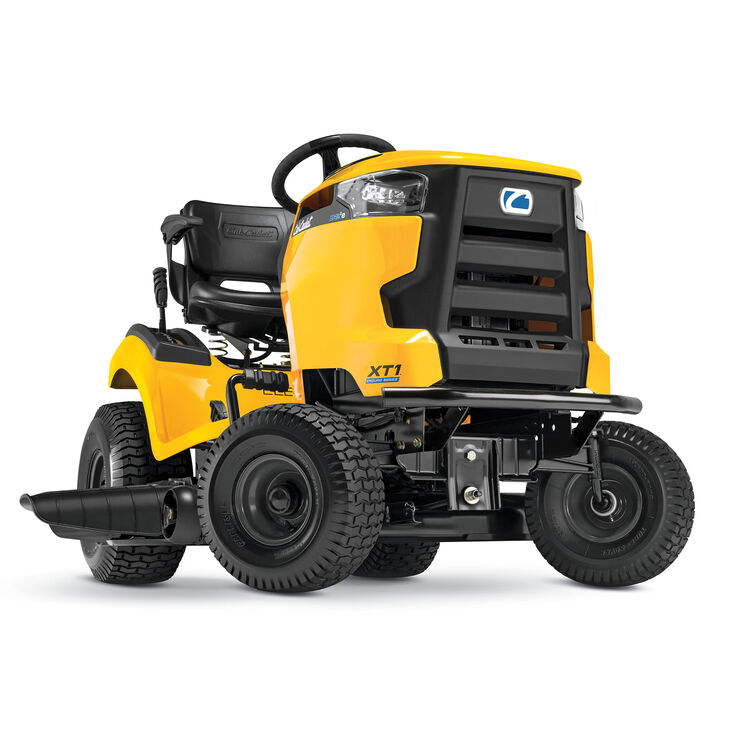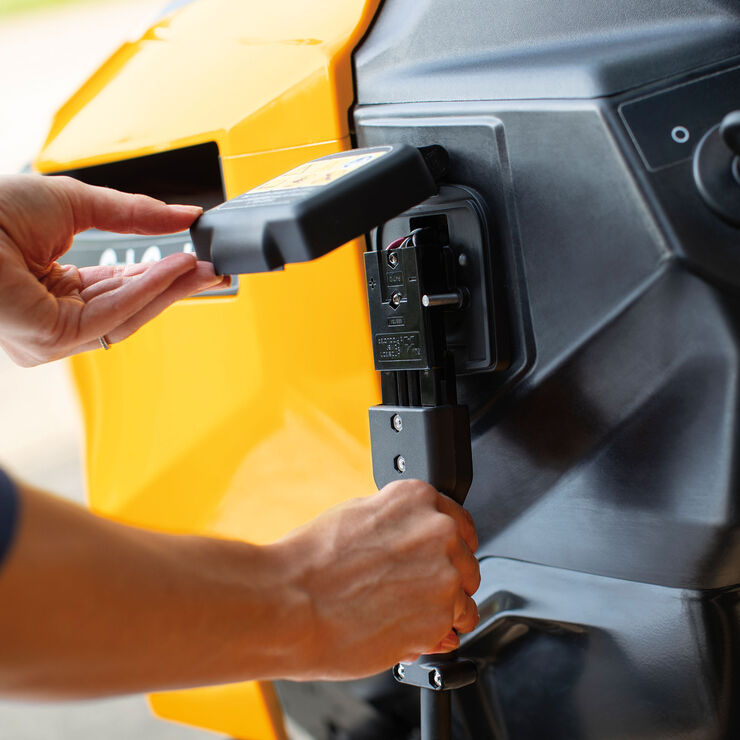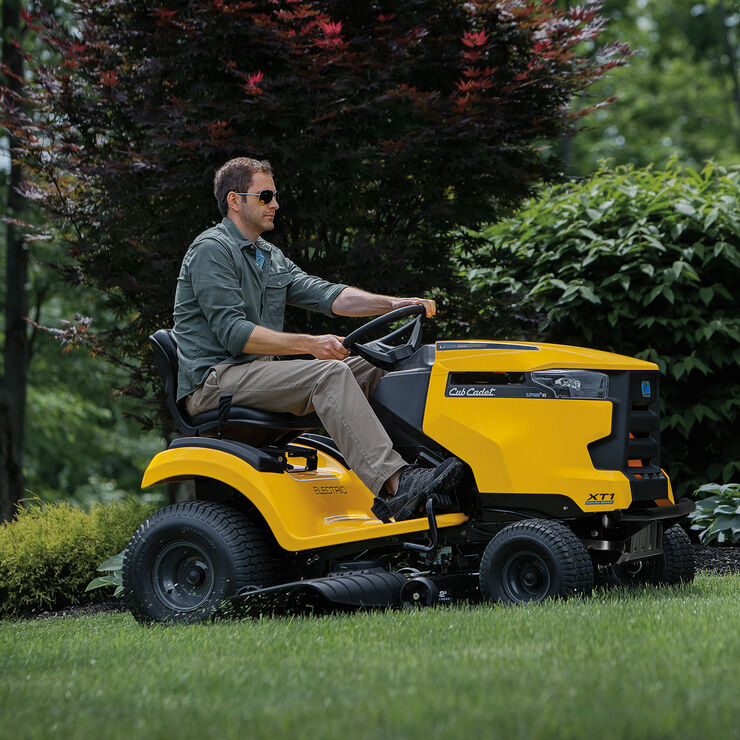 XT1 LT42e
ELECTRIC RIDING MOWER
---
Or
$172/mo | 0% APR3 | 24Mo with $125 Promo Fee. Total: $4,124.00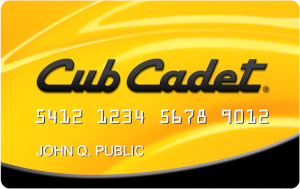 ---
Cut time of up to 1.5 hours, or up to 2 acres, with fast charge capabilities
No need for oil changes, filters to change, sparkplugs to change, no more buying gas
3-year limited residential/4-year limited battery/5-year unlimited hours chassis and front axle warranty
---
---
Attachments & Accessories
Battery
Battery

56 v MAX-60 Ah-3000 Wh

Run Time

Up to 1.5 hours or up to 2 acres

Charge Time

4 hours

Battery Type

Lithium-ion

Fast Charger

Included

Battery Gauge

Digital

Start Method

Push button start
Drive System
Transmission

Electric, foot controlled

Forward Speed

5.5 mph

Reverse Speed

3.1 mph / 5 kmh

Rear Axle

3/4" w/dual PM steel drive hubs

Transmission Housing

Cast aluminum

Transmission Type

Electric, 56V

Transmission Input

Brushless motor
Cutting Deck
Deck Cutting Width

42"

Cutting Modes

Side discharge/mulch/bagging

Deck Material

Steel, 13-gauge

Deck Attach/Removal

QuickAttach™ (no tools required)

Deck Engagement (PTO)

Push button (electric)

Deck Construction

Stamped

Spindle Construction

Brushless motor

Blade(s)

1

Deck Lift

Lever

Cutting Height Range

1" - 4"

Anti-Scalping

4 Wheels

Deck Positions

12 positions
Warranty
Warranty

3-year unlimited hours

Frame Warranty

5-year unlimited hours

Front Axle Warranty

5-year unlimited hours chassis and front axle warranty

Battery Warranty

4-year battery
Chassis
Frame

Robotically-welded

Front Axle

Cast iron

Turning Radius

16"

Front Tires

15" x 6"

Rear Tires

20" x 8" -8"

Tire Tread

Turf Saver

Protection

Front Bumper

Rear Tow Hitch

Standard

Corrosion Protection

E-coating
Controls
Steering Control

Sector and pinion
Comfort
Seat Type

15" high-back seat

Armrests

Standard

Seat Suspension

Seat spring

Seat Adjustment

Lever

Floor Mats

Grit

Steering Comfort

Soft Touch steering wheel
Dimensions
Dimensions L/W/H

68"/50"/42.5"

Weight (approx.)

410 lbs.
Additional Specifications
Mulch Kit

Optional

Headlight(s)

LED

Discharge Chute

Optional

Cup Holder

Standard

Certifications

Full UL compliance, ANSI certified

Reverse Safety Switch

Standard

Operator Presence System

Standard

Parking Brake

Standard

Bagger

Optional

Model Number

33BBA7CS710
Product Reviews
Rated

1

out of

5
by
Lobzilla
from
Extremely Poor Design
Everything about this tractor seems to be poorly designed, a pieced together electrified afterthought that should have been sold to the public at any price. Its controlled by a Tiny LCD screen that is impossible to see, with buttons that you cant tell if they are off or on with delayed beeps and lights. Cobbed up wiring with poor plug in connector for charging, multiple wires and difficult connectors to the deck, which should have a good single one, a seat switch which shuts down with a slight adjustment of you position -plus dangling wire and flimsy seat brackets. The motors run fairly quiet but the deck clanks and rattles up and down with every bump. This should be a mower for the future, but instead is an engineering disaster. I manged to mow twice, with difficulty, before it quit. It is back to the dealer who lacks the training and equipment to fix it. I drive a well designed EV every day and think they are great. I had high hopes for this tractor as well but ended up horribly disappointed.
Date published: 2020-08-18
Rated

1

out of

5
by
BTA22
from
Poor Reliability!
I cannot recommend this tractor. I looked past the terrible reviews and figured my positive experience with an electric car would translate to an electric tractor. That was a bad assumption! My tractor is just 3.4 hours in and I am getting an 'electrical fault', as noted in dozens of other reviews online. So I now have a shaggy yard and a big yellow paper weight in my garage. Now I need to figure out how to get my tractor to a service center (if they can find one that is qualified to work on an electric tractor...still waiting on that), on my dime, with my time. This tractor was a huge waste of my money and now trying to get it repaired is a major source of stress.
Date published: 2020-09-17
Rated

2

out of

5
by
ejhumphrey
from
Good tractor, but fatally flawed mower design
When I first found out that Cub Cadet made an electric mower with a respectable lithium ion battery, I was super stoked. Like others, I've got an electric vehicle (Kona), and the great experience I've had with that car made me jump at the chance to have an electric ride-on mower. When it showed up, I fell in love. The machine is dead quiet to drive, and it also has the instant acceleration that makes driving an EV fun. The first few projects I used it for were as a tractor: hauling a bunch of rock and soil (got the corresponding dump cart), and dragging/grading a field for spring seeding. I had a blast. Then summer came around, and I needed to mow my lawn. And for the most part, that was a roaring success as well ... until I hit something with the blades engaged. This triggered an electrical fault and caused the blade to drop. "A reasonable response," I thought. Turning the mower off and on reset the fault, but on inspection I realized that the blade dropped because the spindle in the deck motor had sheared clean through. After digging through manuals and schematics, it became clear that the only fix was to buy a new motor (which costs 10% the price of the tractor). Let's reflect on that. When you hit something (and you will), there's a good chance that the motor will give out. Should this happen, you cannot buy the metal shaft alone (which should cost ≈$20), you must spend hundreds of dollars to fix your mower that cost you thousands of dollars. This design is laughably bad. Instead of using keys or some kind of mechanism to protect the motor on collisions, it just ... breaks. I'm still in the process of trying to get a new motor installed and keeping my fingers crossed that if I'm *really careful* I won't hit anything big ever again. But my love affair with this mower is over. Some final miscellaneous thoughts... - I wish it was faster. I feel like it caps out at 6mph? - It feels like it's got some kind of governor on it. I forget what the max payload is, but this thing won't let you pull arbitrarily heavy loads. Instead of the tires spinning out, it will just refuse to engage the drive motor. - I saw some reviews give low marks for the LCD display or the charging set up, I generally found the level of technology on the machine to be appropriate. It's a mower after all, not a Tesla. - That said, I *do* wish the charging port was more standard with other EV tech, i.e. used a J1772 connector, and worked with Level 2 chargers. We have a 240V / 40A 14-50 NEMA (dryer) outlet in the garage and I'd rather use that to recharge the thing than the clunky bespoke charger that it ships with.
Date published: 2020-09-28
Rated

4

out of

5
by
Touch Down
from
Repair
I bought this a few months ago, I hit a stone and it disengaged the deck mower blade. It took several months to get that part , very pricey $400 I wish they had a YouTube video showing how to disconnect and reinstall this part . I will do my best once I get the part ! , to do a video on this and hopefully it will be helpful . I wish club cadet was more informative on schematics Shaolin how to take this part apart .
Date published: 2020-09-09
Rated

1

out of

5
by
fighterace
from
Broke after first use
This is a one star review. You cannot see my 340 word writeup because cub cadet is repeatedly removing my reviews and won't say why. Basically after first charge there was an electric fault code and it refused to run. It was sent to a dealer and I'm still waiting for them to be provided replacement parts. I ordered the mower 6 months ago.
Date published: 2020-10-19
Rated

4

out of

5
by
C855B
from
Wonderful to Use, but QC and Design Issues
Generally, far superior ease of operation, quality of cut and speed of work compared to the two previous (gas) lawn tractors I've owned. I am particularly enjoying the easy maneuverability; my shoulders are most appreciative! After three weeks and four passes, I'm sold, and if it continues to function like this for its useful life I will continue to look forward to "the chore" every week. The quiet of no gas engine is highly appreciated though blade noise could be better addressed. There was a minor challenge learning the startup procedures. Aside from the various delays involved, error codes can be expected if you don't keep your mitts off the buttons during boot-up and systems self-check. Downsides are (mostly) trivial annoyances. LCD display is impossible to read in anything other than full sun or other direct light. Deck rattles... a lot, and loudly. 3-second delay to disable the backup blade lockout is too much - suggest 1 second with confirmation 'beep'; plus, the confirmation LED is blocked by your finger so you have to guess if you pressed it for long enough, only to wait again if not. Charger gets unusually hot and as an electronics engineer I am concerned about its longevity. QC: right side blade ("deck") motor turned out to be bad out of the box; overheats in ~30 minutes of operation even with little (or even no) load. Dealer and I have been puzzling through this, both of us originally thinking that my cut settings were too aggressive, but it turned out the left motor remained acceptably warm while the right motor became too hot to even touch. Dealer is great, by the way. I shopped area dealers for "the one" familiar with the LT42e; they themselves were enthusiastic users of the Cub Cadet electric products. Looking forward to a long and productive relationship.
Date published: 2020-09-06
Rated

2

out of

5
by
Dan5
from
Died after 1 hour
I used it for an hour according to the display on the mower, parked it, charged it and then when I went to use it next display said 'electrical fault' and I could start it. Took it to the nearest cub cadet service center and left it with them. They called me back and said they aren't willing to repair electric lawn tractors and asked me to pick it up. Wish they could have mentioned that when I called them, or when I dropped it off. Seems to be no repair documentation available as for all I know it could be as simple as replacing a fuse or resetting a module. I think Cub Cadet need to provide much better documentation to help users solve some of these issues themselves as well as train up service centers so they aren't scared too touch these new machines. While it worked it was great, really liked it.
Date published: 2020-05-31
Rated

5

out of

5
by
Electric Tractor Guy
from
Electric Lawn Tractor - Early adoptor review
I wanted to invest in a new lawn tractor but I also wanted to support the future by investing in Cub Cadets XT1-LT42e. First thing is that this lawn tractor cuts my lawn very well, leaving a beautiful even trim. It is very quiet when rolling around until you start the blades spinning, but even then it is rather quiet when compared to traditional gas powered units. Since I have cut my near 1-acre lawn 4 times, I've become more comfortable that I have ample battery life to complete my lawn care routine. I've never gone below 28% even after joy-riding around after cutting to look for any high spots. It takes nearly a full 4-hours to recharge, but I really like this model. In the future, electric tractors will probably get additional upgrades like improved seats and optional deck widths but this is a good looking and friendly unit for the 2020 model year.
Date published: 2020-04-28
Rated

1

out of

5
by
Bob_
from
Not impressed
I bought this mower about 2 weeks ago from an authorized dealer who assured me they knew how to repair if necessary. They delivered it and I drove it 20 feet into my garage to fully charge. After charging to 100%, I got an "Electrical Fault" error on the display and the mower would not run at all(it has .20 total hours on it). The dealer picked it up 10 days ago and they said had to order a diagnostic tool to determine what the problem is. Now they say they are waiting for a part. Disappointed in both the mower and dealer support right now.
Date published: 2020-07-01
Rated

1

out of

5
by
RobM77
from
In shop before first mowing. Brand new.
I bought from Home Depot and had it shipped to me. My first time mowing, I had it running and then it died when I engaged the blades. It's been at a Cub Cadet dealer shop for over a month and they haven't figured out the problem. Customer service with Cub Cadet leaves much to be desired
Date published: 2020-05-26
Rated

4

out of

5
by
Putt
from
Good so far
My first lawn tractor and tough 2 acre meadow grass. Only used about 20 hours so far, starts and runs flawlessly. Thankfully mows down 8 inch dry grass and taller heavy weeds. Easy to drop mower deck to clean and sharpen blades. I don't bag. I pull a wagon and fertilizer spreader, no problems. Wish the suspension were better as jolting over molehills everywhere on property. I figure it's really designed for lawns not farm land but it works for me. Really nice not having noise, smell, maintenance of internal combustion. Time will tell if dependable on rough land but seems to work well if you take it slow. The charging input connector plug could be better designed, but it works, just make sure it's fully seated.
Date published: 2020-06-09
Rated

4

out of

5
by
gdk555
from
Low Maintenance, Not clean cut!
I purchased this mower 2 months ago and have mowed my lawn 5 or 6 times now, approximately 1.5 acres. I really like the mower, especially the electric part, not having to use gas, low maintenance. It seems to have a lot of power, runs fast, speed control is by using the accelerator. I have pulled my lawn sweeper without any problems, also pulled my dump cart with at least 50 pounds or more in it, no problem. What I don't like so much is that it doesn't cut as clean as my old gas powered mower did, therefore I have to go over many spots twice. I'm not sure why it does this, but perhaps the mower blades were not sharp enough in the first place? I have yet to take them off and sharpen them. If I had a clean cut then the battery would last to cut the entire 1.5 acres, but I usually have to charge it back up in order to finish the job. You would think that with a new mower costing $4,000 you would get a clean cut! The l haven't had any trouble with charging the mower until the last time I plugged it in. When I went to use the mower again I found that I only had a 25% charge on the battery. I plugged it back in but the charging lights on the dash did not come on. I had to unplug and plug it back in a few times and wiggle it around then the charging lights did come on. So I'm not sure why this happened, probably just not making a good contact, and hopefully this problem does not continue, won't know until more time passes. Make sure the charging lights on the dash come on after you plug it back in. With an electric mower you would think that it would be quiet, at least much quieter than a gas powered mower, however, it almost seems as loud as my gas power mower. Not a problem for me, but just the same. Overall I am still happy with the mower, at least thus far. I suppose there are trade offs going from gas to electric, such as not cutting as clean, but I can live with that as long as the mower lasts me for years to come. I do live in a wet weather climate, however I do keep the mower under cover, so I am also hoping that the dampness will not affect the electronics or the battery.
Date published: 2020-06-14
Rated

5

out of

5
by
Tom Icey
from
What a great machine!
I was simply impressed with how this machine performed and how long the battery lasted. It's like using my Tesla to cut the grass!
Date published: 2020-10-20
Rated

5

out of

5
by
Cubfan1977
from
LOVE NOT HAVING TO GET GAS, CHANGE OIL!
Have already put quite a few hours on it. Battery life is phenomenal. I was worried about mowing power since the mower moves very quick but I've experienced zero bogging or anything so far no matter the grass/weeds or terrain! Recommend to anyone and so good for the environment!
Date published: 2020-10-16
Rated

4

out of

5
by
jcdes
from
The overhall is good
A more efficiency cruze control and a selectable 2 speeds rotating blades would be appreciate. the overhall machine is good.
Date published: 2020-09-19
bvseo_sdk, dw_cartridge, 18.2.0, p_sdk_3.2.0
CLOUD, getReviews, 39ms
reviews, product