SurePath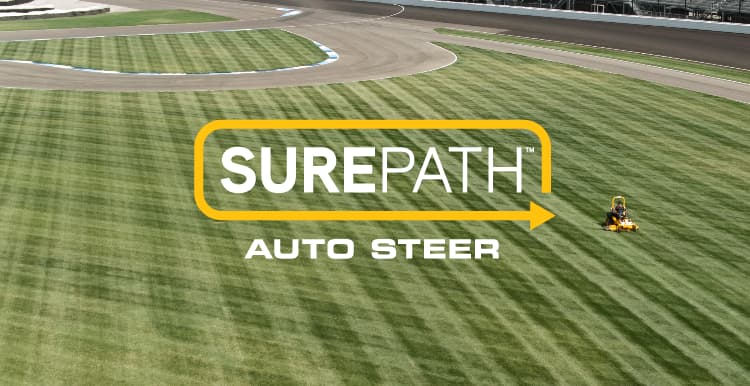 Put time back on your side with SurePath™ Auto Steer technology.
SurePath Auto Steer uses GPS-assisted driving to minimize unnecessary overlap, guiding you to the most efficient cut possible. The results are crisp, clean stripes no matter the operator and more time to do everything else you need to do.
How does Auto Steer technology work?

See the simplicity and efficiency of SurePath Auto Steer in action and sign up to get notified when these machines are available in your area.

REQUEST A DEMO
Minimize overlap. Maximize productivity.
Field research shows that SurePath Auto Steer significantly reduces overlap compared to manual operation.* And these little efficiencies add up to some serious productivity gains over time.
Get Back

2.96

Hours Per Week
"

Guys in my position are always looking for ways to save money and time…SurePath has helped us do that.

"

JASON STEWART

Ground Superintendent

Brickyard Crossing

"

It takes me maybe 5 minutes to take a new person out, show them how to use it and then I'm out of the picture.

"

WILLIAM HOKE

Equipment Manager

Brickyard Crossing
See what a PRO Z™ SurePath™ could do for you.
Select the values that most align with your operation to calculate your potential time savings and revenue enhancement using a SurePath mower.*
Get notified when SurePath Mowers are available in your market.
Gain efficiency at every turn.
With SurePath Auto Steer in your fleet, you can train new employees in no time, reduce operator fatigue and free up time to take on other tasks.
Advanced technology. Simple operation.

The intuitive three-step process makes it easy to train anyone on SurePath Auto Steer quickly and get a flawless cut from any experience level.

Save time and energy.

With SurePath Auto Steer holding a straight line for you, operators may experience less fatigue with time to take on tasks they'd normally push to another day.

2022 Pro Tool Innovation Award Winner

We are excited to announce that our PRO Z 960 S SurePath® unit received a 2022 Pro Tool Innovation Award. Each year the Pro Tool Innovation Awards are judged by a panel of industry professionals who handle and use hundreds of new tools each year. SurePath was given this award because of its innovative GPS technology that provides a semi-autonomous experience designed to cut consistent, even striping no matter how long your lines are.
FAQs
Are there additional costs for GPS connection?

✖

SurePath mowers require a technology package to use the semi-autonomous features. The first year of the technology package (based on the product activation date) is included in the SurePath™ purchase price. For additional years, the technology package will be billed annually and can be ordered through your local Cub Cadet dealer.

Does weather affect usage?

✖

With RTK-GPS, certain extreme weather conditions could impact connectivity or performance. However, mowing would not be possible in most of those extreme conditions anyway.

What if I have GPS or cellular issues?

✖

Your SurePath™ unit needs a good GPS signal as well as a cellular service to operate. If the unit is experiencing issues with either of these, the SurePath indicator lights will switch from solid green to flashing green or will turn off. If the indicators flash red, SurePath Auto Steer mode is temporarily unavailable, and you will need to resume mowing manually. Once the system reacquires the signal, the indicator lights will switch to solid green. You can then press Engage Auto to resume semi-autonomous mowing along the nearest cut line.

Where is SurePath available?

✖

SurePath is currently only available in the United States in select states. Contact your local Cub Cadet dealer for more information.

Available States: Indiana, Ohio, Kentucky, Florida, Alabama, Tennessee, North Carolina, Michigan, West Virginia, Wisconsin, Iowa, Minnesota, Missouri, Mississippi, New York, Connecticut, Massachusetts, Vermont, Oregon, Maine, Washington, *Montana, *North Dakota, *South Dakota, *Nebraska, *Kansas, *Oklahoma, *Texas, *Illinois, *Georgia, *South Carolina, *Virginia, *Maryland, *Pennsylvania, *Delaware *Notes partial coverage. Contact Cub Cadet for more information

Can I get this fitted or mounted on a different mower?

✖

SurePath™ is a new, exclusive model with unique and innovative components. This technology is not available to be retrofitted or mounted on different mowers.

What is the warranty?

✖

Cub Cadet® SurePath™ is covered by the same warranty as the PRO Z 900 Series: 3-year limited commercial warranty (no hour limitations) and 5 year / 1,750 hour limited deck construction warranty.

Is maintenance any different from a non-SurePath unit?

✖

Your local Cub Cadet® dealer will be able to provide the same high-quality service and maintenance support for SurePath™ units.