SurePath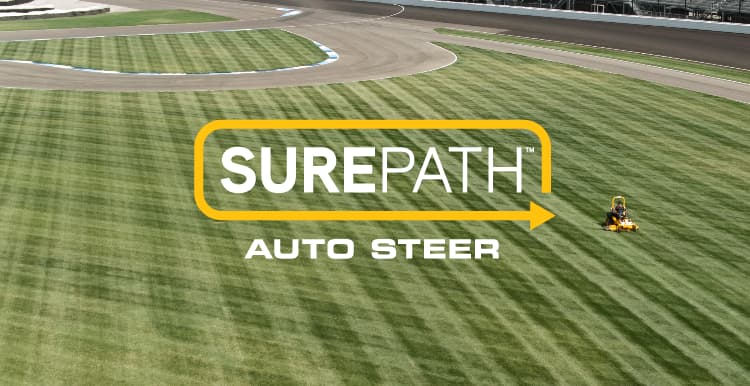 Put time back on your side with SurePath™ Auto Steer technology.
SurePath Auto Steer uses GPS-assisted driving to minimize unnecessary overlap, guiding you to the most efficient cut possible. The results are crisp, clean stripes no matter the operator and more time to do everything else you need to do.
Minimize overlap. Maximize productivity.
Field research shows that SurePath Auto Steer significantly reduces overlap compared to manual operation.* And these little efficiencies add up to some serious productivity gains over time.
Get Back

2.96

Hours Per Week
"

Guys in my position are always looking for ways to save money and time…SurePath has helped us do that.

"

JASON STEWART

Ground Superintendent

Brickyard Crossing

"

It takes me maybe 5 minutes to take a new person out, show them how to use it and then I'm out of the picture.

"

WILLIAM HOKE

Equipment Manager

Brickyard Crossing
See what a PRO Z™ SurePath™ could do for you.
Select the values that most align with your operation to calculate your potential time savings and revenue enhancement using a SurePath mower.*
Get notified when SurePath models are available.
Gain efficiency at every turn.
With SurePath Auto Steer in your fleet, you can train new employees in no time, reduce operator fatigue and free up time to take on other tasks.
Advanced technology. Simple operation.

The intuitive three-step process makes it easy to train anyone on SurePath Auto Steer quickly and get a flawless cut from any experience level.

Save time and energy.

With SurePath Auto Steer holding a straight line for you, operators may experience less fatigue with time to take on tasks they'd normally push to another day.

FAQs

Are there additional costs for GPS connection?

✖

The first year of GPS coverage is included in the original SurePath™ purchase price, based off activation date. Additional technology package costs will be incremental for additional years, billed annually.

Does weather affect usage?

✖

With RTK-GPM satellite coverage, certain extreme weather conditions will impact connectivity. However, mowing would not be possible in most of those extreme conditions anyway.

What if I have GPS connection issues?

✖

If your SurePath™ unit experiences GPS connection issues, the indicator lights on the GPM will switch from green to either yellow or red. Yellow indicates that you're losing some connectivity and either need to slow the mower's speed or transition to manual mowing. If flashing red, connectivity has been completely lost and you will need to switch to manual mowing. If the lights flash blue and then green, the system is attempting to reacquire a signal. Once it does, the indicator lights will switch to a solid green. You can then hit auto-reconnect/re-engage with line-set to get back to the previous cut line.

Is SurePath available in all states?

✖

Cub Cadet® SurePath™ is available in states with HP-RTK network or the local state satellite network. This includes:

We are continuing to expand our coverage with additional states

Can I get this fitted or mounted on a different mower?

✖

SurePath™ is a new, exclusive model with unique and innovative components. This technology is not available to be retrofitted or mounted on different mowers.

What is the warranty?

✖

Cub Cadet® SurePath™ is covered by the same warranty as the PRO Z 900 Series:

Is maintenance any different from a non-SurePath unit?

✖

Your local Cub Cadet® dealer will be able to provide the same high-quality service and maintenance support for SurePath™ units. Routine daily maintenance remains important for optimal performance, which includes keeping dirt and debris clean from engine, fuse box area and power steering component.
<![endif]-->