COVID-19 Free Lawn Service Program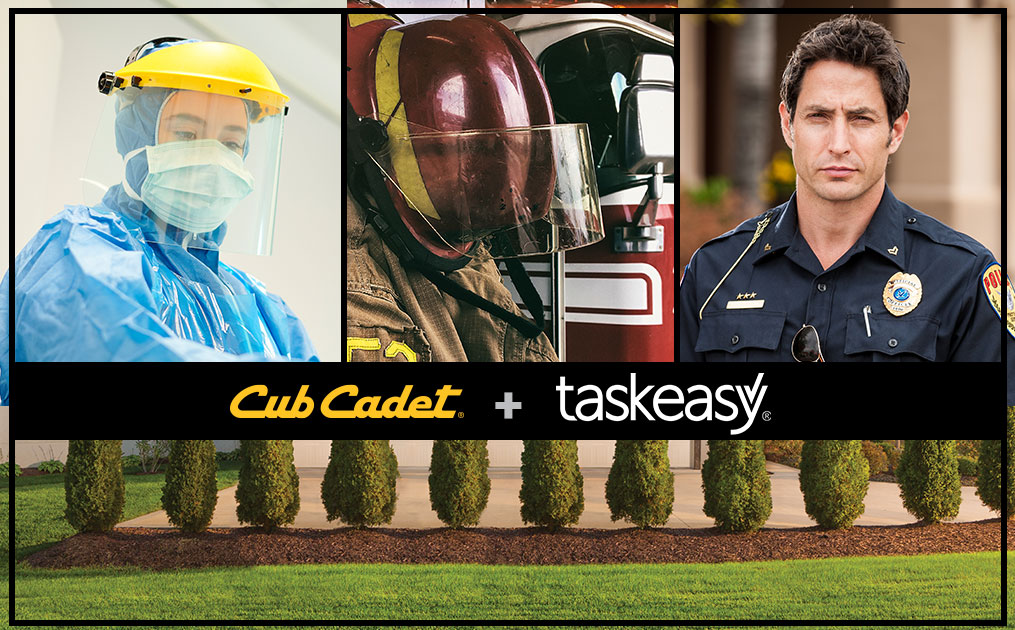 While you care for us, we'll care for your lawn.
Due to an overwhelming response, all free lawn mowing service for first responders, doctors and nurses on the front lines of the COVID-19 pandemic have been scheduled.
Free Lawn Care for COVID-19 First Responders Frequently Asked Questions
Who qualifies for free services?

This offer is valid for the following first responders working on the frontlines of the COVID-19 pandemic: Paramedics, Emergency Medical Technicians, Nurses, Doctors, Firefighters, and Police Officers.

What credentials are needed to verify my status as a first responder?

To ensure services are being provided to first responders working on the frontlines of the COVID-19 pandemic we ask that you provide credentials that prove your current job status. Credentials may include an id badge, license, or a letter from your employer. TaskEasy will only utilize your credentials to verify eligibility to participate in the program.

How long does the program run?

Due to limited funding and an overwhelming number of responses from more than 1,300 first responders across 47 states, we are no longer processing new applications. First responders may continue to apply to this program as we will contact you if more funding becomes available.

What is included in the free service?

You will receive two lawn mowing services over the course of one month (one service every two weeks for one month). The service includes lawn mowing, mulching or bagging of grass clippings, trimming along structures, fences, and trees, cleaning up grass clippings from the driveway, curb, and sidewalks.

Can I make a donation to help COVID-19 first responders?

Yes you can! Donations are greatly appreciated and accepted through the GoFundMe account for this program. 100% of donation proceeds will go towards additional mows by TaskEasy, expanding the number of frontline workers who can receive free lawn mowing services.

When will my lawn mowing service start?

Qualified first responders can expect their first service within 3-14 days of their application being approved. Once the first service is completed, you can expect the final service roughly 2-weeks later. In the unlikely event there is not a contractor in your area, TaskEasy will attempt to recruit a contractor to perform the service.

Who do I contact if I have questions?

If you are a first responder and inquiring about our Free Lawn Care for First Responders program you can call us toll-free at 885-558-8436 or email us at help@taskeasy.com. If you're interested in performing services for TaskEasy please visit taskeasy.com/contractors.

How is Cub Cadet monitoring updates regarding the COVID-19?

The health and safety of our employees and customers is paramount. We also recognize a great deal of you will be spending an increased amount of time at home for the foreseeable future. We want to continue providing the tools you've asked for to help you to make your time at home a bit more enjoyable. That's why we're sharing what measures we've implemented to ensure we're serving you to the best of our ability during this time. Click here to learn more.
<![endif]-->